Two of the Charlton Upbeats beat Charlton Athletic striker Josh Magennis and midfielder Jake Forster-Caskey in a swimming race on April 5th to promote the upcoming Upbeats Walk.
Billy Birchmore, an 11-time gold medallist at the Down's syndrome International Swimming Organisation European Championships in November, and Jack Lyons, who also represents Team GB, won a freestyle race in the outdoor pool at David Lloyd in Sidcup.
Jake got his team off to a strong start, swimming the first four of his team's eight 20-metre lengths, but the Upbeats got better and better as the race went on. Josh put up a good fight but wasn't able to hold off Billy, who led his team to an impressive victory.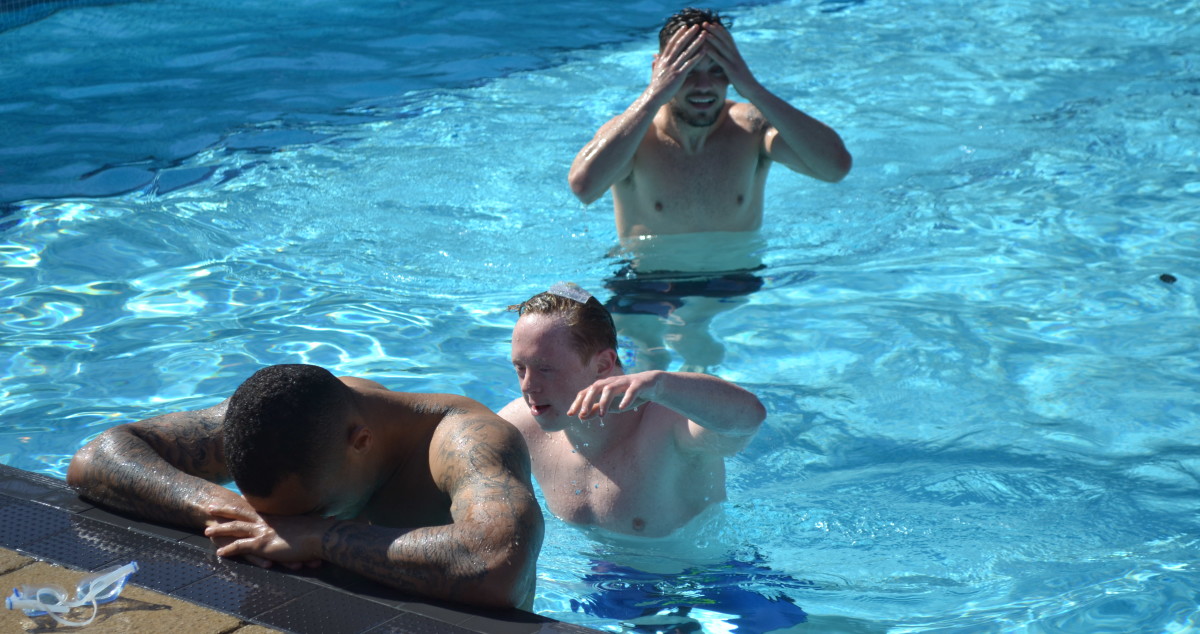 The players were participating in the event to promote the Upbeats Walk, which will take place ahead of Charlton's game against Scunthorpe United on Saturday, April 14th.
To mark World Down's Syndrome Day, CACT published a study evaluating the impact of the Upbeats programme.
It found that:
- 93% of the parents interviewed feel more confident and aspirational in relation to their son or daughter's life since they started coming to the Upbeats
- 100% of parents interviewed affirmed that they would recommend the Charlton Upbeats to any family that has children with Down's syndrome
- Using Social Return on Investment metrics, the programme generates £7.87 in social value for every £1 spent
Several Upbeats also completed their FA Level 1 coaching qualifications recently. They are some of the first young people with Down's syndrome in the country to become fully qualified coaches.
The Upbeats programme, which is in its 10th year, is entirely funded by voluntary donations. Click here to sign up to the walk.
Josh Magennis said: "We thought we could swim as well, but it's back to the drawing board now. Their swimming was absolutely brilliant, and I wish them all the best, not only from us but everyone at Charlton."
Jake Forster-Caskey said:"First half, I thought we were in the game. Obviously I handed over to Josh at 0-0 and I think he's let me down to be honest. But the Upbeats did extremely well – they were monsters in the water!"
Carl Krauhaus, CACT's Head of Early Help and Prevention, said:"We're very grateful to Jake and Josh for joining us and David Lloyd Sidcup for hosting today's event. Congratulations to Billy and Jack for a fantastic display!
"We're looking for as many people to sign up for the Upbeats Walk as possible to support the programme and help the Upbeats fulfil their potential as Billy and Jack are."
Billy Birchmore said:"I enjoyed seeing Jake and Josh here. It was the turns and the stamina that won it; both can make you and break you. I can't wait for the walk on 14 April!"
The Charlton Upbeats enjoy support from patrons Regular Cleaning, motability partners WJ King and CACT supporters ITRM.
Sue Thorpe, ITRM's Business Operations Manager, said:"I was thrilled to be invited to such a wonderful event. We saw really impressive swimming from all four participants, but most of all by the Upbeats. I knew they were good but didn't realise how good.
"I think it's a great thing to do and love how the Charlton players embrace the Upbeats and fully support them. We're looking forward to the Upbeats Walk on 14 April."
The race was hosted by CACT Ambassador Steve Sutherland and attended by the club's Player Liaison Officer Tracey Leaburn and several of Charlton's U18 players.