Our victory over Sunderland in the Sky Bet League One play-off final at Wembley on Sunday will undoubtedly be an iconic moment in the club's history. Coming at the end of what has been a real rollercoaster season this was, in many respects, the perfect way to cap off a truly remarkable year for Charlton Athletic. 
Among the Charlton faithful at Wembley were the people who keep the club ticking from day to day. We spoke to them about their experiences in the play-off final and what it means to them. 
Club Journalist Olly Groome was at the heart of the action, being sat amongst the journalists at Wembley. Olly was providing fans who were unable to make the game with updates on the match via the clubs' social media. 
"I was nervous [going into the game]. Very nervous. I didn't go to sleep until about 3am the night before. That's when I put together the video of all the goals scored throughout the season. I started it at 1am and didn't finish it till about 3am because I just wasn't tired. 
"When I wake up in the morning, I always have a feeling whether it's going to be okay or not, like a sixth sense! I took a moment when I woke up to get my surroundings because we were in Wembley and I just had a feeling it would be okay. So I felt nervous but I felt okay. I always compare it back to the Sheffield United game [in the 2013/14 FA Cup] when we were one game away from Wembley and I woke up that morning in a hotel in Sheffield and my first thought was dread. So, I always compare it to that!"
Club secretary Chris Parkes, in his 30th season with the club, was more confident going into the game as he had been amongst the players in the build up to the match and their bravery rubbed off onto him. 
"I was very confident going into the game. I was fortunate enough to have been with the team the night before as well because I stayed with them at the hotel and they were very confident, without being brash!"
Donna Manley, club administrator and receptionist, spoke to us about that absurd opening goal.
"I thought that was it, I thought It was over. But I was just buzzing to just be there. I was right at the very front and to just look round and up and just see all the Charlton fans and all the singing."
Olly was taken aback by the goal and his recollection of the shock will resonate with every Charlton fan. 
"From a personal point of view, it was the most shocking thing I've seen on a football pitch!
"I saw it go in, but I didn't see what actually happened. My colleague George (Jones) wasn't looking, I wasn't looking. All I could hear was a gasp around the ground and I looked up just as I saw the ball rolling in with Dillon Phillips running after it.  
"I think it's the only time in my life I've made an audible gasp! We were all just sitting there questioning what had happened, we had to watch the big screen to see it and then obviously put the tweet out saying what happened.
"The tweet wasn't supposed to be funny or get likes it was just genuine shock!"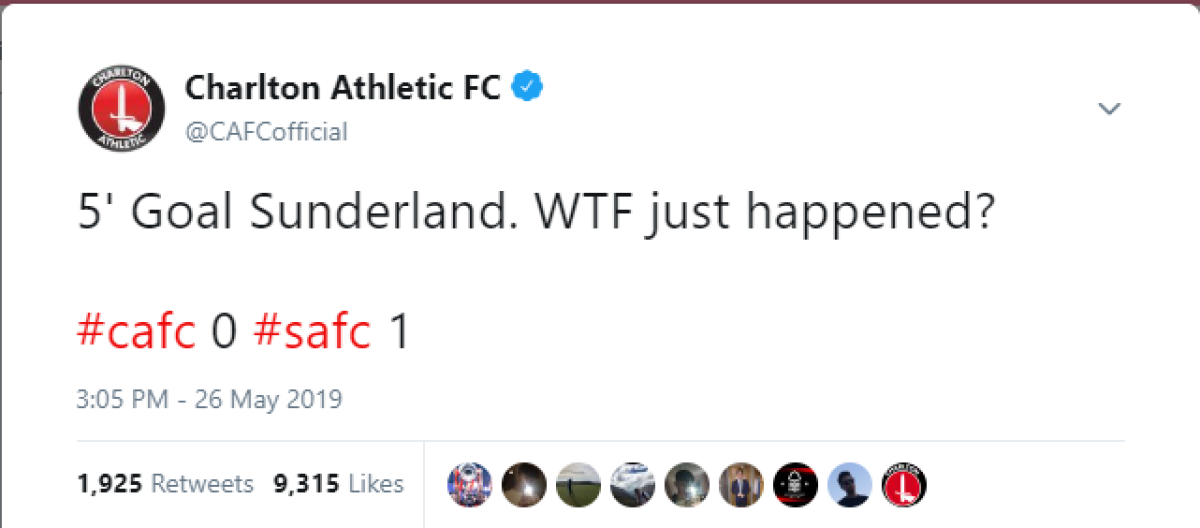 "I just thought 'what the heck's gone on?'" said Chris. "What was said on the clubs twitter was what went through my mind! 
"You don't know what to say do you? It was just one of those freak goals. What went through my mind was that because it went in so early, I was still confident. It was the kick up the bottom we needed I think!"
Olly kept hope throughout the game that the own goal wouldn't be the deciding factor and so was relieved when Ben Purrington was able to finish a lovely move of attacking football.
"I remember when we first got inside the stadium we were put at the back of the press box but because you're underneath the overhang of the middle tier I wasn't happy with it because it's like you're looking through a letterbox and I wanted to be able see the entire crowd. So, we asked to be moved to the front row which we were. 
"It was good because you're supposed to be neutral and behave yourself in the press box but that went out the window so when we equalised, I was down the steps celebrating with a few of the Charlton fans!" 
Donna recalls her excitement when the equalising goal went in and explains how it spurred on her hope of Charlton winning. 
"When Ben Purrington scored I thought 'We can do this'. There was all this singing for the last few minutes and it was just a case of can we get the ball in the goal?"
Parkes was also in the camp with the Charlton half of Wembley, being relieved by the equalising goal. 
"I first looked over to the linesman and wondered if it was offside and then I saw it wasn't and we all just went mad! 
"To see Ben scoring his first goal after what a good season he's had, I thought it was a bit of poetic justice!"
As has been highlighted all season, the Charlton support was incredible, and Parkes recalled the atmosphere they generated.
"The supporters have just been amazing haven't they in the last few games and the last few months. They were so confident it would appear, and they just don't stop making noise at the moment and it's just absolutely fabulous to watch.
"I think what Lee Bowyer has done has gelled the players, the supporters and the staff as a unit behind him. Who can stop us going forward? It's like a juggernaut isn't it. I just tried to soak up as much of it as I could. I was watching the crowd and watching the game."
When asked if he thought it was going to extra time, Olly explained that one moment stood out to him as being, what he thought was, the final moment for Charlton in the game. 
"It was when we got the free kick on the edge of the box in around the 93rd minute. Patrick [Bauer's] header was caught by the goalkeeper. That for me was our last chance. I was thinking 'We've got this good free kick' and it was running through my head about this decent record that we have from corners and set pieces this season. But we hadn't really threatened them from set pieces all game. There was no real clear-cut chances at all. 
"I remember being sat there and saying, 'one more delivery'. It wasn't a bad delivery, but Patrick's header was tame. I think I punched the desk because I was thinking that we were going to extra time."
When Bauer netted the late, late winner, Donna explained the mad celebrations that followed from her perspective. 
"As I say, I was right behind the goal at the last minute I was just shouting 'Get it in, get it in!'. Then there was that roar and it had gone in! The staff were crazy, they were all on form all the way through. They were just crazy, we had a lot of supporters around us as well, not just staff members, so it was nice to get that mix"
And Olly gave his thoughts on what that unbelievable winning goal was like for him.
"When Josh Parker won that free kick… I didn't feel like I had time to really think about it. But from when Josh Cullen put the ball In, it sort of becomes a bit of a blur from there on. I just remember the net bulging! And then pandemonium! 
"Again, I ran down the stairs because I was right on the last seat of our press box. I just ran down and obviously it was Charlton fans below us. I ended up about six rows away hugging random strangers.
"I remember, very vividly, saying to myself, 'just take 30 seconds to do your job'. So, I had to get the tweet out and search for the goal GIF but first of all I had to find out who scored it. I wasn't even sure who scored it! But then I confirmed it and got the tweet out without any spelling mistakes!"
Bauer's Hollywood-esque goal late on was surprising for everyone and Parkes was shocked that the game was still going by the time the German defender stabbed home his first goal of the season. 
"I carry a stopwatch to every game to record every incident, and the one day that I left it in the car!  I didn't have a clue how much time was left and I thought we were well over the time. I just thought 'oh well' extra time then. But having watched it back there was about six seconds to spare. So, it was incredible, what a time to score a goal.
"You're trying to soak up the celebrations and look in so many different places and you can't look at everything, but it was unbelievable."
Despite the lateness of Bauer's goal, Olly was still concerned there was to be another twist in the tale. 
"When they kicked off, that's when your instinctive 'oh god we're going to throw it away, they're going to drop the ball in the box…' I couldn't believe that the referee was still going. Even though it was only a few seconds I can't believe that we even had that because the minutes were up! 
"Then when the final whistle went I took a few seconds just to get the image up of 'We're on our way back'. 
"I went up to the top of the press box to find Valley Pass commentators Greg Stubley and Terry Smith and we had our little hugs that you can hear on the Valley Pass commentary and then I went down pitch-side with Jason Euell and Brett Shaw the analyst.
"When that goal went in It sorted of lifted everything. It made it all worth it made all the difficulties and the struggles worth it. Everyone deserves it really; the fans, the staff and the players deserved it.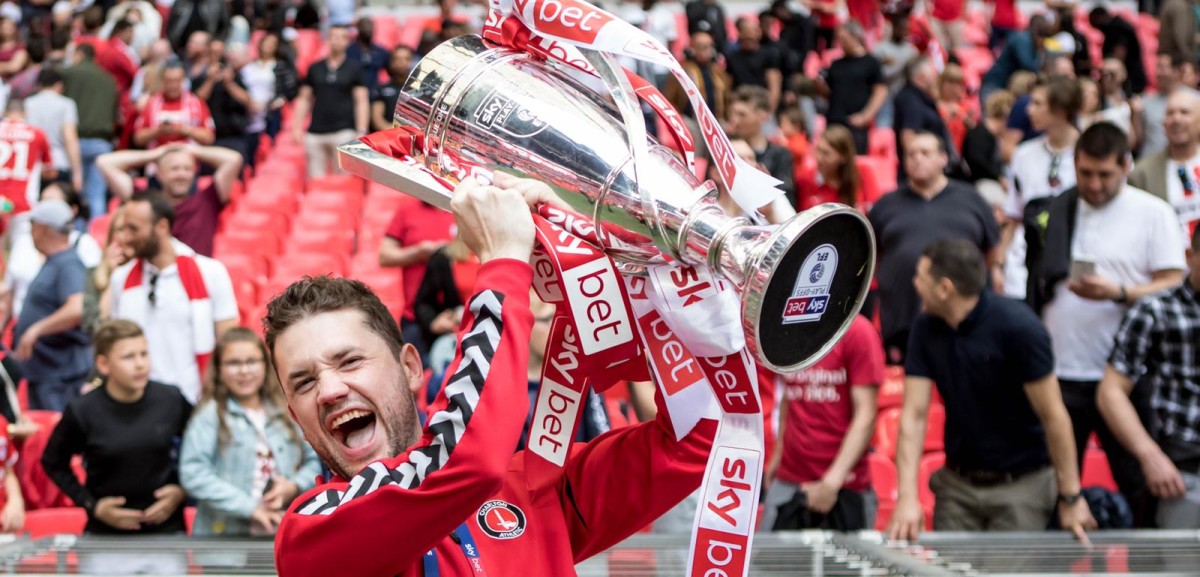 "If we'd won three of four nil it would have been good, but it wouldn't have been as good as scoring a last-minute winner like that in a cagey game."
Olly now turns his head towards next season and the new challenges that the Championship will bring. 
"It'll be interesting to see a Lee Bowyer side going to Millwall. We've ticked off Wembley now, we've been waiting 21 years for that, now we've been waiting for 23 years to beat Millwall again! So, if we can tick that one off, it'll be a full house and I'll be happy."
Parkes is relieved to see the club back in the Championship and hopes that Charlton can now solidify their place there.
"It's like a Premier League 2 really isn't it? There's some massive clubs in there, us included! There's these fabulous stadiums that we go to and I know so many people at these clubs so it'll be nice to meet up with them again.
"Let's hope we can consolidate and stay there for a few years. As much as I loved that day, I don't want any more play-offs!
"We are a sleeping giant that's just been prodded awake now we've just got to make sure that we don't fall back asleep again."
Charlton season tickets are back on sale and for a limited time the club are offering Championship football at League One pricing.