June 9th, 1905 is an important date in the history of the Addicks. On that day all those years ago, a group of local teenagers came together to form a football club – Charlton Athletic Football Club.
One of those was Edwin ["Eddie"] William Marshall, who took an active part in the proceedings and was elected vice-captain. Eddie was regarded as the real founder of the football club and remained a Charlton stalwart up to 1921. Plying his trade as a centre half, Eddie Marshall featured in nearly all of Charlton's fixtures up until the First World War. 
The first league match played by Charlton was on September 22nd, 1906 at Nunhead against Nunhead Swifts Reserves. William "Porky" Bonner had the distinction of scoring Charlton's first-ever league goal, but Eddie Marshall soon scored from a corner to record his first goal for the club. Charlton went on to win the match 6-1.
Charlton would finish their first league season as undefeated Champions, recording 17 wins and a draw. The medal won by Eddie and the team remains as one of the Charlton Athletic Museums most treasured items.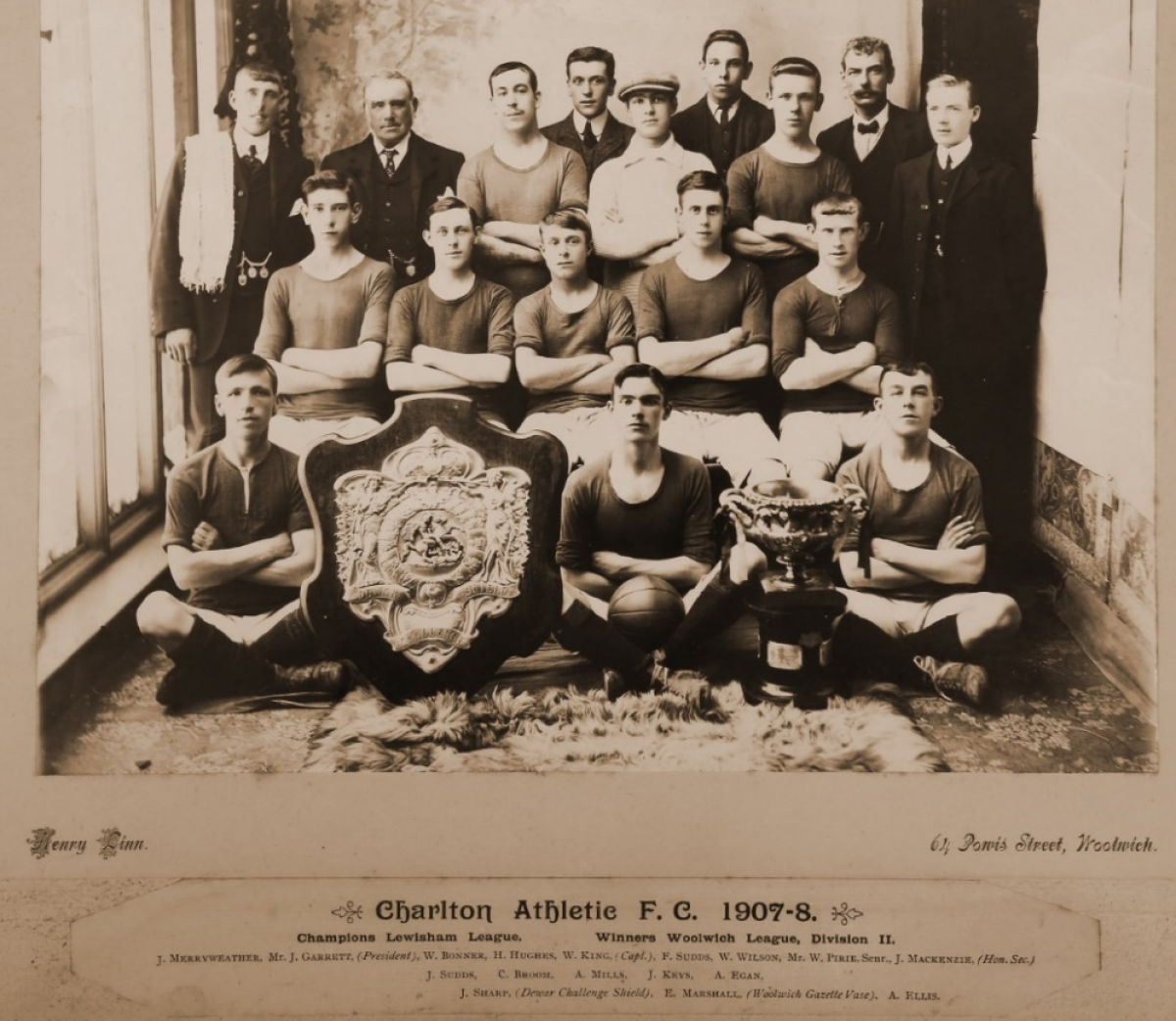 Among his honours Eddie may have scored the greatest Charlton goal. While there is unsurprisingly no video footage, Charlton thumped Tufnell Park 7-0 with Eddie Marshall reportedly picking up the ball and beating seven players before firing home from 30 yards with an effort which "burst the net" according the Kentish Independent report.
Eddie died on April 27th, 1962 in Woolwich, aged 72. More Can be read about Eddie Marshall on the Charlton Athletic Museum site.
Eddie's brother, Frederick, joined Charlton in the 1908/09 season and quickly became the first-choice centre-forward. A prolific goal-scorer through until the 1910/11 season where he was seemingly replaced by John Mitchell, another Charlton legend.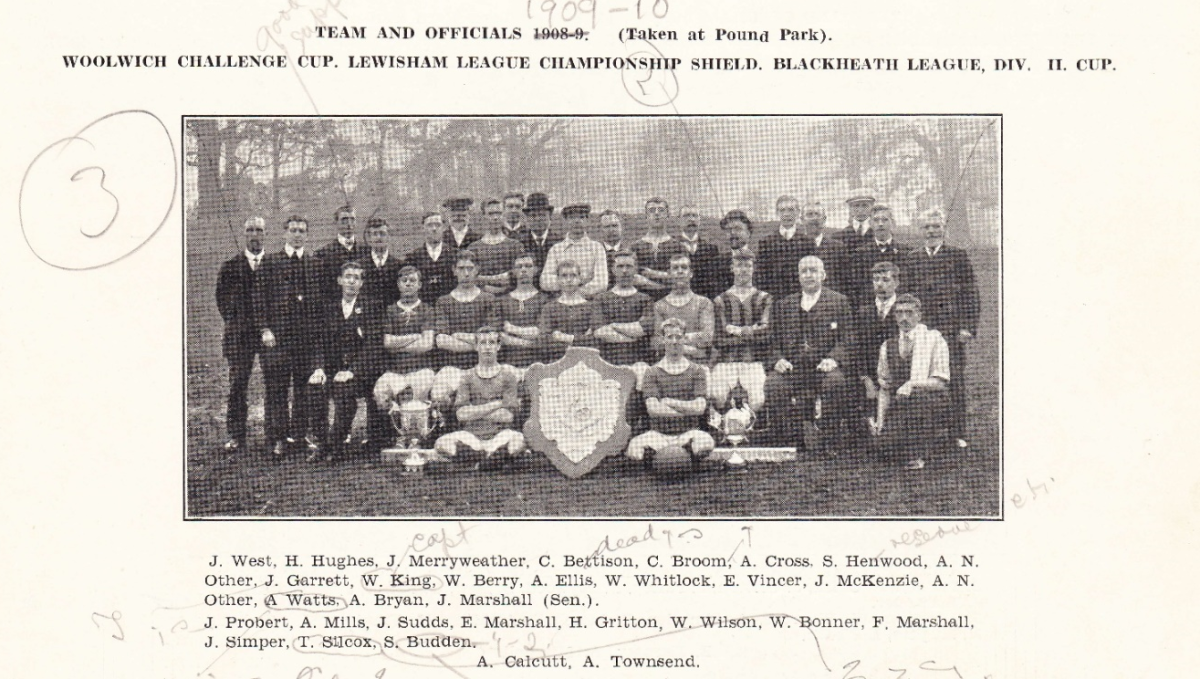 Fred's last known match for Charlton was against Barking town in the 1913/14 season, where he scored twice in a 4-0 win. 
The story does not finish here though. The club was contacted by genealogists doing some work for a family in Australia… 
Ben Hayes of the Charlton Athletic Museum spoke to cafc.co.uk about encountering Frederick Marshall's granddaughter, Mary Davis. 
"About two or three years ago we were contacted by genealogists who were doing some research for a family in Australia. It was the Marshall family, who are a really important family in the early years of the club. We were really excited about that. 
We sent lots of information off and we didn't really get much back. Then a few weeks ago we were contacted by members of the family saying that they were coming to England and asking if they could come to The Valley and could they come to the museum."
Upon their arrival, Mary and her husband John were shown around The Valley and were taken to the museum where they met with museum trustee, Paul Baker, the expert of the clubs' formative years.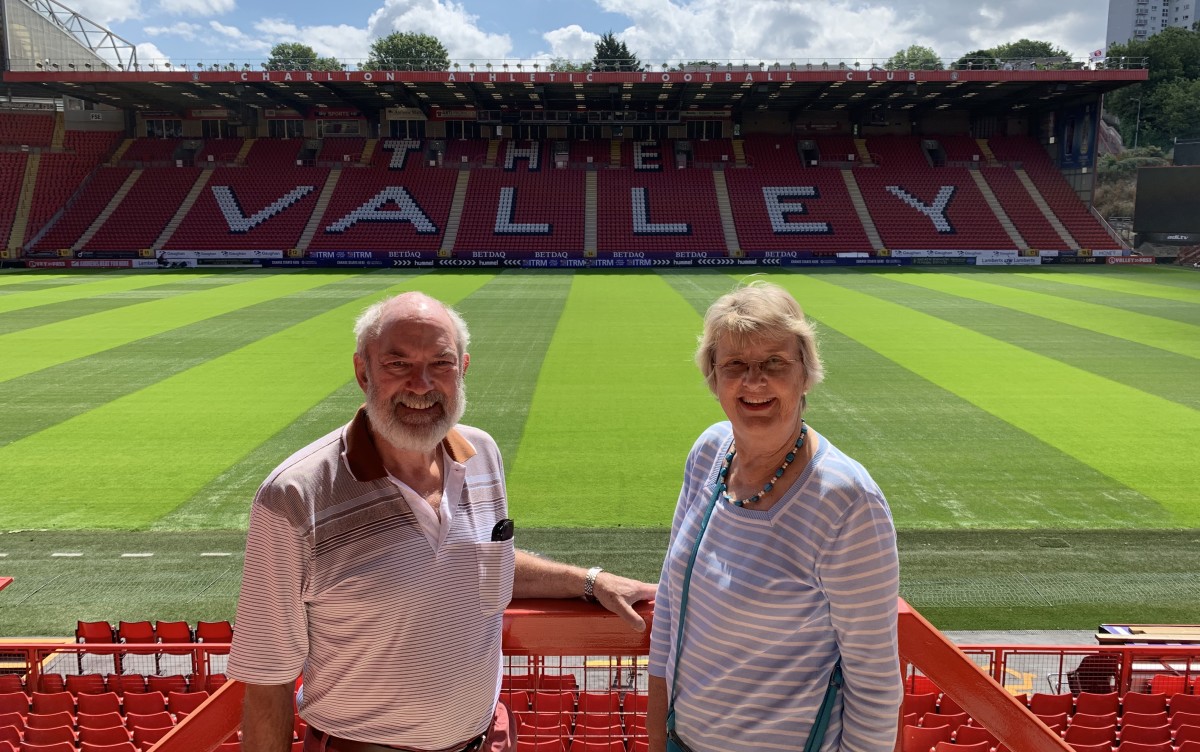 We spoke to Mary about how she uncovered here ties with the Addicks. 
"My aunt was about 90 and she was the youngest daughter of Fred. I asked if she had any photographs. 
All the photographs that I have, she has given me because my mother died when I was 17 and she was the older sister. So, I have several photos that my aunt gave me and what was so good was that she did photocopies, and she wrote on the photocopies who everyone was. 
But there was one wedding photograph where she had no idea who all these young men were. She knew one was Eddie but even then, she wasn't sure which one was Eddie. 
Then, before she died, she told me that Fred and Eddie had been early and founding members of Charlton Athletic football club. Well I didn't think anything about it and then My husband, John, gave me the gift of a genealogist test to start my family tree for a birthday present and when I wrote them the information that I had, I said that rumour has it, they were founding members of Charlton Athletic. 
[The Genealogist] said to me we found so many Frederick Marshalls born in that part in that era, could we send them a photograph so that someone could marry them up with the photos on the website."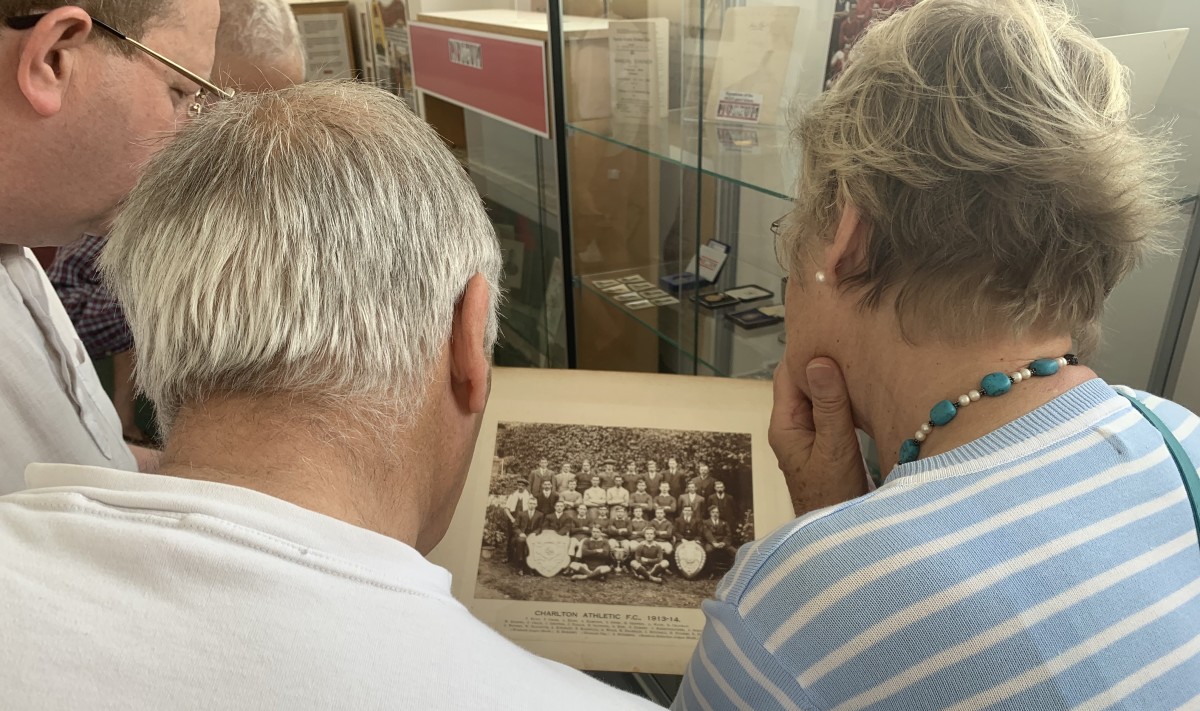 While the club has records of Frederick and Eddie Marshall the record do not document their personalities and through Mary we are able to paint a better picture of a Charlton player who's mannerisms would have been lost in time.
"Fred was a hard nut. He was a bookie when it was illegal to be a bookie and of course you've got to be able to do that and stand up for yourself and that's how he made his money. My mother said that as a child there was jugs of money all over the house because you couldn't take it to the bank. My grandmother had beautiful diamond rings because that was easy to cash in of you needed to. 
So he made a lot of money and he bought a pub. He bought a lot of pubs in the docklands which is another hard area but of course there's lots of money for people drinking. So he could look after himself. 
He wasn't a cuddly fuzzy Grandad, but he had a good sense of humour!"
Paul Baker was able to find out through the records that Fred may have concealed his activities under the guise of being a 'money lender'.
"In the 1911 census it says that he was a money lender and that apparently was when he was a bookie. That's when he was playing for Charlton and that was when he wasn't so regular, so that was probably when he got married. 
When he was single, he was like the Lyle Taylor of the time. He was scoring goals like they were going out of fashion. Then suddenly he was not first choice anymore and it looks like he got married and had two children in quick succession and raising money was probably more important than playing for the club but of course Eddie Carried on playing for many years.
So now we need to find out more about Eddie, we've got Fred but now we need more on Eddie!"
Ben Hayes was happy to have met with the family and reiterated that the museum is the perfect place for people to send in their information that they have. 
"These are really important people as part of the very early days and the founding of the club so we're really pleased to have the Marshalls here, especially this year with the centenary of The Valley. 
Eddie Marshall would have played at The Valley he was almost certainly one of those people who would have helped dig out the ground in 1919.
It was nice to have been able to show them around the ground today and show them the new stands, show them the pitch and then bring them up to the museum.
We were also contacted very recently by the family of Arthur Shepard, who played with Eddie Marshall in the pre-league era and was also involved ind digging out The Valley. He's got some medals awarded to Arthur during his time at Charlton and the family are now living in Wigan. 
As part of the museum it's good to be a focus point for all this to come together and actually record all this information."
Finally, Ben Hayes is hopeful that through this link they can uncover more information about the club's infancy.
"Mary, who now lives in Australia, explained that it was a pretty big family and so she must have cousins who may live in the area still, so they're really keen to speak to them. So, if there are any families with the surname Marshall, contact the museum and we'll put them in touch! We'd love to hear from them too because they may have stories too that we don't know about."
The Charlton Athletic Museum is reliant on donations and the work of volunteers. Any supporters interested in contributing their time, money or artefacts should contact the club by calling 020 8333 4000, or the museum directly by email on CAFChistorian@gmail.com or via Twitter on @CHATHMuseum.
Charlton season tickets are back on sale and until July 8th the club are offering Championship football at League One pricing.