Lee Bowyer knows he can count on Naby Sarr to step up in big moments. 
The decision to send Naby up front in the dying stages of this weekend's game against Queens Park Rangers was met with only a slightly raised eyebrow, the defender displaying a clear penchant for goals in his Addicks career including one against Hull eight days earlier.
Sarr spoke of the last-ditch tactic after Saturday's heroics: "When we chase games sometimes we do this. I don't always score at the last minute, but today I did, so we're happy with the point."
But Naby certainly hasn't always had that trust. 
It was something of a coup when Charlton signed the France U21 international in the summer of 2015. Sarr boasted a football education from Lyon's famous academy and Champions League appearances for Sporting Lisbon against the likes of Chelsea, Eden Hazard named as his most difficult opponent ever faced.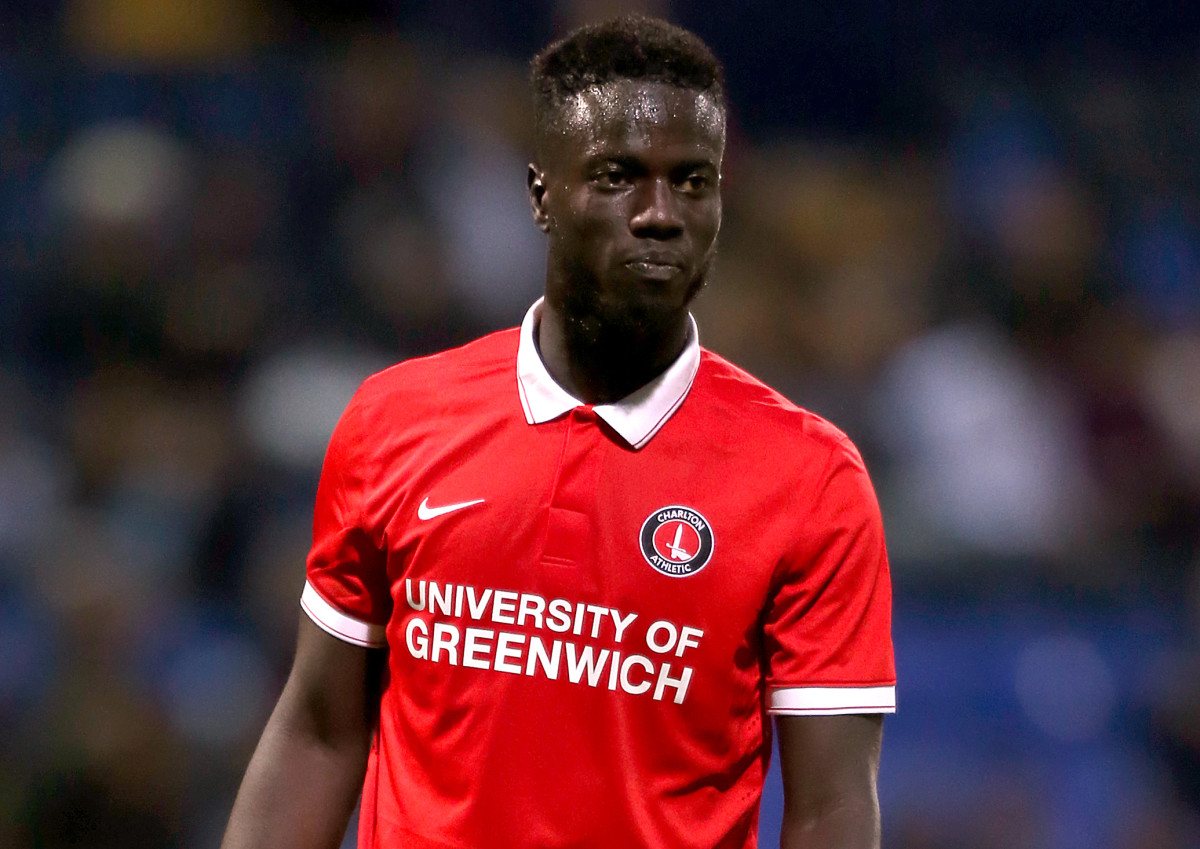 Eyeing a possible push for promotion prior to the season, Charlton ended up getting relegated. Naby was frozen out of the team when Jose Riga took charge, appearing for the final time in early January.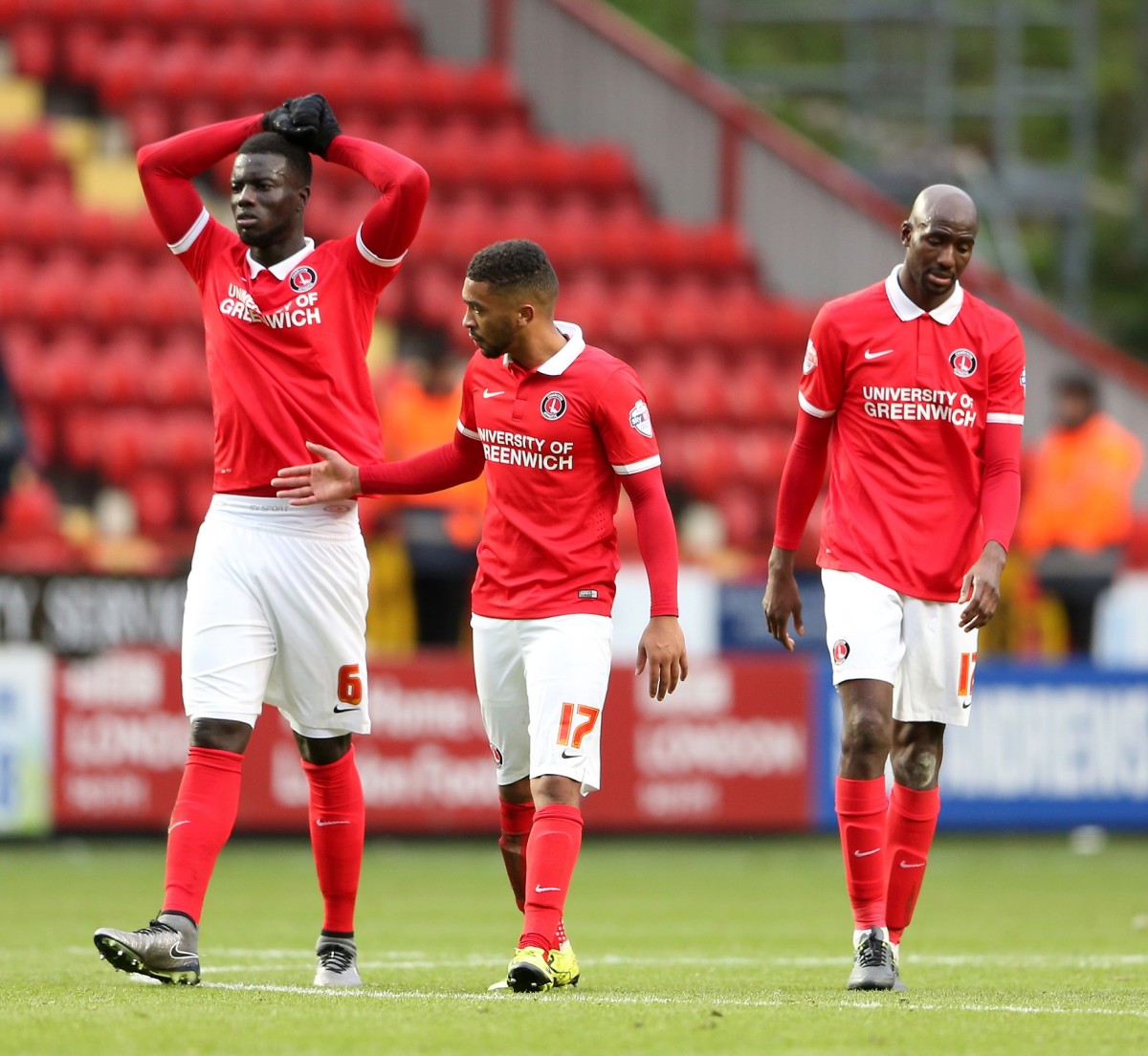 A move away would be best for all parties and Sarr decided to swap the second tier of England for France's, joining Red Star of Paris on loan. 
Eternally the optimist, Naby doesn't regret his troubled start to life in SE7, saying in 2017; "I had to adapt to this new league. I was in Portugal and before that I was in France – the rhythm is totally different. 
"It's another kind of football. I had to take this year to adapt, to learn. Even if it went bad, I learned a lot. It was beneficial. My year at Red Star gave me a lot of games too, so when I came back here I knew better my subject." 
In many ways, Saturday's 2-2 draw with QPR was a microcosm of Naby's roller-coaster journey at the club. Desperate for a reaction after the sickening last-gasp draw with Hull, a nervy opening was punished with a sixth minute lead for the hosts. Sarr was the culprit, failing to fully clear a free-kick, allowing Geoff Cameron to stab home for the west Londoners. 
"The first goal is because of me. I should have cleared it better. I think they could have won the game in the first half and we could have won it in the second half. The draw is a fair result even if we wanted to win."
Only a sensational Dillon Phillips save saw Charlton avoid conceding a second before Bowyer decided to switch things up, changing from 4-4-2 to 3-5-2, Jason Pearce replacing Ben Purrington.
Sometimes change is necessary, Sarr learning all about that adage during his return to France. All Naby wanted with his loan back home was the chance to play and rebuild his confidence. His time in Paris was welcome respite as he made 22 Ligue 2 appearances including four starts in the last five games of the season.
"I went on loan to France, to Paris. I left my parents three or four years ago – it was good for me to get closer to them for one year.
"After that I came back here and started stronger, to prove that I can play in this team and I've changed from two years ago," Sarr said upon his return to east London.
While Naby showed renewed promise in the French capital, Charlton, still in considerable turmoil, consolidated their position in League One, finishing the 2016/17 season 13th, largely under the guidance of Karl Robinson who took over from Russell Slade in November. 
Everything calmer and quieter for Sarr than it had been two years earlier, the central defender returned to The Valley accompanied by little fanfare in the summer of 2017. He endured another tough start, making his first league appearance against Fleetwood Town in late October, but eventually finished the season with 25 appearances in all competitions.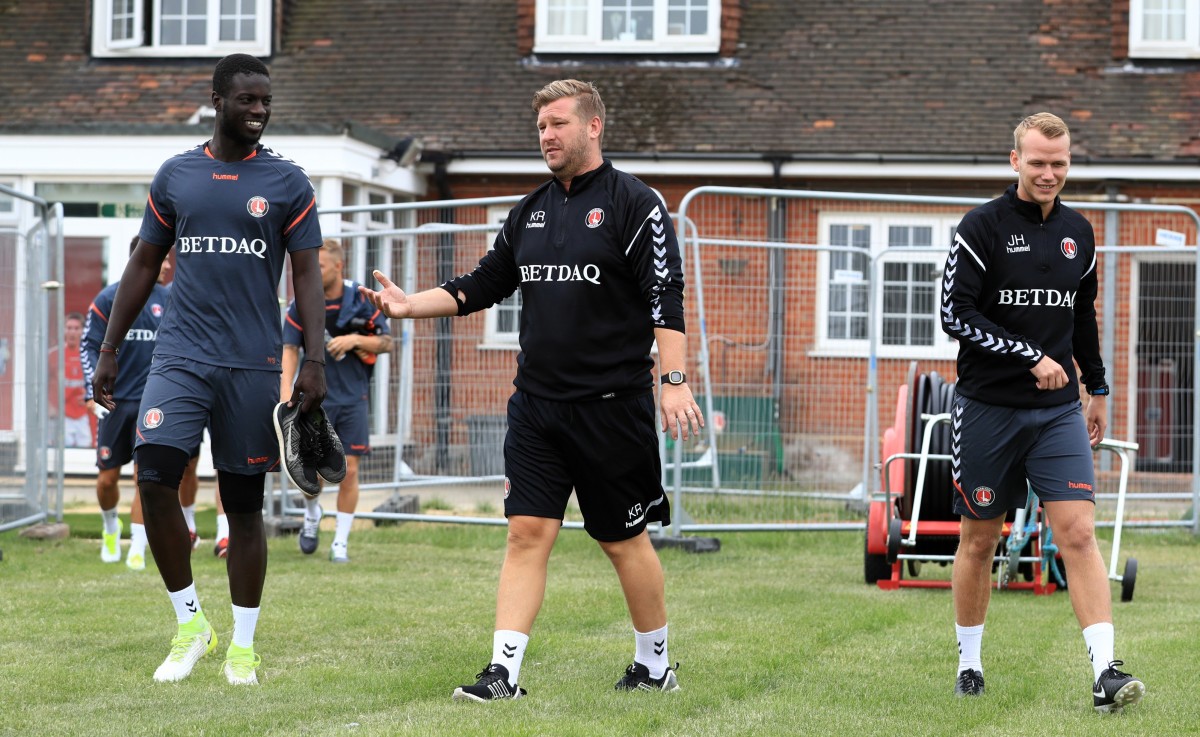 The Addicks bowed out of the promotion playoffs at the first hurdle to Shrewsbury, Sarr playing four minutes across the two legs, but there were positive building blocks for both Charlton and the still 24-year old defender.
A major building block for both parties was manager Lee Bowyer. The former England international replaced Robinson initially as caretaker in March, with the Addicks five points off the playoff places. A graduate of Charlton's impressive academy, Bowyer was the perfect manager for Naby. 
Bowyer recently said: "We have to remember how far he has come. When I first took over 18 months ago he was in a bad place."
From very nearly the first day of the 2018/19 season, Sarr was depended on as Bowyer's men made a run at automatic promotion. Bowyer became permanent manager in September and an enthralling season followed.
Finishing just three points shy of automatic promotion, Charlton entered the lottery of the playoffs. After the dramatic two-legged playoff against Doncaster ended level at 4-4, penalties decided who would face Sunderland at Wembley. 
In front of a sold-out Valley crowd of 25,428, the largest since 2012, Sarr stepped up with a chance to send Charlton to the playoff final. Low to the left side, saved. 
Fortunately, Tommy Rowe sent the next spot-kick wide to send Charlton to Wembley regardless. 
Earlier this week for the feature interview of the Boxing Day Valley Review, Naby spoke of that incredible moment. 
"Yeah, yeah, I asked to take it. So even if I was feeling tired I knew I just had to take responsibility for the team. Football is football. Sometimes you miss, sometimes you score. I missed, and I just thought 'No, not now…' But then their guy missed and I was released. 
"It was amazing. I think it was my best moment at Charlton when everyone was celebrating on the pitch."
Perhaps had Naby's penalty gone in we would have talked about that as his personal summit. But the miss allows us to enjoy his continued tempestuous narrative.
Back to the Kiyan Prince Foundation Stadium on Saturday where Sarr, now deployed in a back three following Purrington's withdrawal, started to look much more settled as the half wore on, his teammates following suit as Charlton searched for a route back into the match under darkening skies in this tight London derby.
A few promising forays forward went unrewarded and the score remained 1-0 at the break. 
Charlton immediately looked quicker and more adventurous in the second half and their attacking endeavor was rewarded with an equaliser in the 56th minute. Lyle Taylor, back for his first start since September, redirected Albie Morgan's effort past Joe Lumley to make it 1-1.
Following Doncaster, Wembley also wasn't necessarily quite the personal summit for Naby after the bizarre sequence that saw Sunderland gifted a 1-0 lead in the fifth minute. 
A backpass went from the boot of Sarr, under the foot of Dillon Phillips, and agonizingly into the back of the net. The sequence, Sarr-to-Phillips, occurred hundreds of times throughout the season without error, but alas at Wembley…
In typical Naby fashion, that crazy episode is just part of his Charlton story. 
"Sh*t happens, football is like that!
"The own goal, I thought it was a good pass, maybe it was a bit too hard, I don't know.
"That was a weird moment. It didn't feel like real life."
Ben Purrington equalised in the 35th minute, Sarr was withdrawn at the interval, and Patrick Bauer scored that iconic 94th-minute winner to send Charlton back to the Championship.
In some ways that was mission accomplished for Sarr. 
"Promotion meant a lot, it's been a long journey, my first time at Charlton wasn't very good, we were in the Championship and got relegated.
"Three years later, we got promoted, and I played so I'm pleased that I'm playing and with what I've achieved."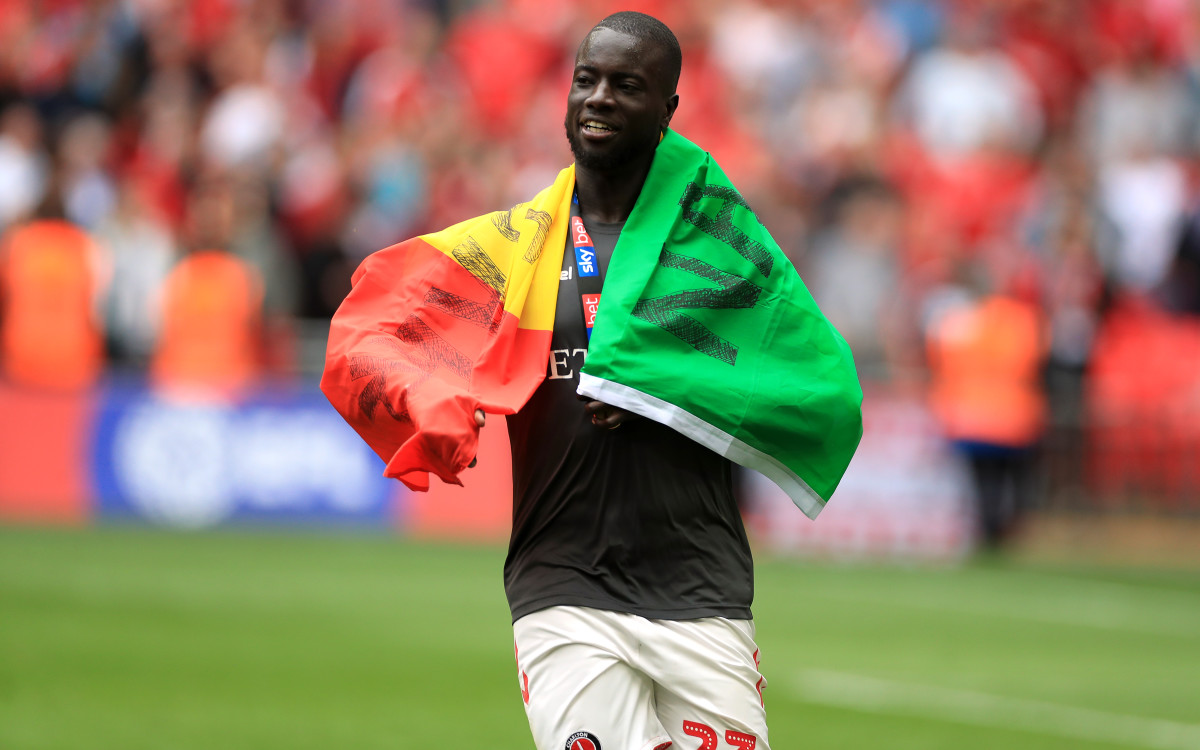 The promotion campaign included many memorable moments for Sarr, including a devilishly struck free-kick against Wimbledon. Karl Robinson had called Naby the best finisher at the club and he does have some domain over left-footed free-kick opportunities, at least when Erhun Otzumer is absent.
Speaking after his goal against QPR, Bowyer emphasized Sarr's finishing ability, the boss rewarded for sticking the defender up front with a few minutes to spare. 
"Naby Sarr is a very, very good finisher. I've said it a lot of times now. He's one of the better finishers at the club.
"In the small-sided games we do, he scores every day. He can finish."
Naby takes great pride in his proclivity for goals, Saturday's saviour still not fully satisfied with his crucial touch.
"I tried to have a good touch and finish it. I shanked it a bit, but it still went in so I'm happy."
Sarr's finishing acumen was required because Charlton failed to take advantage of renewed dominance after making it 1-1. The Addicks looked the better team following Taylor's goal, but couldn't get a crucial second.
Another disappointing result looked to be on the cards when QPR regained the lead in the 70th minute. Bright Osayi-Samuel drove to the byline and pulled the ball across the face of goal for Marc Pugh to tap home.
Rain poured down as the Addicks stared defeat in the face. This was not what Sarr had hoped for when he arrived in the west London sunshine a few hours earlier for his third consecutive start.
Naby has largely been a regular fixture of Lee Bowyer's teams this season, starting 14 of 23 Championship matches. 
Solid Championship performances have rewarded the 26-year old with a maiden call-up to the most recent Senegal squad, although he is yet to win his first cap.
Tasked with securing their place in the Championship, Charlton started the season in terrific form before a run of 12 games without a win, coinciding with a mammoth injury crisis, has led to significant frustration. 
Charlton and Naby have played well in large patches during that time, not quite turning solid performances into points, late goals against a common thread.
Even the roughest periods are marked by genuine optimism for Sarr; "So many games we deserve much more than we've gotten. Last Friday we deserved to win. I think, nah I'm sure, that things will turn around."
The Friday in question was particularly devastating. After losing late on against Huddersfield Town, Charlton looked nearly back to their best as they took a 2-1 lead against Hull deep into second-half stoppage time. 
With the final whistle moments away, Dillon Phillips couldn't quite keep out Keane Lewis-Potter's header as the three points evaporated in gutting fashion.
Defeat to QPR would be yet another disappointment in the build-up to the festive period.
Searching for a late equaliser of their own, the Addicks again came back on the offensive, Lyle Taylor centimetres from a second, his header striking the crossbar. Alfie Doughty, impressive again in just his fourth start for the senior team, then shot narrowly wide.
Bowyer with a final throw of the dice replaced Doughty with Deji Oshilaja in the 88th minute, sending Sarr up alongside Taylor and Macauley Bonne as a third auxiliary striker.
Into four minutes of stoppage time the game went, Charlton struggling to get the ball into their attacking third. A 95th-minute throw-in to Phillips, allowed the 'keeper to lump it into the box.
Throughout his entire Charlton odyssey, Sarr has been a bright and positive figure around the club, morphing into a cult hero after those early struggles, his popularity encapsulated by the Baby Shark/Naby Sarr frenzy from last season. 
Speaking after the match in a tiny TV suite barely able to contain Naby's ebullient personality and 6ft 4in frame, the defender forced to sit in order to fit in front of the advertising boards, Sarr said: "100 games with Charlton-it's motivation. I'm very proud and now I want even more so I'm looking forward to the rest of the season.
"The first objective of Charlton in the Championship is just to stay in the league, and I'll try to help the team as much as I can."
On Saturday he more than helped the cause. In what was surely the final attack of the match, Phillips smashed the ball long. A QPR head got to it first, but could only flick it on further. Naby Sarr, channeling his striker's instinct, was on hand to collect calmly and slot into the bottom corner, igniting scenes of bedlam in the away end as the centre-back-cum-centre-forward slid on his knees in front of the 2,800 traveling Addicks.
An early Christmas present for Lee Bowyer and the entire Charlton faithful. 
As Charlton prepare for a new era, both the club and Naby Sarr can look back on his first doomed campaign as a necessary evil; a steep and devastating learning curve that allowed the ruins to be built back stronger.
Oh yes, and all this on his once-implausible 100th appearance for the Addicks.
Article by Benjy Nurick
Click here to get your ticket for Boxing Day at The Valley.