The global football landscape is interwoven with the footprints of Charlton's illustrious academy, as Addicks graduates find success all across the country, the continent, and even in far-reaching corners of the globe.
In November, the Charlton academy continued to plant its flag in new realms across the footballing community. Academy Manager Steve Avory and Head of Coaching Adam Lawrence traveled to Scotland at the request of the Scottish FA to share some of the special reasoning that has shaped dozens of young men in SE7.
"The presentation consisted of a theory session on how we've created our culture, the Charlton way of developing players. An explanation of our values and beliefs, the presentation was even titled 'Values, Beliefs, and Methods of the Charlton Way.' I presented on the values and beliefs, Adam presented on our coaching philosophy and our playing philosophy.
"Then we went to do the practical session. For the practical session, we chose to base it around a theme of key moments in attacking play which is part of our syllabus. Essentially a session around playing forward quickly on the transition to counter attack. We did it at Ross County and at a university facility in Aberdeen and there were 50 coaches each evening." Avory explained.
With the Charlton model such a famous and inspirational doctrine, coaches from all over the football spectrum flocked to North Scotland to absorb Avory and Lawrence's teachings.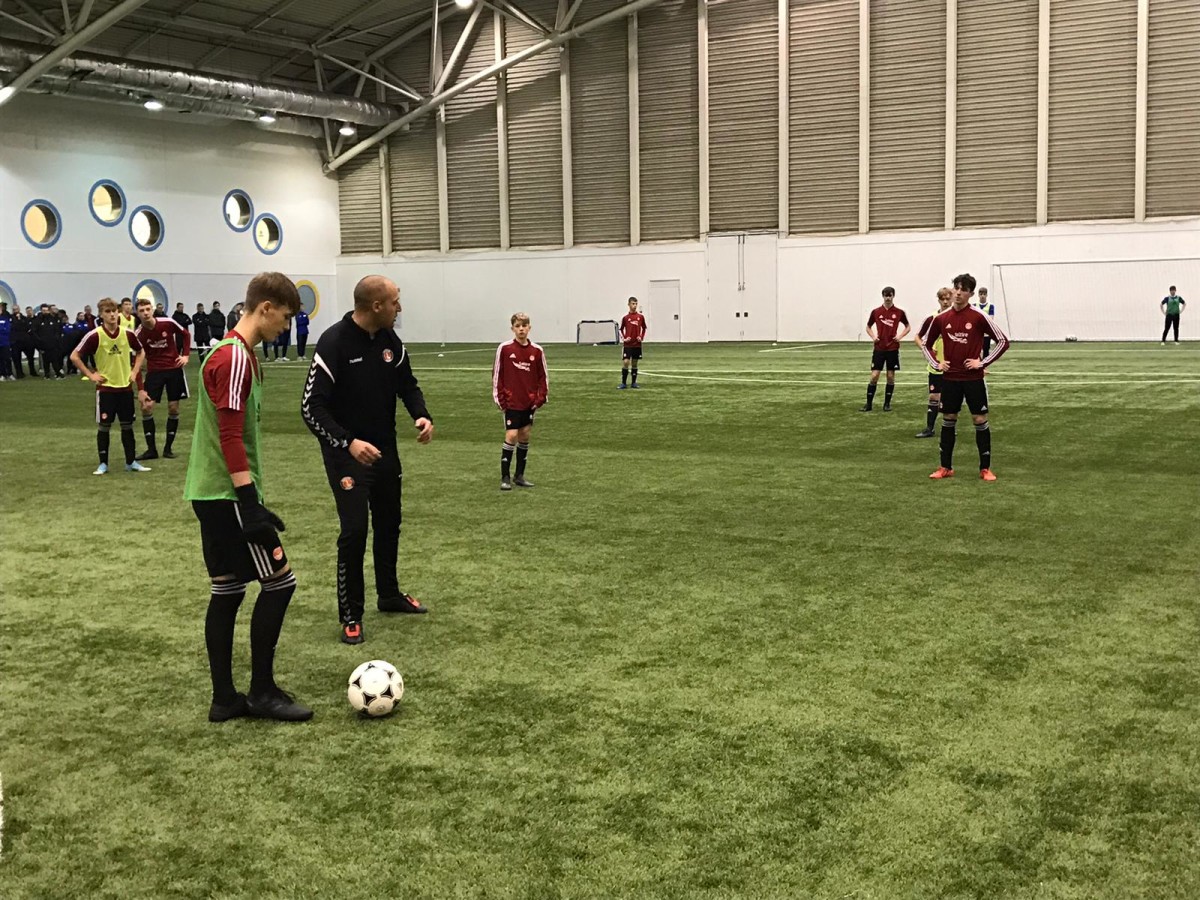 "There were coaches from various levels. This was based around the North region so Aberdeen and the surrounding areas, Inverness and the surrounding areas, right up to the Highlands. They invited coaches as part of their Continued Professional Development Hours, so we had coaches who were Level Two coaches, Level Three coaches, which is UEFA B license, as well as UEFA A licensed coaches. In fact, the evening in Ross County was also attended by the Ross County managers as well as the Inverness Caledonian Thistle managers. We had a good mix of experienced coaches as well as some of the younger coaches starting out in the game."
The success of the Charlton academy can be measured by many metrics, yet by all metrics from player and parent tributes to statistics, a very bright light shines on the work of Avory's team.
"What they (Scottish FA) will have clearly heard is that our productivity and pathway of opportunity for young players is very evident in our club when you look at the statistics of players that have come through. The fact that over the last six years the figures that we've got from the Premier League have us down as the seventh-highest producing club out of 92 clubs, producing players for first team football, be it first team football at Charlton or elsewhere. The productivity formula recognises graduates that have come through our youth development programme.
"The statistics are good, stats like at the end of last season 32% of our playing squad had come through the academy. There were eight academy graduates that were in that team and four of those have been with us since the age of nine, so the pathway of opportunity is clearly evident. 
"I do think the Scottish FA had heard a bit about that, they talked to people in the game who recommended us. We did a similar presentation in March on behalf of the Premier League, to around 100 English academy coaches at a Coach Collaboration Event, staged at The Valley. It's very satisfying and the Scottish FA request was recognition beyond our borders"
Steve Avory is a man who doesn't require too much validation, confidently knowing the value and quality of the work he and his entire staff do on a daily basis. However, if validation was required he could look no further than Joe Gomez's eight England caps, Ademola Lookman's five Bundesliga goals, or Dillon Phillips' 12 clean sheets in just 30 League One appearances last season.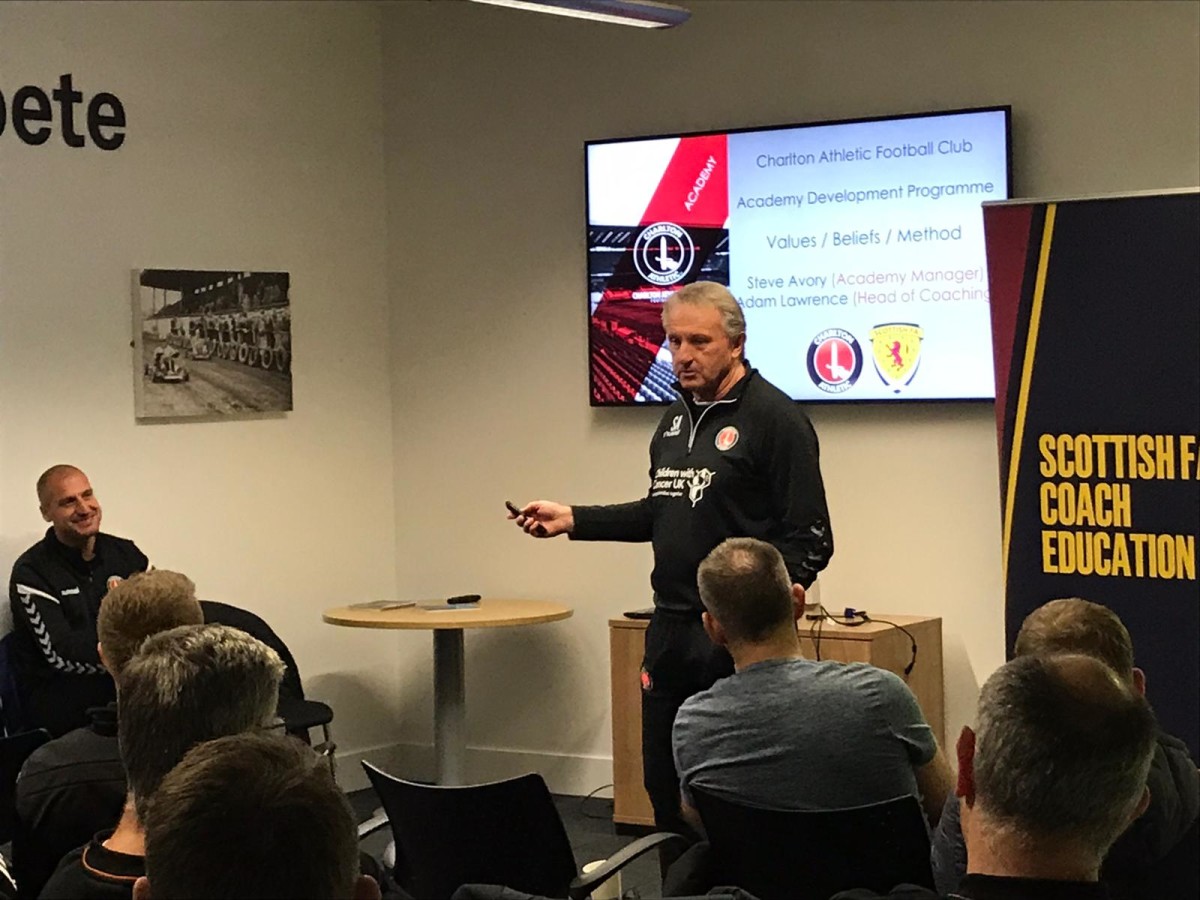 The call from the Scottish FA provides yet another stamp of approval to the heavily stamped passport of Addicks' academy success.
"It confirms that you're doing something right. You build up that confidence over a number of years, based on the players that get through the system and through the feedback you get from players and parents. That's always important to me and that's always important to my staff. The regular feedback that you're developing them as people, as well as players, is important. 
"I think when you get other people asking you to do a demonstration of what our practice is, it's very satisfying. Not just for me, I've done quite a few of these things over the years, but I take a young coach with me like Adam Lawrence, he's been with us for eight years, still young and developing strongly as an academy coach. He's done a fantastic job as head of coaching at Charlton and it gives him an opportunity to present, which I'm sure he finds valuable for his development as well."
In addition to allowing the Charlton coaches to share their methods and demonstrate the pride connected to the academy infrastructure, presentations such as these provide a hugely important learning opportunity for those on the receiving end. Greig Paterson, Head of Coach Education & Development said: "This session took place as part of our CPD (Continued Professional Development) programme at Scottish FA Coach Education which allows our coaches to gain knowledge and best practice examples from other organisations, which they can then implement in their own organisations.
"Having two highly rated coaches from Charlton Athletic present to our coaches on their best practice at the club was invaluable to our participants and will only aid their development in the future."
Clearly, the impact of the visit was felt by all lucky enough to attend with Calum Macdonald, Player & Coach Development Manager for the Scottish FA North Region giving a glowing review.
"The event was extremely worthwhile. Both Steve and Adam were really open with the coaches, informing them of how they operate at Charlton Athletic and how important it is to set standards to improve the players and ensure they reach the first-team level.
"The content on the pitch and the presentation they delivered was extremely insightful and the feedback from everyone was very positive.
"It was great to continue to build relations with Charlton Athletic in what proved to be a very worthwhile and enjoyable session."
The Charlton academy is supported by Valley Gold, click here to join Valley Gold.
Article by Benjy Nurick