Club photographer Kyle Andrews recently spoke to the club's academy players about their mental health as part of The Sporting Way scheme put on by former Addick Bradley Pritchard.
Andrews, who has had experiences with his own mental health, came in to the training ground to talk to the young footballers, giving examples from his own life and how he has overcome them.
"This came about because I was in a position where I thought I could give something back with my experiences and my general understanding of the situation," he explained.
Andrews spoke about how he was contacted by the former Charlton midfielder Pritchard who has been working with the academy as part of the Education and Welfare programme.
"I've known Bradley Pritchard for a while now," said Andrews.
"I always liked how he put 100 percent in, every game. Because of that, I went and watched him at a number of other clubs he went to afterwards and I formed something of a relationship with him.
"For a couple of years he's wanted me to come in and do this sort of thing with the academy players about mental health because I've had my experience of it, in the hope of giving them a good understanding and what they can do to help themselves."
Pritchard further explained the want for Andrews to come in, citing the programme as also attempting to show that the football club is more than just its playing staff.
"When I started working with Charlton's academy I always thought that it would be really good to have speakers who were associated with the club in different forms, and one of the things we wanted the boys to do was interview non-playing staff," said the League One title winner.
"It wanted to try and encourage the lads to think that the club is more than just coaches and players."
Andrews was keen on the idea of helping out in some way, but insisted that he wasn't quite ready to do it for a number of years.
"I didn't feel confident enough and I didn't think I was in a good enough place to speak to people and tell them how to deal with it when I wasn't doing that myself," said the photographer.
"It's been these last few months that I've thought I want to do this as something that won't just benefit others, but will also benefit myself because I know that I can now use my ability to share my experiences with people rather than just living with them."
As part of the sessions, Andrews asked the players what they thought on the subject of mental health and, despite their young age, he found himself somewhat surprised by the responses.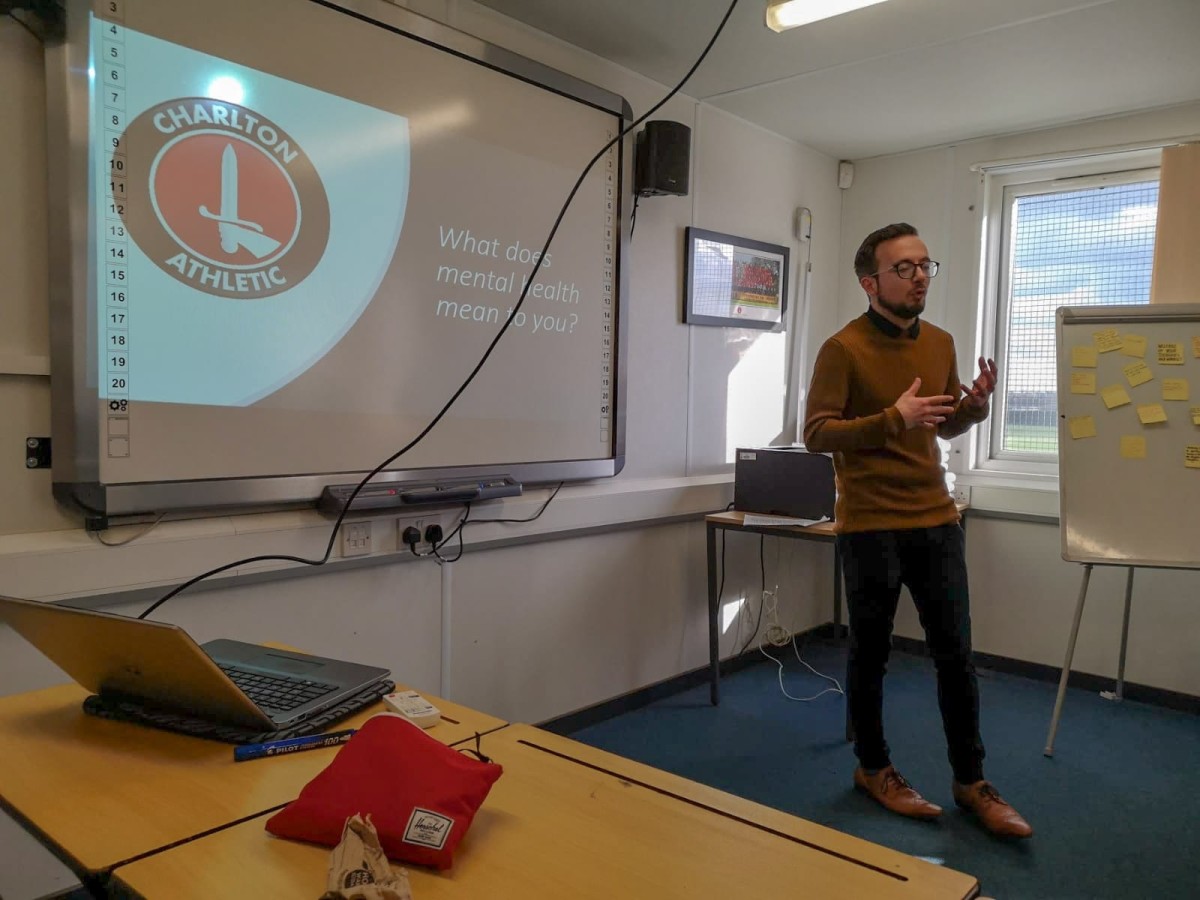 "I was amazed at how in-depth some of the responses to the activities were," he explained.
"There was some detailed and complex understanding that you wouldn't expect from 16 to 18-year-old males and that helped me because I then knew I had a good audience with a good understanding."
"The session was very open they had some good ideas about what they felt could benefit them and what they could do to maintain their mental wellbeing."
"I asked them what can be done to make a more sustained feeling of acceptance in football and one of the answers was; 'more things like this'. They see the importance of it and they want to be in an environment where they can feel reassured enough to be fully open in a footballing environment without facing criticism."
Continuing on that last point, Andrews feels as though there is a more welcoming environment in football now and it is more about breaking the stigma of believing that there isn't one.
"I have a feeling that there is still a lot of work to be done to get that reassurance across. 
"Through my own experience I found that a lot of support came from people who were footballers or who were In football, but at the same time I have seen that the stigma is still there, with footballers rarely speaking out and when they do it is normally retired players who can speak without the repercussions of it affecting their careers.
"The thing is, when they do it, there is normally a supportive response. We have things like Mind in the Football League and the Take A Minute campaign, so there's things in place but I don't think that directly at club level people can be as open and as honest as they would like to be.
"I have a feeling that there is still a lot of work to be done to get that reassurance across."
Despite this work needing to be done across football in general, Andrews is confident that there is an understanding environment at Charlton and hopes that it will only continue to improve.
"There's definitely a supportive environment at Charlton and that's what we're trying to get across," he said.
"Despite the fact that the reassurance isn't necessarily there now to go out and talk about their problems to everyone in football, they are now aware that they are in an environment where they shouldn't have to feel forced to keep quiet."
Meanwhile, Pritchard praised Andrews' delivery of the session citing that the lads were kept engaged throughout.
"The first session was more so about his experiences and the second session was about providing coping mechanisms. His presentation was seamless. It's pretty daunting talking to a group of young footballers and you're probably always second guessing yourself and making sure what you are saying is keeping them entertained but also is educating them. 
"This current group of academy boys are exceptional, they're not only good footballers but they're also nice as people. But when he came back in for the second session it would have obviously been harder because you lose the novelty of it and you have to keep their attention again. But, because he had struck up a good rapport with them it actually made it easier..
Finally, Pritchard admitted that Andrews was able to strike a something of a unique connection with the players and that helped with the effectiveness of the session.
"What he was able to talk about and also relate to the boys was something that no one else could have done. It was an interesting dynamic because you see both Kyle talking and the players listening and learning something new about not just each other, but about themselves.
"Some of the boys who ended up joking at the start listened to him and the experiences that he had gone through and that made it more significant for all the boys who had gone through little things in their situations whether it stemmed from being injured or losing their place... They thought that was just part of football when actually these insecurities are felt by everyone and that there's no prizes for being the keep it all in type of character."