Following the sad news that Charlton superfan Seb Lewis had passed away on Wednesday after contracting coronavirus, supporters have begun urging people to #StayHomeForSeb amidst the worldwide pandemic.
On Thursday morning, social media was flooded with tributes from supporters, as well as players and staff past and present, to Lewis, who lost his fight with COVID-19 at the age of just 38.
One of the club's most dedicated, loyal and popular supporters, Lewis racked up an incredible 1,076 consecutive games following his club, a run that stretched all the way back to February 1998.
In amongst the tributes, supporter Amy Wilkin came up with the idea to pay tribute to their fellow fan, while also driving home the important message to stay home and save lives, to help stop the spread of the disease.
Kicked off by lifelong Addick and Charlton Live host Louis Mendez on Twitter, supporters are being urged to hang a flag, shirt or scarf in their windows as a visible reminder, using the hashtag #StayHomeForSeb.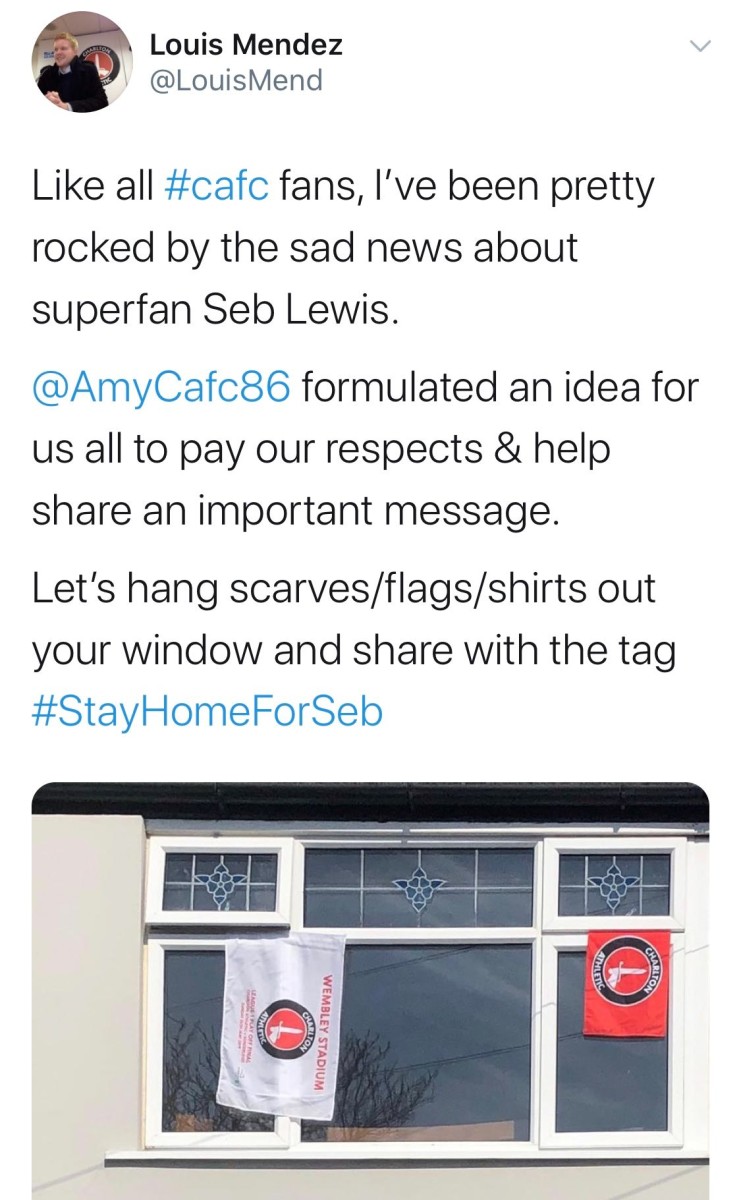 "I was deeply saddened this morning when I heard the news about Seb Lewis," explained Wilkin.
"As a teacher, I was in school but simply couldn't control my sadness for what had happened and came home early. On my way home, I could still see a fair amount of people out and about, and couldn't understand how there were some people still not taking this seriously.
"I can't stop thinking about Charlton games, and how we won't walk past Sebbo and say, "alright, Seb?", we won't see his away day uniform posts and photos of his sweet treats, and we won't see the welcome sight of his flag on a rainy Tuesday night up north."
"The flag was what gave me the idea of us all hanging something Charlton in the windows," she continued.
"I really hope that this will catch people's attention and get them on social media to then realise what a young, special person this virus has taken from a family, a fanbase and the world. I really hope this can help to make people listen."
Supporters can get involved with the initiative by posting an image of their colours flying from their household for Seb using the hashtag #StayHomeForSeb on social media.
A group of Charlton fans have started a GoFundMe page to raise money for a tribute to Seb. More information can be found here.
Fans are reminded to stay at home. Only go outside for food, health reasons or work (where this absolutely cannot be done from home). If you must leave the house, stay two metres away from other people and wash your hands thoroughly and regularly.