Charlton Athletic and Charlton Athletic are excited to be launching a free Equality, Diversity & Inclusion webinar series titled Tackling Inequality: Looking ahead in these new & challenging times.
In partnership with the Royal Borough of Greenwich and the EFL, the series held via Zoom will kick off with four sessions taking place in December.
The webinars will be exploring the themes of: Race and Ethnicity, Transgender Inclusion, LGBTQ+ Inclusion, and Allyship. 
Charlton Athletic's Professional Footballers' Association (PFA) Equalities Ambassador, Adam Matthews, said: "I'm proud to endorse the next series of Equality, Diversity and Inclusion webinars. The webinars provide important opportunities to learn about a wide range of subjects, from a great range of speakers."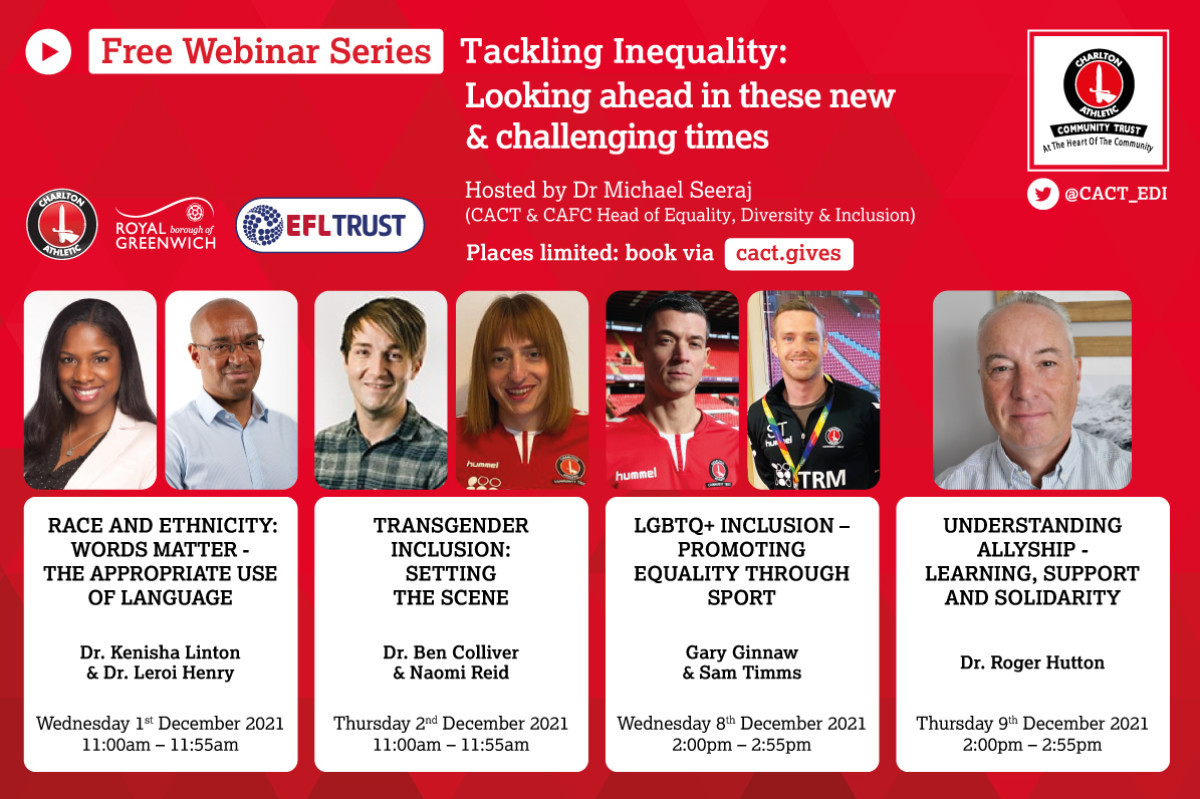 Now in its second year, the first series proved incredibly popular last year with over 850 attendees in total, and nearly all sessions were oversubscribed.
Over the past 18 months the COVID-19 pandemic has had a disproportionate impact on particular groups and communities, including older people, those with disabilities, the LGBTQ+ community, Black, Asian and minority ethnic groups, women, and other disadvantaged communities, which further highlights the urgent need to tackle discrimination and inequalities. There is now widespread recognition that a lot more needs to be done to address these ongoing, deep-rooted disparities. 
CACT and Charlton Athletic's Head of Equality, Diversity and Inclusion, Dr Michael Seeraj, said: "I am delighted and really excited to confirm the launch of our next EDI webinar series. The series is designed to provide greater insight and understanding of a range of current themes relating to tackling inequality and promoting inclusion, particularly the challenges faced by disadvantaged communities and underrepresented groups. 
"The purpose of our webinar series is to support staff, communities, partners, and different stakeholders to stay up to date with the latest developments and good practice, in order to work together and help contribute to finding effective ways forward, in these new and challenging times – which is undoubtedly more important now, than ever before." 
Please see below for more details about the webinars and click here to book your place: 
Theme: Race and Ethnicity: Words Matter - The Appropriate Use of Language 
Wednesday, December 1st 2021 @ 11:00am 
Dr Leroi Henry and Dr Kenisha Linton 
Theme: Transgender Inclusion: Setting the Scene
Thursday, December 2nd 2021 @ 11:00am 
Dr Ben Colliver and Naomi Reid 
Theme: LGBTQ+ Inclusion – Promoting Equality Through Sport 
Wednesday, December 8th 2021 @ 2:00pm 
Gary Ginnaw and Sam Timms 
Theme: Understanding Allyship - Learning, Support and Solidarity 
Thursday, December 9th 2021 @ 2:00pm 
Dr Roger Hutton