Six-year-old Harry Goedhart and his teammates, inspired by Lyle Taylor's Pink October campaign, have raised more than £1,100 for Cancer Research UK.
The Charlton fan is having his hair sprayed pink for every game in October and he's managed to persuade his teammates to do the same thing as he aims to help contribute to a cure for cancer.
Throughout October Lyle will be sporting a pink haircut and is wearing pink boots to raise money and awareness for Cancer Research UK. At the start of the month he explained that if his campaign got just one person thinking and doing their own thing then it would be a success and young Harry is certainly doing a fantastic job emulating one of his idols.
His mum Carole explained: "Harry is a massive, massive Charlton fan. When I was telling him Lyle was dyeing his hair pink and wearing pink boots he was asking why. I tried to explain to him why and he was asking loads and loads of questions, even days after and then he asked if he could do the same. I said "Yeah, of course" and then he spoke to the rest of his teammates and convinced them all to do it as well. We explained to all of their mums why they are doing it. 
"I spoke to their mums first to explain Harry was going to ask the team if they wanted to do it and they said it was fine by them. Harry spoke to them and they were all really up for it. They did it last Sunday (October 7th) for the first time.
"The team they were playing were a bit 'What on earth have they turned up like?', so their parents were asking us what it was about. But when we explained it to them they understood."
Harry is a goalkeeper for Kent Football United's Under 7 Blue and he also plays in the pre-Academy at Charlton.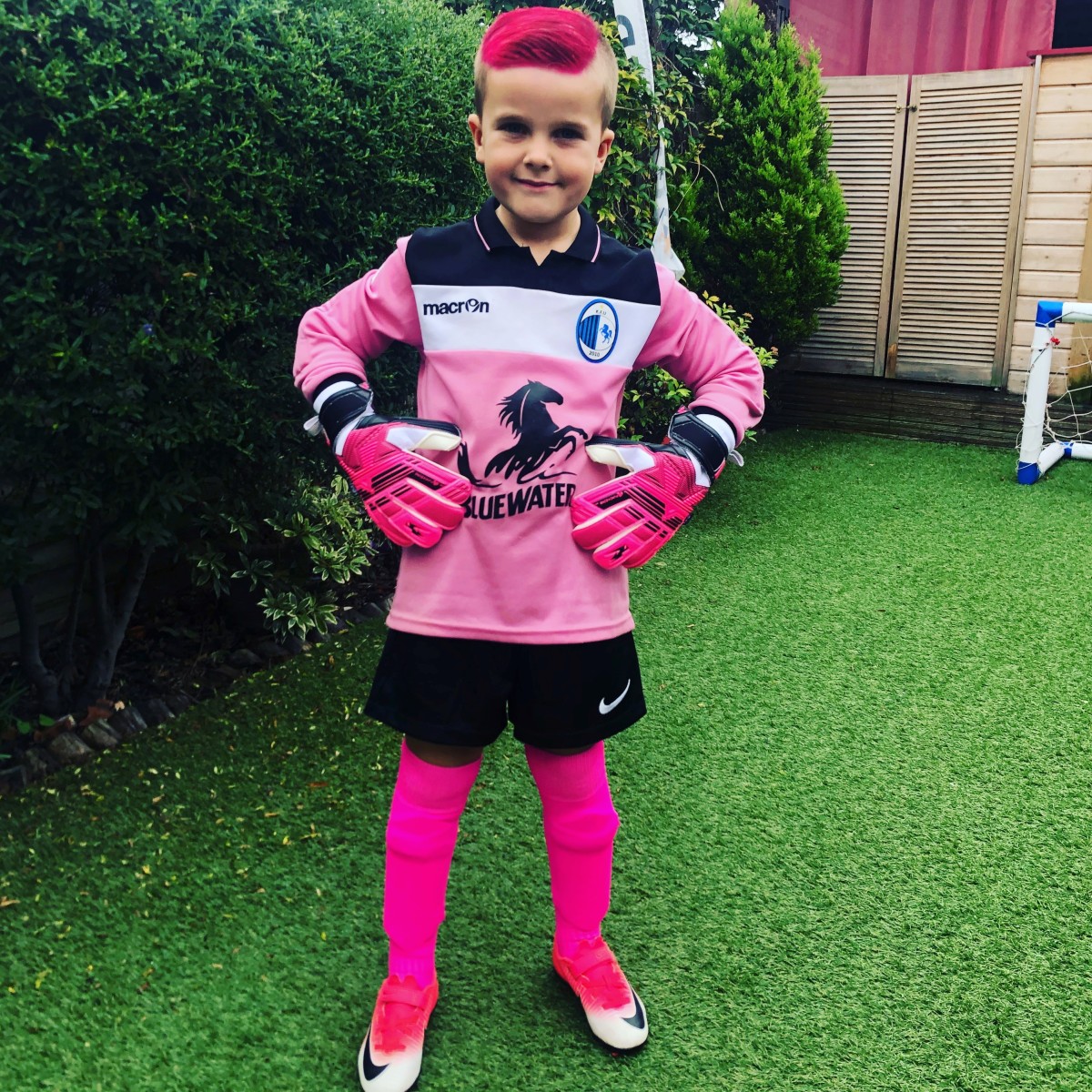 He's in his third year as a season ticket holder and was a mascot in January for his birthday. While the rest of the team support the likes of Tottenham Hotspur and Chelsea, Harry is hoping that a visit to The Valley for the upcoming game for Cancer Research UK against Oxford United, will help convince them that Charlton is the team for them. 
Carole explained: "I've spoken to (Player Liaison Officer) Tracey Leaburn. We're going to all come down, they are going to fundraise before the game and they'll get to meet the players and then we'll watch them afterwards.
"They're really excited to come. I think because they support those teams they don't get to go to many matches so they're all really looking forward to coming to the match.
"He's already on it (persuading them to be Charlton fans). He's already telling them they need to learn the players' names. He was trying to teach them Lyle Taylor's song."
As well as the pink hair, the team are also wearing pink boots and pink socks and you can guess what colour Harry's new goalkeeping gloves are! Carole explained Harry's teammates and their parents have been crucial in their campaign. The team consists of Oscar Stunt, Harry Williamson and fellow Charlton pre-academy players Bobby Pascall, Macen Peerless and Elijah Nwagbara. She said: "All the mums have been really helpful as well. They've all gone out and brought the pink boots and have made such a difference in raising all the money we have."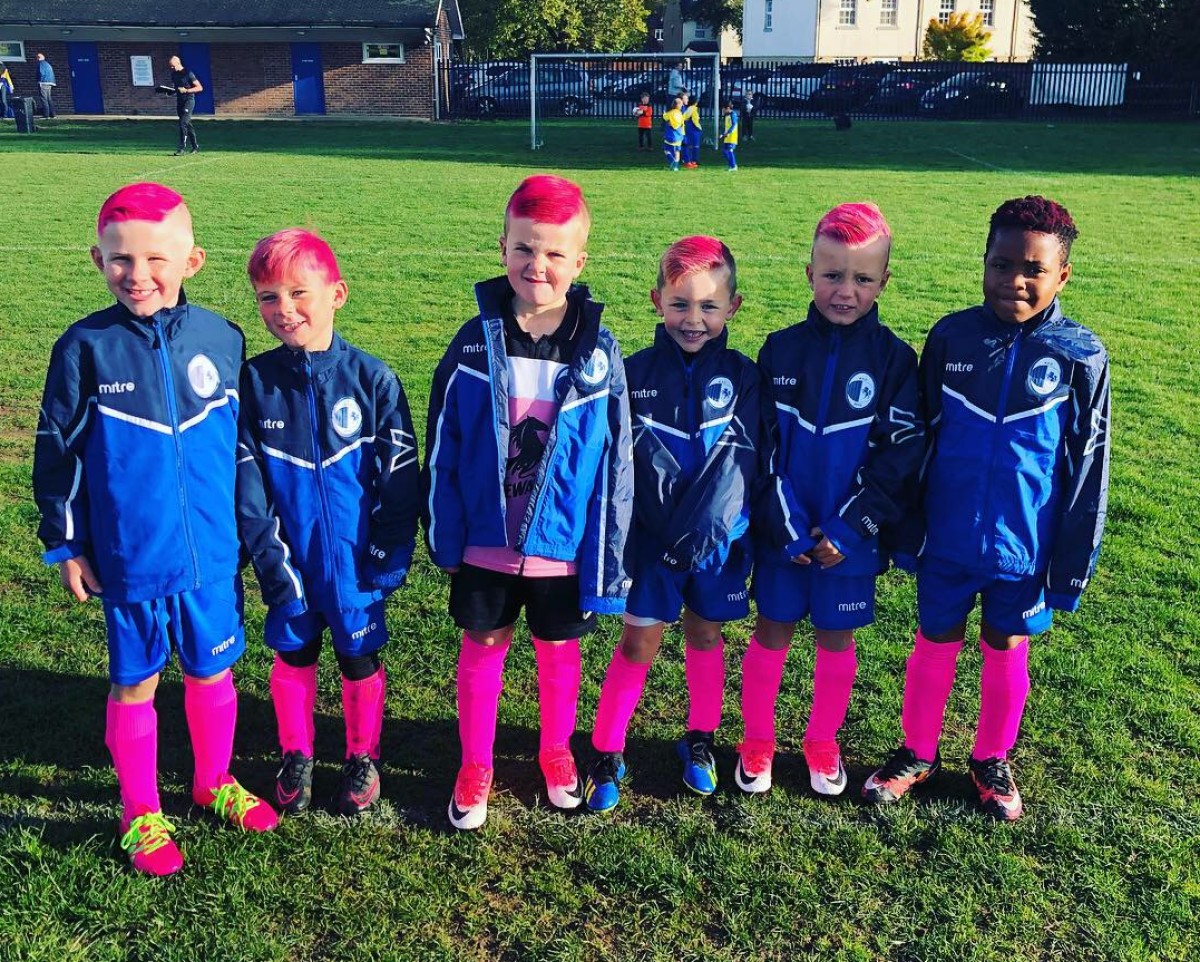 Not even the wet weather can dampen the boys' fundraising. Carole laughed: "Yesterday we played in the pouring rain, the boys had pink faces and dyed pink eyebrows at the end of their matches."
As with so many people, cancer has touched the Goedhart family. Carole said: "My nan had it. At the time I didn't really explain it to Harry. When I was telling him what Lyle was doing it for and I explained what happened to my nan, his great-nan, it made him think. He asked 'Why is there no medicine that can cure it?' I said 'That's what they are trying to raise money for' Whenever you ask him 'Why is your hair pink?' He says 'I'm doing it for cancer. I'm doing it because they need to get a cure for this'." 
Lyle is delighted with the support and will go and watch the team on October 28th. Carole said: "Harry is bouncing off the walls every time we mention it. He can't wait. We've got a really tough game that day as well.
"It's amazing what Lyle is doing. He wanted to raise awareness and he's definitely doing that."
Lyle said: "Harry is a very special young man. The amount of money raised already is a huge credit to Harry, Carole and all the families involved. I am very grateful they are supporting the campaign and I'm looking forward to meeting them all at the Oxford game and then going to watch them on the Sunday."
As well as the £1,100 raised for Lyle's campaign, The team has now started up a Just Giving page of his own. You can sponsor them here. 
You can donate to Lyle's campaign here.
The team are going to a tournament this Sunday and the boys are going to take some donation buckets with them.
More
The Valley to go pink for Oxford game in October
The Charlton family get behind Lyle Taylor's campaign