On Saturday the Addicks take on Southend United and the matchday is dedicated to Football v Homophobia. We caught up with Proud Valiants board members Rob Harris, Bhavisha Patel and Gary Ginnaw to find out more. 
The Proud Valiants are Charlton Athletic's LGBTQI+ and Allies supporters group. The group, which now has 55 members, was launched in 2015 and works with the football club and its community trust to fight homophobia in football.
Proud Valiants chairperson Rob Harris
On why a Football v Homophobia matchday is so vital…
"I think these kinds of matches that are happening up and down the country are really important. Sadly, homophobia in general is on the rise again and issues regarding transphobia are hardly talked about in general - let alone football. Events like the Football v Homophobia campaign help fans realise that hatred towards people based on sexuality or sexual identity is occurring and must not be tolerated - people are still being subjected to homophobic and transphobic chants in stadiums. I am proud to add I have never heard this at the Valley.
"I also think that by doing events like this, you might reach a couple of younger guys or girls who are watching football, who are, maybe, working around issues around their sexuality and feel isolated in the sport they love. I know from myself, it was a very painful time when I was coming out and I almost felt that football and being gay wasn't something that could mix. You could either be gay, go to clubs and follow fashion or you went and watched football. Sadly it got to the point for me that it became really serious, with me trying to commit suicide because I just couldn't make the two work. If there's just one or two fans in the stadium who are going through issues like that, or a trans member who wants to enjoy the game as who they are and not by birth name, to know that there are groups and clubs like Charlton who take this very seriously, it almost helps validate part of what they're going through."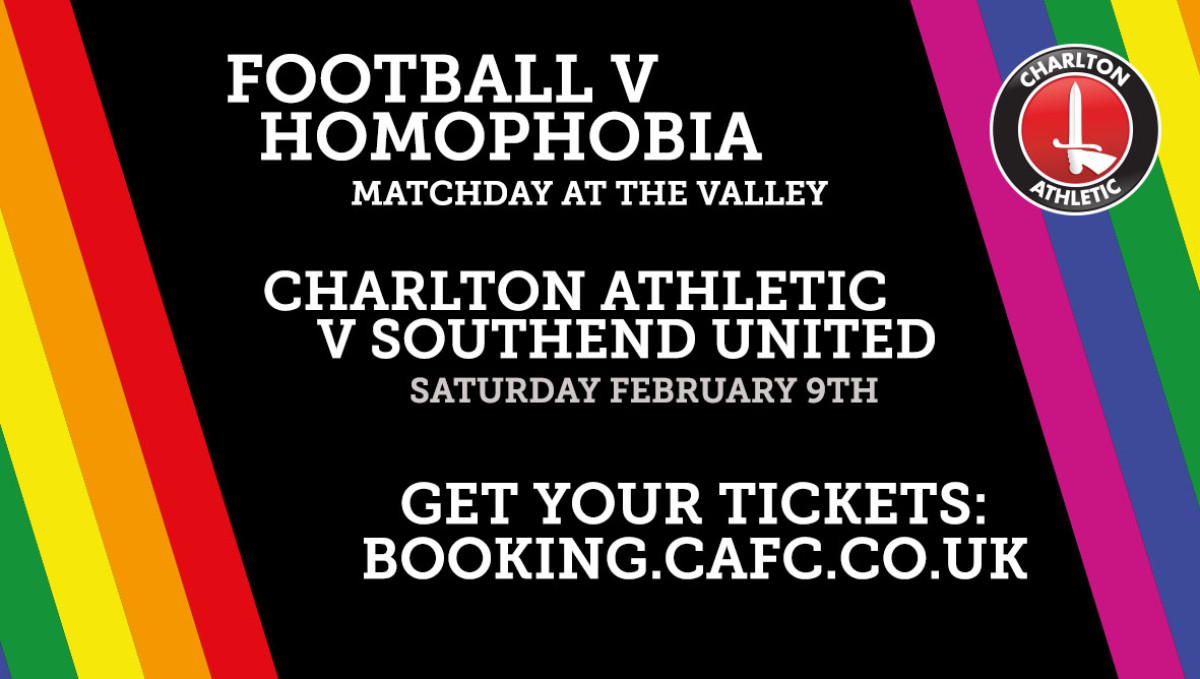 Proud Valiants board member Bhavisha Patel
On how she heard about the Proud Valiants and what it has meant to her…
"It was actually on Facebook. As a gay woman myself, who also enjoys football, I've been quite lucky. I've never really had any difficulty in terms of my sexuality, and I think that knowing groups like this exist, I've actually been someone that will participate because I am comfortable. It makes it easier for me to actually put myself forward and be a bit more visible. But, I have to say that I didn't ever feel comfortable bringing my partner to football until I was part of Proud Valiants, and then I thought: 'Do you know what? There is no problem here. I can just do it'. Whereas, previously, I actually tried to deter her from coming because I didn't want to have to explain who she was and all that kind of stuff. Now it's totally different. She comes to a couple of games a season. It's great! It's just a great environment to be in. Being a part of Proud Valiants has allowed me to expand and integrate parts of my life together."
Proud Valiants board member and player/manager of Charlton Invicta Gary Ginnaw
On Charlton leading the way again…
"I've been here for 20 years as a season ticket holder. I remember the Red, White and Black days and the players with the T-shirts on before the game. The club and the Trust were always leading the fight against racism, and it's no surprise that they want to be predominantly leading in the fight against homophobia.
"When you've got a Supporter's Group that's doing so well, and to have the first affiliated LGBT team, friendly football team (Charlton Invicta) doing so well. I think, together, we support each other with the Women's Team, and the Upbeats. There are so many different strands of the community that we're impacting on, and we're just one big massive family. I think it is quite a unique football club, and it makes me extremely proud to be a part of it."
Rob Harris
On one moment that sticks out…
"It would be the first Charlton v Homophobia tournament that we did here back in 2016. The fact that a league club like Charlton gave us the ground to play on - the history, the atmosphere. The club's commitment was 100% and on the day it was not just people that we knew who come along. I can remember there were a couple of young kids who were sitting near the front. They were 10 or 11. They came to the match because it was free to get into, and they were just asking so many questions in a very intelligent way for their age around the event and what it was promoting. They've actually come back to the tournament every year since. I think they're now 13 or 14 and they've brought their families back with them, so that's something I'm very proud of. Now we have the tournament each summer, LGBT players can play alongside allies that we have, different teams coming along. Last year we had an Air Force team, a media team, Fans for Diversity, Charlton Invicta, Proud Valiants and the University of Greenwich. It is hard work. There is only three of us that really are the board, but the fact is that it's not just about us, it's about the football. It's about the sport. It's not just about being a member of the LGBT community. When you get people from different sections of society gaining a new understanding, taking things on board, that's so important."
If you want to join the Proud Valiants, sit with the group at Saturday's game or learn more about the group email Proudvaliants@gmail.com or go to their new website www.proudvaliants.com
Tickets for this weekend's match against Southend United are on sale and can be purchased online by clicking here.