When 82-year-old Charlton superfan Betty Huchins found out Lyle Taylor was coming to visit her in Ellenor Hospice, Gravesend she was so excited she told everyone and she made sure she had her hair done.
Betty has been coming to watch Charlton since 1946 but has had a difficult last year suffering with terminal cancer, she moved into the hospice last week and her family described how the visit of Lyle had made such a difference.
Her daughter Sue Marsh explained: "It's made mum's year, well it's made mum's life really. She's had a fantastic day. It's brought her spirits up. She's been looking forward to this day all week.
"We're not sure how much longer she has got but today has been so special for her and we can't thank the club enough. It's done her good after what she's been through over the last year."
Saturday was the last game of the regular season and Betty was selected for the Pride of the Valley award for her dedication to the club. She is well known throughout the Charlton fanbase in part for the longevity of her support and for her voluntary work on the Charlton coaches. In her condition Betty wasn't able to make Saturday's game to collect her signed shirt, so Lyle dropped by to see her with the shirt and a card from the first-team.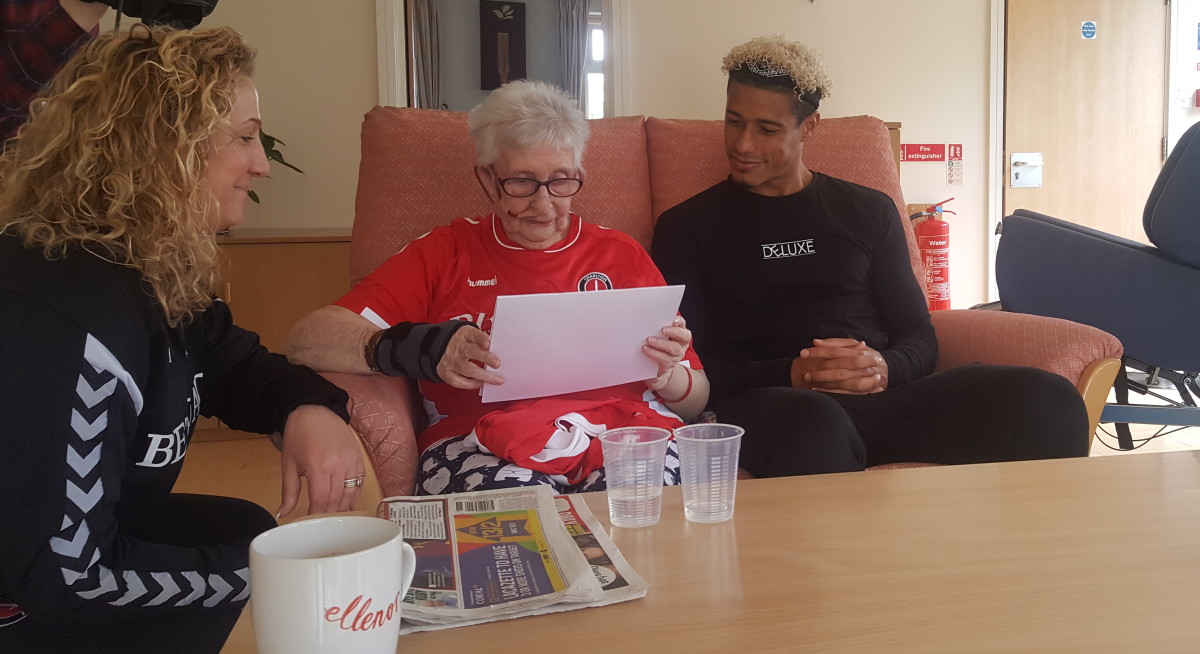 When she first heard Lyle was coming Betty cried and while she was nervous before he arrived from start to finish Betty was grinning and cracking jokes. She said: "It has been an absolutely brilliant day and I've thoroughly enjoyed it and I'd love to thank Lyle for taking the care to come and see me and all the people that were with him. He made me feel so comfortable and it was lovely, so I can't say thank you enough. I've really appreciated it, it's been a wonderful day."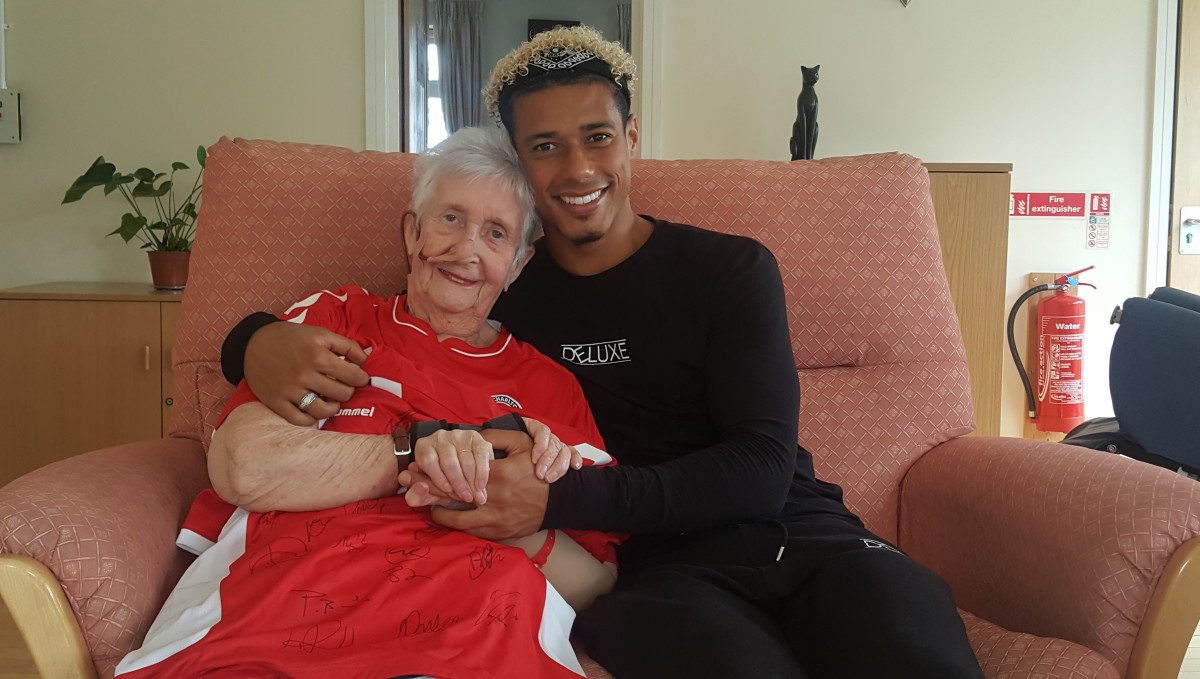 Sue and her other daughter Theresa Hamilton explained that Betty sends more than 100 related Christmas cards a year and Betty described why the club has been so important to her: "I have three things in my life and they all begin with F. My family, my faith and my football. Those three are my life."
Granddaughter Emma Longstaff explained that Betty's love of Charlton has had a positive impact on all the family. She said: "She's made it apart of all our lives, even the great-grandson has got two Charlton kits and when it's her birthday, he puts it on for her. She loves it. When we were in France for her 80th, he put it on and he was running around and she really enjoyed that day. It was much to the disappointment of his father who is a Millwall supporter. Nan and him have a lot of laughs about Millwall and Charlton."
Betty has been supporting the club for 72 years and still remembers where it all began.
She said: "When I was a little girl, my dad had three girls and he wanted a boy, so when I came along he took me up as a boy. I've been supporting Charlton since I was 10 and that is a long, long time. I've been up and down the motorway, I used to steward the coaches up until February this year with a guy called John Perkins and I loved it, every minute of it." 
Lyle said: "It's a real honour to meet Charlton fans who have seen way more than I have in football let alone just in Charlton. It was a nice day and nice to see her happy and smiling and so grateful for something so small. I'm pleased that we could come down here and make her day."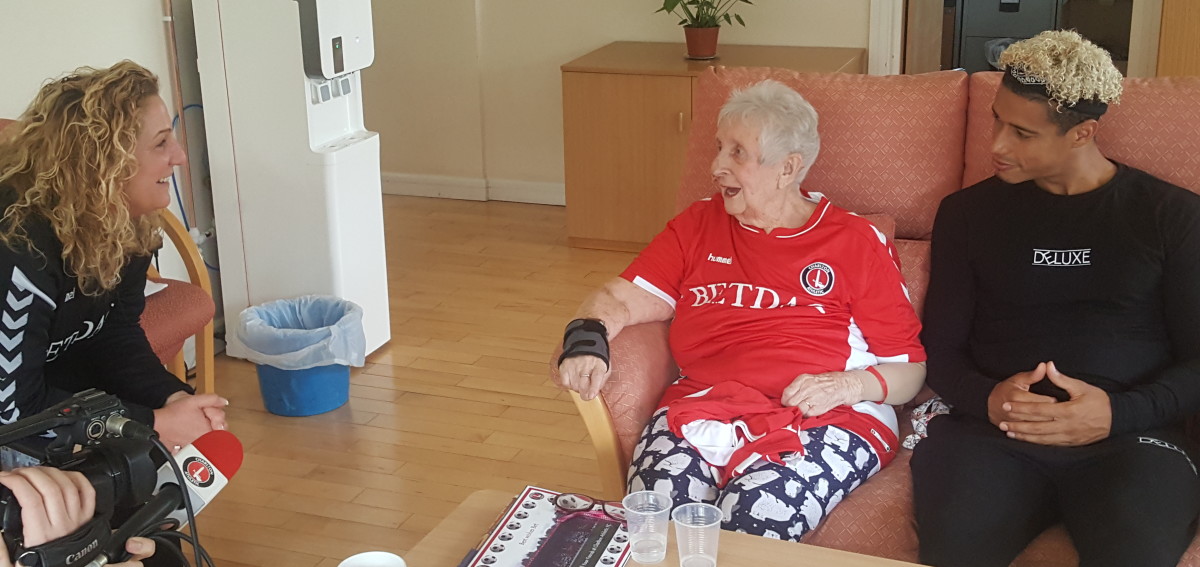 While Betty wasn't in attendance on Saturday to collect her Pride of the Valley award, the video of Lyle's visit played on the big screen was followed by a spontaneous round of applause from the home end. The whole of Betty's family were in attendance and Lyle explained that before the game that it might just give the team an added incentive.
He said: "We've got enough incentive to win the game anyway. The last league game of the season, the last league home game of the season and now this as well. If we win hopefully we'll be able to say 'that one was for her'."
Charlton beat Rochdale 4-0. Thank you Betty for your loyal support.