The below article was first published in the matchday programme for the Doncaster Rovers play-off second leg. Supporters can purchase the programme by clicking here.
Benjy Nurick delves into the world of analysis and finds out from Head of Analysis Brett Shaw and Assistant Manager Johnnie Jackson, why the Addicks have been so successful from set-pieces this season
On April 22nd, when Joe Aribo climbed highest to power home Charlton's second goal of the 4-0 victory against Scunthorpe United, the celebrations recognised more than just a crucial strike in the League One promotion battle.
Aribo's header marked the 21st set-piece goal scored by the Addicks this season, the most in League One, and showcased the type of corner directly manufactured from the minds of Charlton's coaching and analysis departments.
Speaking on Charlton's designed potency from dead-ball situations, Assistant Manager Johnnie Jackson said: "There's probably clubs that spend even more time on it. 100 per cent there will be clubs that do less. It's about finding that balance between visual analysis and practising on the training pitch. There's a lot of trust in our players and a lot of it is putting the right players in the right positions and then trusting them. I bet there's hardly any goals scored from pre-arranged routines. The majority of set-piece goals are from delivering the ball into the right areas and then having your best headers of the ball being aggressive and attacking it. So, we try to find the mix of that.
"We'll come up with a couple of routines and then we'll also have someone who we know can deliver the ball into a dangerous area, and we'll have lads who we know are aggressive and will put their bodies on the line to head the ball. If you get those two ingredients right enough, you'll score goals."
Analysis is often shunned in football culture, seen as a taboo attempt to cage the most fluid sport imaginable with statistics and plans, but at Charlton, there is an understanding of the value that comes from limiting the uniquely unpredictable nature of football.
Brett Shaw, the Addicks' Head Analyst, who surveys each match from a perch high up above the pitch, allowing him to see the game in its entirety, lives off of the numbers and plans of football but recognises the intensely difficult task of even attempting to analyse the game.
"Football has no closed skills," he explained.
"The game is open, it's often emotionally based, so it's a lot easier to analyse a lot of other sports where plays have a start and a finish, whereas football is open and fluid."
Jackson echoed the analyst's words saying: "There's a lot of randomness as well. You could concede without doing anything wrong because a ball has fallen or ricocheted to someone, but if you're in the right positions you can limit that randomness. It's always going to be there, but if you're in the right positions you can definitely limit it. It's never going to be perfect."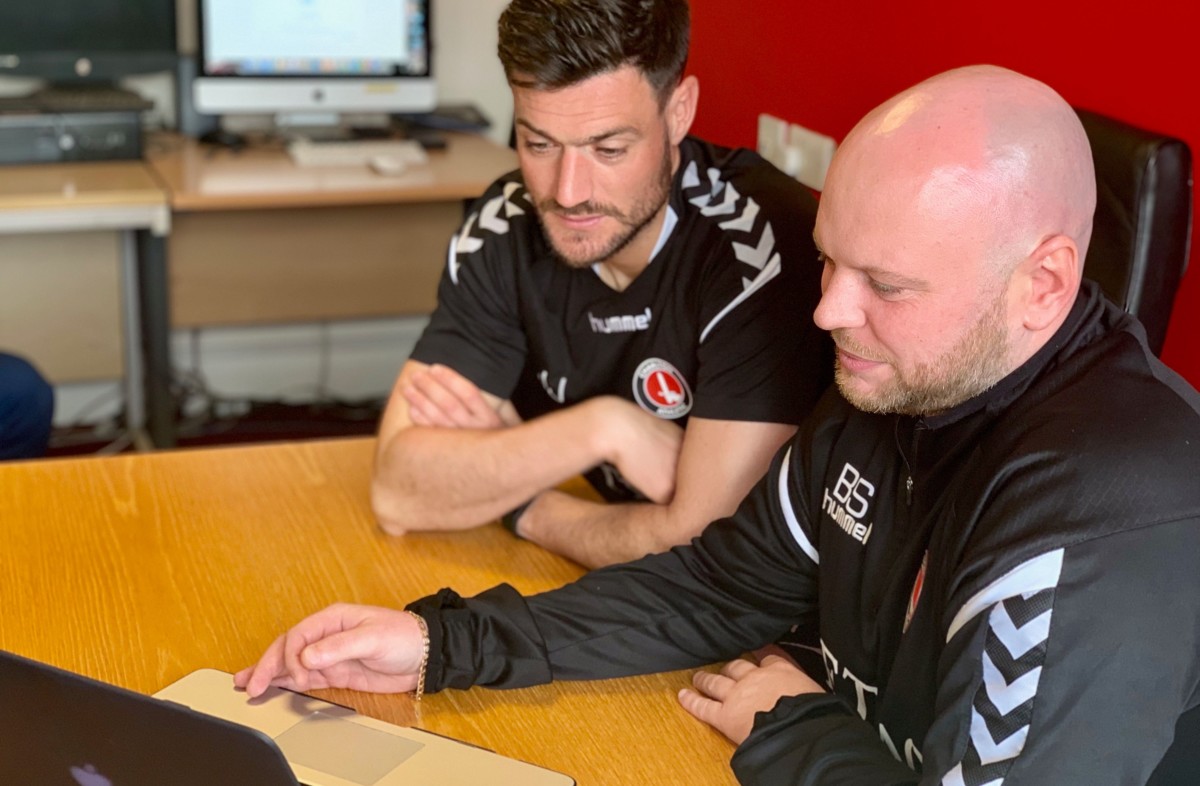 The ease in which Jackson and Shaw's ideas flow in and out of each other, almost one constant stream of consciousness coming from the two Charlton staff members, intimates the tight bond between analytics and coaching that has become a hallmark of Lee Bowyer's reign at The Valley.
Discussing the club's use of analytics under Bowyer, Jackson said; "It's grown massively. When I was playing I didn't really go through clips or anything like that. If I'd done well I might look back at it, but if I'd done badly I was more trying to not think about it. But now, it's a learning tool. It's a coaching tool.
"On Monday, Brett gave me the game from the weekend so that I can go through it with the defenders and I'm calling defenders up to look at it. When I was a player I wouldn't have wanted to do that, but if I was playing now I think I would want to do that because I understand the importance of it and how powerful it can be as a learning tool when you can see your mistakes and you're with a coach to go through it with you. Before you just used to have to go off memory, but sometimes your memory gets it completely wrong. Also, sometimes in the heat of the moment or from the touchline we can't always see what's happening as well as Brett can from higher up.
"Half-time is a tool as well. At half-time, we can get the analytics up and show the players how they're hurting us, and the players can actually see as opposed to a whiteboard where you'd look at it after a half-time team-talk and it would be a mess. But now, with the visuals, it's so much clearer."
Shaw explained the flourishing relationship between his work and the on-field coaching staff further, saying; "What's good is the way we work. I'll highlight things video-wise and Jacko and Lee [Bowyer] will work on it. They'll see it visually and then they'll re-enact it outside, maybe opposed as well. And of course, we can film the training and show it to them,too. All those layers of reinforcement probably wouldn't have happened in previous years. We may have just shown them the visuals in past years, but now we're really aware of working on it. It's easy to show you something, but how are we going to deal with it and what are the solutions?"
While detailed analysis goes into every match and even each moment of every match, one simple statistic will immediately show Charlton's set-piece prowess, as Shaw proudly reels off; "Percentage-wise, 44% of our goals (as of April) have come from set-plays, nearly half, and 27% of goals conceded from set-pieces. So, we're obviously far more effective than our opposition."
That incredible statistic, that nearly half of Charlton's goals this season have come from set-pieces, which include penalties, is not something that has emerged out of the randomness of football. Instead, it is part of an intentional plan of action to make the club stronger and more dangerous in the war of attrition that is England's third tier.
Shaw explained: "A lot of that we took from last year as well. We realised that size is so important in this league and going back to your recruitment, the type of players you're bringing in, you've definitely got an eye on that with their presence in both boxes, defending and attacking, so I feel like we're a much more physical, bigger, side this year. Therefore, we can cope with the demands and hurt teams more. A big thing this season is the penalty stats. We've had 14 penalties, the most we've had since I've been here and, I believe the most the club have ever had in one season."
Jackson continued to describe the alterations made in analysis between this season and last, saying; "We've also streamlined the analysis process this year. We spoke at the start of the season and felt we were having too many meetings last year that went on for too long and, from a player's point of view, you stop listening after a while. You stop taking in the info and it starts to become counterproductive. So, we said 'right, they need to see it, but we'll streamline everything and make it quicker and more compact'. It might mean you have an extra meeting that week, but all the meetings will be shorter. 10 minutes max, they're never in there for longer than 10 minutes."
As the aura around Charlton's set-piece dominance has grown throughout the season, dead-ball analysis has become a decisive building block for the Addicks, even being the first topic addressed on a match-day, a harbinger of the club's prioritisation.
Shaw explained the nuanced success of this match-day process, saying; "I think what's good for us is that we do a set-piece meeting on the day as well. We realise the importance of them, so once we have the team-sheet and know the personnel, we'll do a quick five-minute meeting covering their key routines and what we're going to do as well. So, we're working on it through the week in training, they'll see it in a pre-match analysis meeting the day before, and then we reinforce it on the day, so it's still fresh. I like to think that has contributed to our success as well."
Jackson emphatically supported Shaw's hypothesis adding: "It definitely does. On a match-day, the lads come in very relaxed and we use that set-piece meeting at 1.30 pm as a cut-off from relaxed to work mode. And it works very well for that reason and as a reinforcement tool."
Of course, none of the analytics-based success this season would be possible without equal responsibility shared by the players on the pitch, something that both Shaw and Jackson greatly credited the current squad with.
"I find that this year the players have retained the info really well. Just from my point of view, when we tell them the other team's strengths and weaknesses pre-match, I then go back and look at the games and see the number of times we score goals from the other team's weaknesses that we've picked out. Going back to the match against Luton, our second and third goals came from exact weaknesses we had highlighted. We highlighted that their right-back Jack Stacey would be very offensive and that their right centre-back Matty Pearson would step in, so we really tried to exploit them on the right side of their defence. Igor Vetokele recognised where the space was to get in behind and we had shown him a lot of examples of that on the right side. On the third goal, we also told Lyle that if he can isolate the left-back in the box, he'll find joy. And he hit the bar in the first half from it and then Lyle targeting the left-back helped him score the third. When we look back at it, a lot of the goals have come from things we have highlighted, so it's great from our point of view," Shaw said.
Jackson also affirmed the trust between the playing staff and coaches, saying: "They've got their jobs, they've got their positions, and you let them know what the other team might
do, but don't forget that they might do something completely different. You have to trust that the players are going to listen and do the right thing."
Shaw continued: "I think it's a balance. The group are very good and they are very good at retaining information, but I also think it's how you use analysis and how it's delivered to the players. It could be used as a tool to hammer players and go against them and you'll find that players won't be receptive of that and they'll shy away from analytics. But because of how good Jacko and Lee are at delivering the analysis and embracing the technology you get the buy-in from the players and that's massive. That's vital."
Pounding heartrates and hoarse voices celebrating last-gasp goals has been equally thematic to Charlton's success this season as set-pieces, and the two have gone hand-in-hand as the Addicks have snatched nine additional points from set-piece goals after the 80th minute.
Shaw and Jackson don't necessarily believe that analysis can explain this penchant for late drama, attributing the trend more to the squad's desire and determination, but analysis can still provide ample proof for this mentality.
The charts pictured, a brief window into Shaw's data-driven world, shows the relentlessness of the Charlton attack, always looking to find that decisive goal in any given situation.
For the month of March, the Addicks made the second most penalty area entries in League One with 36, while Bowyer's men topped the chart for successful attacking open third entries.
This continuous and incessant attacking nature has led to more set-pieces and combined with what Jackson calls "a good delivery of the ball and lads who want to go and head it and be aggressive" has culminated in a uniquely simple and flexible plan of attack that brandishes set-pieces as one of its principal weapons.
With Charlton's League One campaign now at its climactic play-off stage, promotion will likely be decided by the smallest of margins. Whether or not set-pieces will provide the Addicks with that decisive margin, Shaw, Jackson, and everyone involved in the club will use all resources available to give the squad the tiniest of edges that could prove vital come the end of May.
Charlton season tickets are back on sale and for a limited time the club are offering Championship football at League One pricing.