May's play-off final will hold a special place in the heart of every Charlton fan for many years to come and it was particularly special for our mascot that day, eight-year-old Sydney.
Eight-year-old Sydney attended her first Chartlon game this season when she watched the Addicks against AFC Wimbledon in the EFL Trophy. Sydney was offered the ticket through Charlton's Community 500 scheme which sees Charlton Athletic Community Trust distribute 500 tickets for each Charlton game to service users.
Carole, Sydney's grandmother, used a promotional code to take herself and Sydney to the game and the pair have gone on to attend Charlton games since then. Ahead of the play-off final Lee Bowyer got in contact to ask young Sydney to walk out with him and his Charlton team at Wembley.
Carole said: ""When I got the call from Callum Sullivan [The club's development officer] to ask if she wanted to be a mascot at Wembley, well… they made her life that day.
"I said I couldn't wait to tell her and they said 'no, wait because we want to do it specially for her.'
"Then later that week, she got the message from Lee Bowyer! She came home from school and I'd sent the message to my son so he could have it on his laptop. I said 'look, I've got something to show you'.
"She looked at my son's laptop and said 'Why is Lee Bowyer on the laptop? Why does Lee Bowyer want to talk to me?'. When she watched the video she was so excited and from Wednesday to Sunday she never stopped talking about it!" 
Sydney was obviously excited for the final and the added experience that the day would bring.
Carole explained: "On Sunday morning she wanted to leave my house for the game at 7am in the morning! Then all the way up [to Wembley] on the tube she was singing at the top of her voice. They made it the best day of her life.  
"When she saw Callum at Wembley I thought she was going to strangle him she was hugging him that tight!
"I've said it to everyone that it's just something that me and her can do together and we've got that bond back together again and it's nice. It's all been through Charlton, she loves it and it makes her happy so it makes me happy!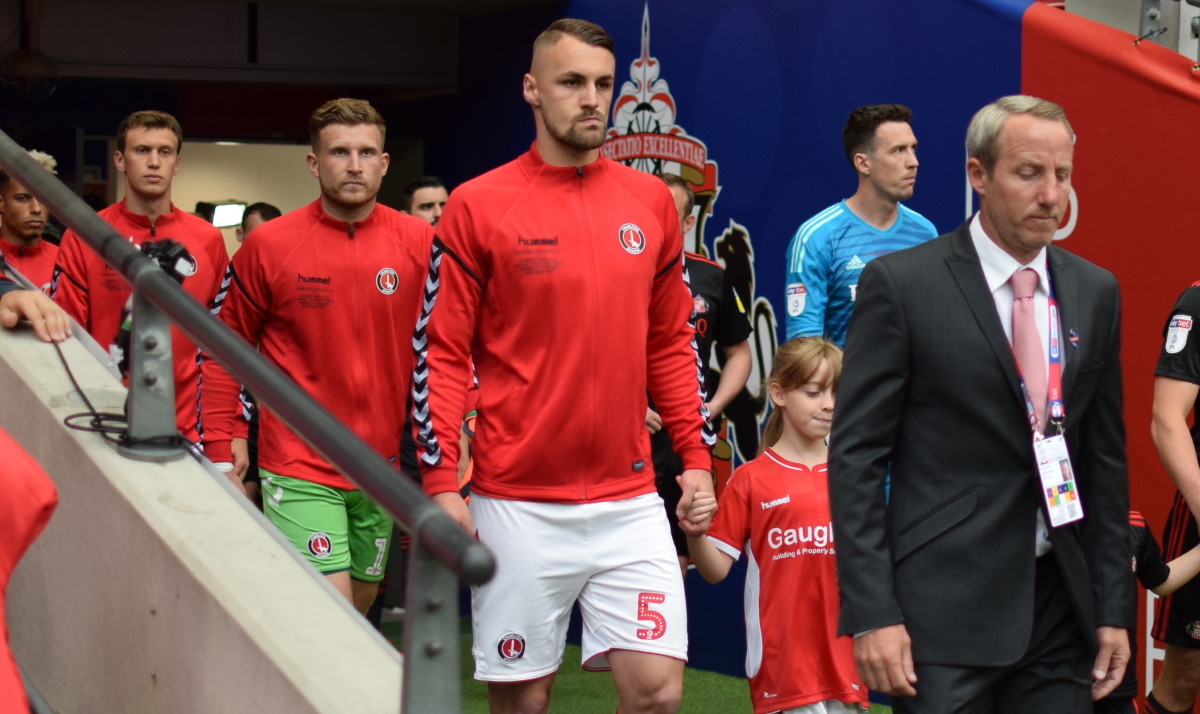 "To see her walk out holding Patrick Bauer's hand with a big smile on her face, it just made my day. She felt 10 feet tall all day long. The nicest part about it was at Wembley they looked after her so well and when the boys were getting off the coach coming in, she was allowed to stand behind the barrier. And a couple of the players actually remembered her and as they walked past, they said 'alright Syd?' and she just felt so special.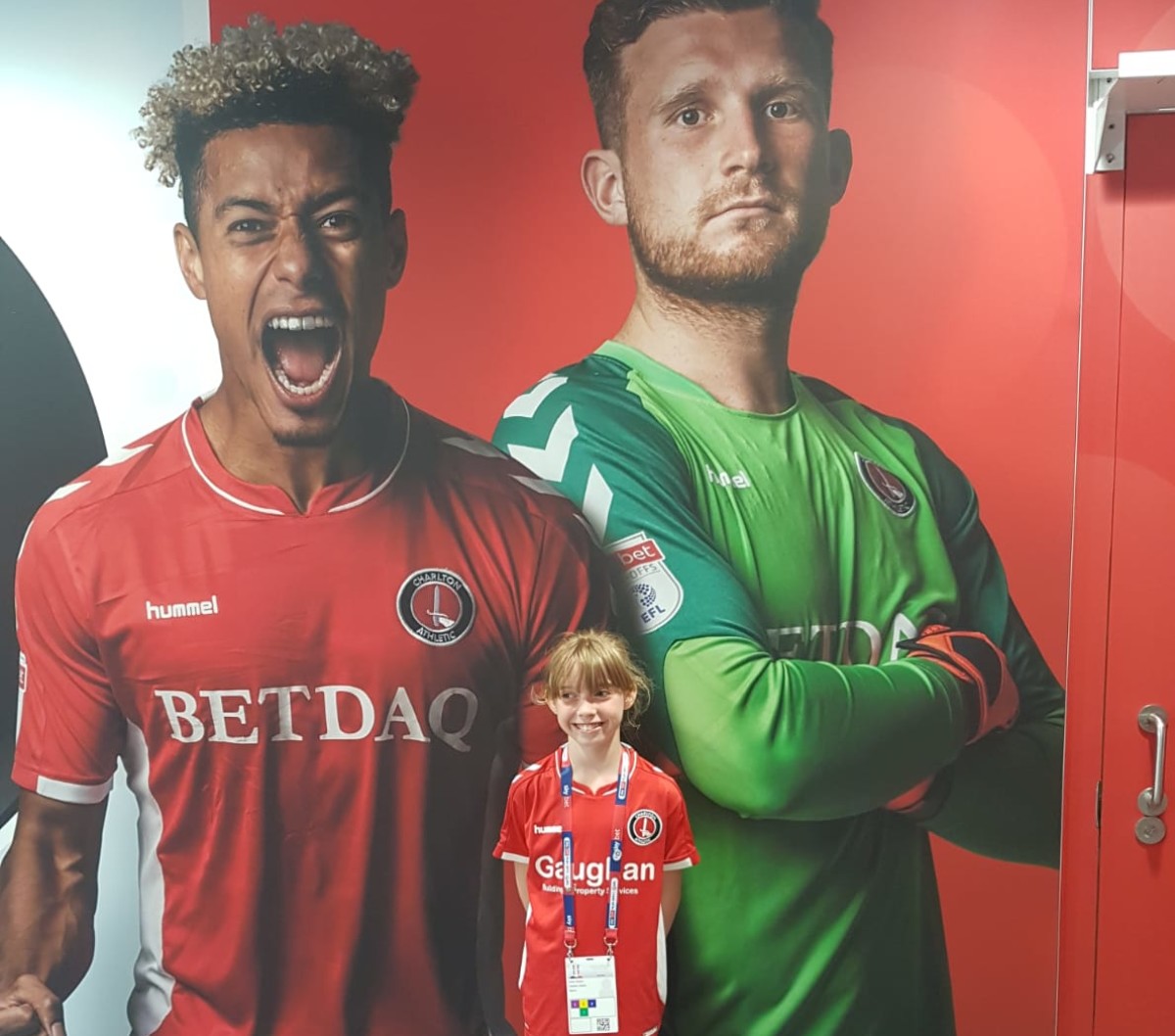 "She's still going on about it now! Even yesterday she came around here and she says 'I'm going to go sit out in the garden' and off she went and I said to my husband, mute the telly. We could hear her signing Allez Allez Allez! She doesn't stop! She's constantly talking about the team."
Sydney has been made to feel as though she is a part of the Charlton family, not just by the team and the club but by the supporters as well and Carole shared a touching story of the supporters applauding her at Wembley: "After we'd done the thing on the pitch and we were walking back up to our seats, so many people were saying, "well done Sydney, you've done really well out there, you were fantastic and you did the boys and the club proud". She just felt 10 feet tall!"
Sydney's enthusiasm for the Addicks began earlier in the season when Carole received tickets through the Community 500 scheme.
"I went to the library and met Charlie from the Charlton Athletic Community Trust who has been helping me with my health as part of the 'Kick the Habit' programme. He started to help me give up smoking. Because of my poor health he helped me get onto the Healthwise scheme, so he started getting me hydrotherapy and I started going to the gym. I've not had a cigarette in 16 months now!
"It was just on the off chance that he said to me do you like football and I said to him 'we love football'. All my family are football people. He said that he had tickets for the game against AFC Wimbledon at The Valley. 
"I used to care for Sydney and look after her all the time. I became unwell and I got epilepsy and so I stopped looking after her. I couldn't bring myself to look after her because I thought if anything happened to me or her then I could never forgive myself. I stopped looking after her and it started to bother me. We didn't have that bond anymore. So when Charlie gave me the tickets I thought 'do you know what I'm going to take her'. 
"Sydney loves football. And so when I asked if she wanted to go to the football she said 'Yeah, yeah yeah!'. I took her to that one game, and she was hooked. When we left The Valley she said 'Nanny when are we coming back? I want to come again!'"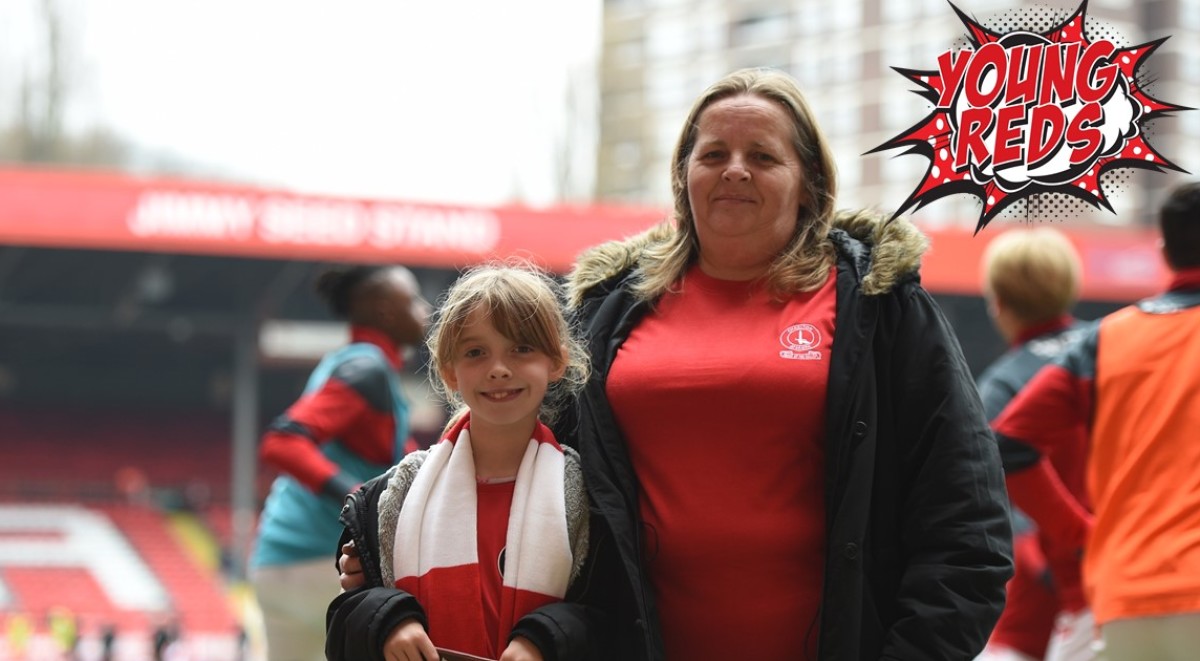 Sydney was well and truly bitten by the Charlton Athletic bug and began regularly attending home games with Carole.
Sydney's Christmas was made before the game against Gillingham on Saturday, December 22nd, when she had the opportunity to be a flag bearer before the game but nothing can compare to her Wembley experience.
Sydney will be a regular supporter among The Valley stands on match-day now as Carole confirmed that the pair were getting season tickets ready for next season when Charlton Athletic will compete in the Championship.
Charlton season tickets are back on sale and for a limited time the club are offering Championship football at League One pricing.