When Charlton Athletic Women kick-off their Championship campaign at 1pm on Sunday, August 25th, goalkeeper Katie Startup won't be wearing the number one jersey.
The Addicks host Lewes at The Oakwood and England U19 international Startup will be wearing the number 40 shirt.
She explained: "I wanted to do something to help raise awareness and start a conversation about mental health. I did some research and I was looking at the World Health Organisation website and their recent research showed that globally, one person dies every 40 seconds from suicide. 
"That was just something that really struck a chord with me because when you think about a football match, a 90-minute football match, that's 135 people. That was really powerful to me and so that's why I picked 40, to represent that 40 seconds. 
"It's a bit of a random number for a goalkeeper to pick going from number one to 40. So, the goal is to get people asking 'why did you pick the number 40?' and that then starts the conversation and helps it become something a bit more common to speak about. It makes it more comfortable and gets people to start thinking about it."
When asked about her reasons for taking on the responsibility of raising awareness for mental health, Startup spoke not only about those close to her but also those who cheer her on of a weekend.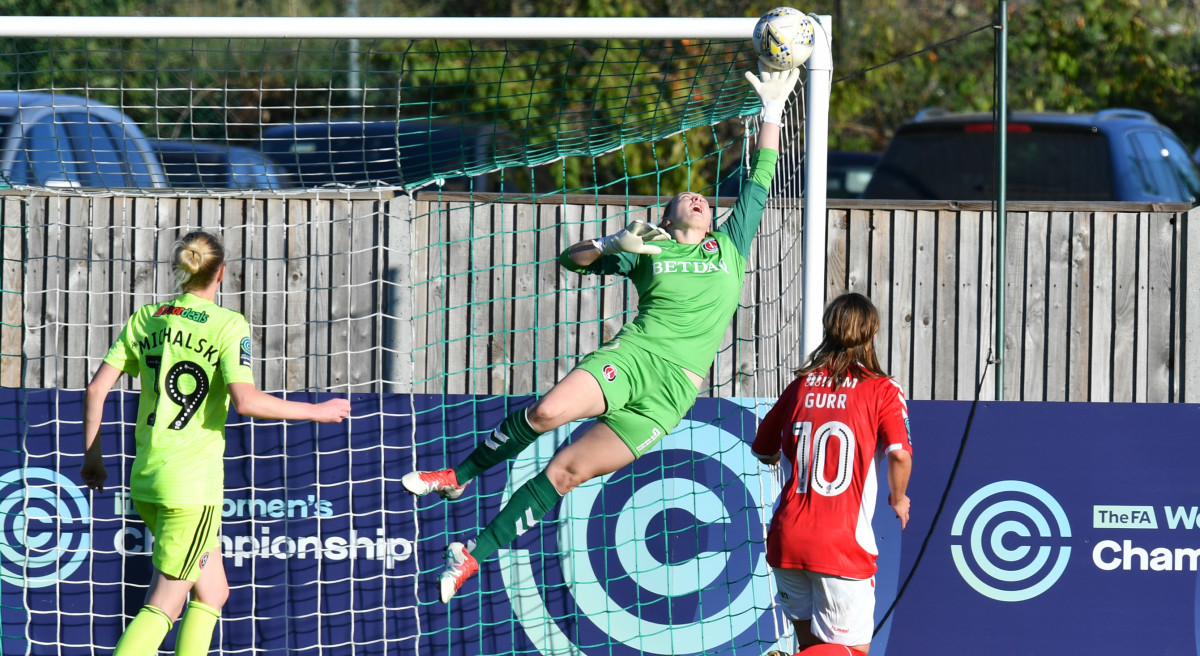 "Mental health has touched people I know in different ways, so I wanted to raise awareness and break the stigma a little bit. There's been a lot done recently to try and break down the barriers surrounding it, but I think until we get to that stage where we start treating our mental health in the same way we would our physical health then we're not quite there there.
"I think people can forget that people need to be looked after. If you were to get the flu you wouldn't just ignore it, you'd seek help and go to the doctors. 
"With the audience we get, we get a lot of younger girls and boys coming. If they were to experience feelings; whether they're feeling down or had a hard couple of weeks at school, to them it might be quite scary and unfamiliar but if we can help to create an environment where it's not kind of frowned upon or pushed aside, we can help them get the help that they need."
And Startup will no doubt be keen to give the number a winning debut against Lewes FC in Charlton Athletic Women's first game of the season on Sunday at the Oakwood in Crayford. The 20-year-old expressed the team's desire to get off to a good start. 
She said: "Our goal after last season, where we finished third just missing out on promotion, has been to prepare ourselves and get ready to make a push to win the league this season and get promoted to the Women's Super League. 
"We've made a lot of changes with the squad, there's a lot of new acquisitions and we're looking good, we're looking ahead to this Sunday to see where we're at and test ourselves against other teams in the league."
Continuing on regarding the new signings in the camp, Startup explained the ease of the squads gelling with the arrivals. 
"It's been good because all of the acquisitions and us are all, and it sounds stupid, good people! We all get on really well and there's not been any kind of stutter in trying to get to know people it's just been fluid. 
"A new player will come in and they'll fit in straight away, so it's actually been really positive and all these new people that have come in have brought good energy and good personalities so the camp itself is just a really good environment."
Lewes have already got their season underway recording a 5-1 hammering of newly promoted Blackburn Rovers and Startup explained that sometimes it's important to take into account the opponent despite focusing on your own team. 
"To an extent it's about playing our game. But you do have to look at your opponent, study them and respect them enough to give yourself as many advantages as possible. 
"Obviously last season they didn't have the best record, but it's hard to take last season's performances into this season. There's been a lot of changes across the FA Women's Championship across all the teams. A lot of changes in personnel, players and staff. So really, you have to look at all the teams this season as different animals you have to give them the respect and anticipate that they would have improved following on from last season. 
"They recorded a 5-1 win against Blackburn Ladies. Now, Blackburn are a side that we played before in the play-off's to get promoted to the Championship so we know that they are a strong side so for Lewes to get such a comprehensive win, we can't just ignore that we kind of need to take note of that and not take them lightly."
Womens Season tickets for the 2019/20 season can be bought here.
Prices are £40 for an adult ticket and £25 for concessions.
Men's season ticket holders can get a special offer price of £25 for adults or £15 concessions if they add a women's season ticket with their men's season ticket. Simply add both and the discount will be applied in the checkout.
Join 10,000 season ticket holders at The Valley this season. Season ticket prices start at just £299, which equates to only £13 per game. Click here to purchase.