Charlton Invicta has received the Grassroots Football Award at the inaugural Football v Homophobia awards.
Charlton Athletic also came second in the Football v Homophobia Professional game category, behind Tottenham Hotspur.
Chair of the club's official LGBTQI+ supporters' group the Proud Valiants, Rob Harris [pictured below], came third in the Football v Homophobia Hero category.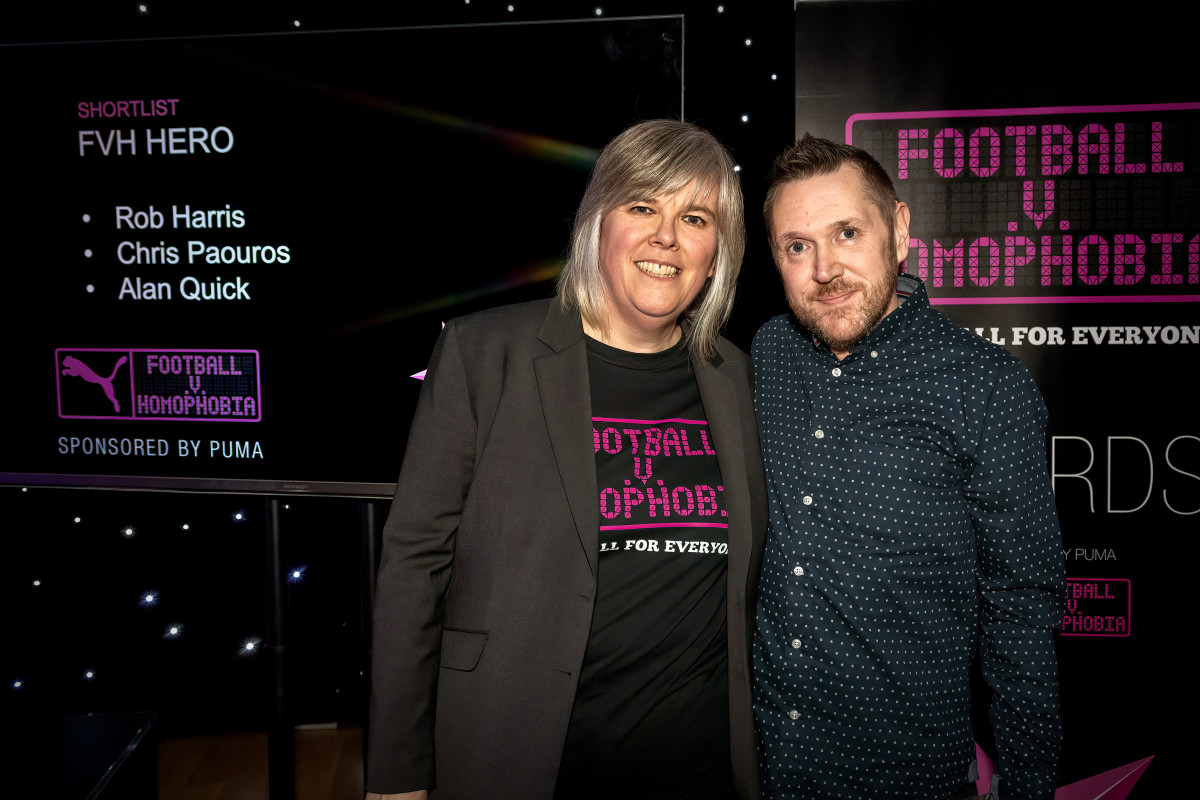 Held at Altrincham's Moss Lane Stadium on Friday, February 7th, the evening celebrated the work clubs, community trusts and supporters undertake across the UK on tackling homophobia in football.
Charlton Invicta were the first LGBTQI+ team to become affiliated to a professional club's community trust in 2017.
Three representatives from Charlton Invicta attended with player-manager Gary Ginnaw joining players Sam Timms and Daniel Crump on the night.
Gary said: "It is testament to all the hard work we do on and off the pitch to ensure that football is a safe, welcoming and friendly environment for everyone to be themselves.  
"The partnership we have with CACT [Charlton Athletic Community Trust] and the support from Charlton Athletic has been pivotal in helping us to better engage with local communities."  
Charlton Athletic Executive Chairman Matt Southall said: "Everybody should be incredibly proud of the achievements of the club and those connected to Charlton at the awards. 
"Historically, the club has always led the way in all fields of diversity and I'm delighted that proud legacy is being upheld."
Dr Michael Seeraj, CACT's Head of Equality, Diversity & Inclusion, said: "This is a fantastic achievement, and testament to how far CACT Invicta have travelled since first affiliating. There is an incredible amount of hard work that goes on behind the scenes, and this really does recognise the dedication of all those involved.
"Gary and Sam have been instrumental in driving the team forward, and both the club and CACT are committed to working closely with them to ensure we continue to raise awareness and understanding of LGBTQI+ issues across football and wider society too."
Charlton Athletic's play Luton Town on Saturday 22 February in the annual Charlton v Homophobia fixture. 
Charlton Invicta will be present on the day, which will see the club, trust and supporters raise awareness of the importance of tackling homophobia in football.
Get your tickets for our game against Luton Town at The Valley on February 22nd.