Saturday's matchday at The Valley is dedicated to celebrating the fantastic work of the Charlton Athletic academy and the support it gets from Valley Gold.
Ahead of the day Benjy Nurick went to visit James Vennings and his mum Stephanie, who is a member of Valley Gold.
Stephanie Vennings sat alone, separated from her family and friends in an isolated corner of The Valley. Positioned away from the crowd of 18,338, the sharp late-autumn air and a few empty red seats were Stephanie's only companions as her son, James, strode out onto the pitch in the 61st minute to make his professional debut for the club he has been at since the age of 11.
Every drive to training, every missed party, and every early night was wrapped up in those first eager steps as he crossed the white touchline to make his Charlton debut. Everything in his life leading to this moment, and his mother watched it alone, her husband Gary in another red seat somewhere else with the numerous friends that had joined him at the ground for the special occasion.
In truth she didn't care. Stephanie was just feeling extremely fortunate to be experiencing the moment at all.
A couple of months earlier, this glorious occasion for the entire Vennings family seemed an ambitious afterthought, not least for James and Stephanie.
On October 1st James was training with the Charlton first team, but he was so far from a maiden appearance that he didn't even appear in Lee Bowyer's matchday squad until late November. As for Stephanie, a serious car accident led to a far more distressing time.
"Back on October 1st," she explains, "I had quite a bad car accident. The lady put her accelerator down instead of her break and hit me at 40 miles per hour full speed, which then pushed me into the car in front, so I was sandwiched in between two cars. It was terrible."
The accident led to a horrendous period as Stephanie was forced to take time off work in order to recuperate. However, it was the series of events after she had healed which nearly saw her miss James' big moment.
"My car was a write-off, so on November 30th I was picking up my new car in Farnborough. I went early. I said 8.30am but when I arrived there was this and that to fill out and I'm panicking like mad because I want to get back to watch my son play football, to have his debut. 
"I got back at ten to three. Well you know what Charlton is like on matchday-everything's busy and there's nowhere to park. I went up to the car park attendant (at The Valley parking lot) and said 'My son's playing today, it's his debut. It's ten to three now and I really need to get in to see it' and She was like 'Oh well…' she looked at her list… 'What's your name? Vennings...no...' 
'But my son is playing today, please please let me go in!'
"They eventually let me in at five to three. I didn't even know where Gary was. We had some friends with us as well and I didn't know where they were sitting, so I literally sat on my own and watched my son's debut."
Her placement in the crowd was no more than a minor inconvenience, doing little to sour an incredible day. "Oh, it was fantastic. I can't even describe how it felt. Absolutely a culmination of everything-But then me and my husband weren't even sitting together!"
Pictures of James sit on nearly every surface of the Vennings' family household, including one of him signing his first professional contract with his parents standing proudly by his side. Stephanie can't stop beaming as she recalls the moment her son become a senior Charlton player. The story, one that was so nearly filled with trauma and tragedy has now taken on a new meaning, invariably connected to one of the happiest moments of her life. 
She rises from the metal table as the kettle stops whirring to pour us some tea on a bitter but exquisitely sunny day in Woolwich. No more than a 25-minute walk from The Valley, the Vennings home is so close to Charlton's ground that the blare of Red, Red Robin on matchdays is nearly audible from the driveway leading up to their red brick facade.
"He's been with Charlton since 11," Stephanie continues.
"It's a great club. We were so pleased he went there. When they're 11 you still don't know how far they're going to go with football."
With a pause she opens a cupboard, searching. "James has been in the biscuits," With a confirmatory shrug she sits back down, "Yeah, he's definitely been in the biscuits."
-----
James' first Charlton performance may have arrived earlier in his development than initially expected, coming 19 years and 190 days after he was born, but it was no major surprise for a player who has displayed unique talent his entire life.
"He was one when he first kicked a ball. We knew he could be special from the start. His father used to take him to the park, and he would kick the ball against a wall and everyone who walked past would stop and say, 'wow he can really play.'
From kicking around at the park with his father, James got his first taste of organized football with Our Lady Youth FC, a junior football club in south-east London. To say he excelled would be akin to labelling Lionel Messi a "decent footballer".
"He went to Our Lady Youth, the one in the black and white," Stephanie points to a grainy image of James with the ball at his feet, the black and white striped kit on his back at least a few sizes too big.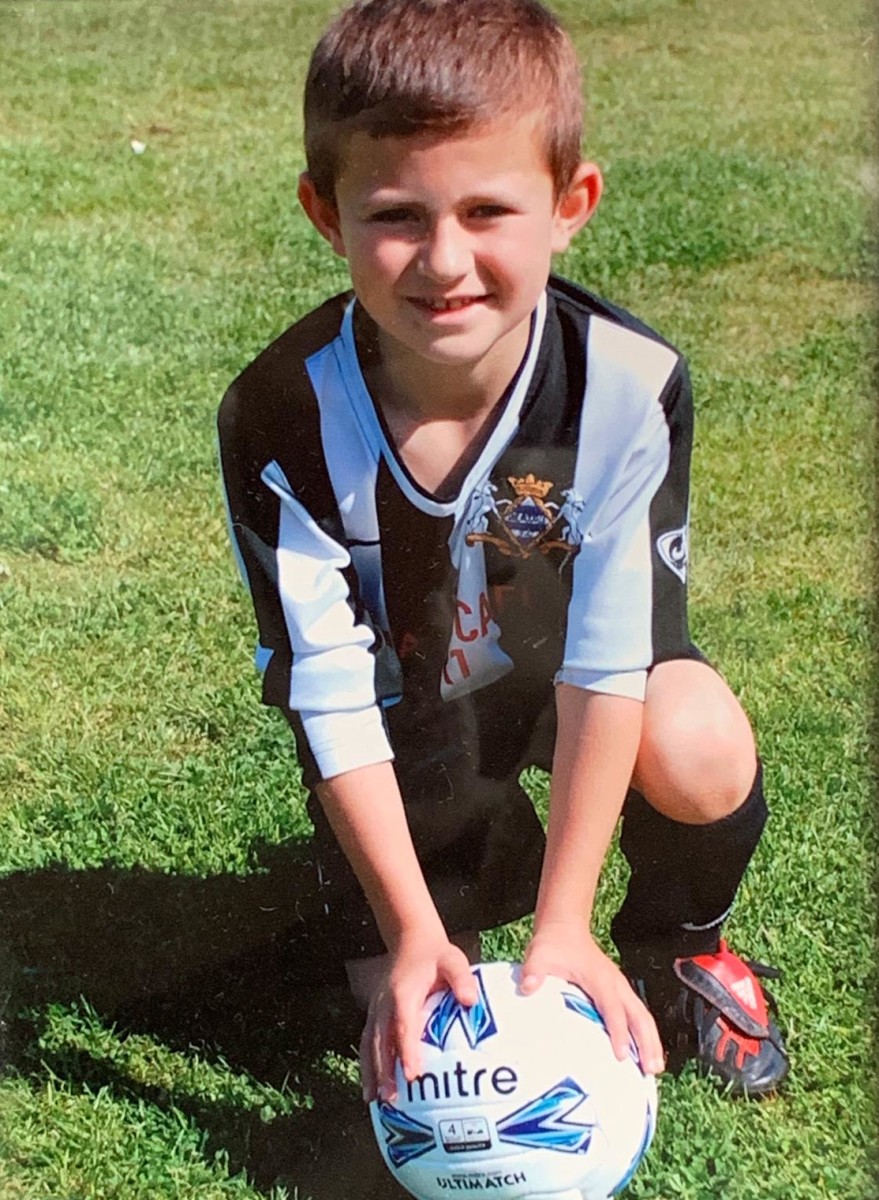 "That was a team called Beacons and that's where he started off really. That was his first club. He's got so many trophies it's unbelievable. Boxes and boxes of trophies and medals. He won player of the year, he won manager's player of the year, he scored something like 75 goals when he was playing there, that was age eight."
The front door slowly opens with a creek, interrupting Stephanie's train of thought. 
"Oh, that might be him. Is that you James?" she calls out.
Clad in a nondescript grey tracksuit James walks into the kitchen with a warm greeting before sitting down at the dining room table. Naturally, the conversation quickly returns to that landmark November afternoon.
"It was an incredible feeling," James remarks smiling, "It's what you dream of as a youngster, just to be able to play as a first-team player, so yeah it was a good feeling."
Having played just a handful of matches for the U23s, James certainly did not anticipate becoming the 888th Charlton debutant when the 2019/20 campaign began.
"At the start of the season, obviously Charlton started very well and I never thought I would be anywhere near the squad, but then the injuries hit and more injuries and more injuries and suddenly I thought 'wow I could maybe make the bench here.' And ever since then it's been really crazy."
Perpetually celebrated for their benchmark academy, ranking second in productivity amongst the 72 clubs outside the Premier League, this season has only seen more praise and gratitude heaped on the Addicks youth set-up. Numerous youngsters have emerged from the wilderness of U23s or non-league football to be thrust into Championship action including Alfie Doughty, Albie Morgan, and Ben Dempsey; all from the class above James'.
"We can just enjoy it together," James says. 'You're not just there on your own. Maybe you could feel a bit awkward, alone all the time, but you're with your friends and you're playing in the first team. It's something you've always wanted, and you can enjoy it." 
Stephanie has a special mention for Lee Bowyer and how the manager has handled the challenges with this season's squad. 
"You don't want injuries in the team, you don't want the best team to be injured, but if it is going to happen at least they have a back-up because he's training with them. That way he (Bowyer) has done it is right because he has gotten injuries but he's also bringing the youngsters in early to help with that."
It's reflective of Charlton's horrendous injury crisis that James did not appear in a matchday squad until the 2-1 defeat away to Luton, but the Eltham born midfielder has not disappointed in limited minutes thus far.
Speaking after Vennings' debut, Bowyer, a Charlton academy graduate himself, couldn't hide his pride at another successful moment in the history of the club's youth system.
"He's only a kid who's played ten U23 games!" he said. "He's come on and did himself no harm, competing, challenging, didn't give the ball away.
"It's great for our football club."
-----
As soon as James arrived at Our Lady Youth in his baggy Juventus-style kit, it was clear he'd be gone in a hurry, leaving behind the legacy of his name. The search for a setting that could appropriately accommodate his prodigious talent led James to a first foray into the English academy system, signing for Arsenal at the age of nine.
His time in north London proved to be short-lived as James immediately learnt the harsh realities of the game he loves.
"Arsenal scouted him when he was seven, but he didn't actually sign until he was nine because that was the earliest he could sign. He was there till 11 and then they turned around and said because of his size, they thought he might be too small, they weren't going to play him full-time. So, my husband said, well then he's not staying," Stephanie explained.
"Gary does a lot of the negotiating, although now James has an agent."
James, clearly full of confidence in his journey as much as his ability, refuses to dwell too much on what has gone wrong in his young career, instead choosing to celebrate the path he ended up taking. The rejection from Arsenal is no different, just part of the journey that brought him to that 61st minute in front of the Covered End.
"It was hard to take at Arsenal, but it was a smooth transition at Charlton. We knew a scout at Charlton, so as soon as I finished at Arsenal, I didn't have any time to sit and think about it, I just went straight in and I've enjoyed it ever since." 
"U11s I joined. I just played through the academy. Every single year I was small, I was very small until 16 when I started growing. I went through all the age groups and then U18s I really started to kick on and then made it to the U23s where I am now.
"Obviously I believe in my ability, but you have times in your career when you're not playing. You might be out of the team or the coach doesn't like you. Sometimes it plays on your mind a bit, 'maybe I'm not going to have a career in football' Sometimes you do think.
"It does get tough, but you just have to remind yourself that all you can do is work as hard as you can and whatever happens, happens. All you can do is work hard and whatever the end result is you just have to be proud of yourself for working hard.
"Charlton has been ideal. It's a great club, it's good for bringing young players through as everybody knows and it's so local to me. I wouldn't see a reason to go elsewhere unless they didn't like me as a player. That would be my only reason, but I would never want to leave. It's a good club for me and a good pathway into the first team."
But what actually makes the Charlton academy different from Arsenal's or the dozens of other youth structures dotted around every British city and town?
"Just everything really," James enthuses. "From the discipline Steve Avory gives, then you've got the coaching, the coaching is very good.
"And I think the communication factor as well is very good from Charlton," Stephanie interjects. "They actually communicate with you and they let you know as parents what's happening. At Charlton, if you bump into Joe (Francis) or Steve (Avory), they've got time for you and they'll speak to you and tell you how he's doing, so I think that's very good. Communication factor is very good."
Of course, if you don't believe James and Stephanie's verdict on Charlton's consistent academy excellence, a simple google search of Joe Gomez lifting the Champions League trophy or Ezri Konsa's late heroics against Watford in January should relieve any lingering doubts.
"You look up and see them playing and just think why couldn't that be me one day?" James explains. "It's just encouraging. You look forward to it. As you grow older you just work so that when the chance comes, you can take it. Obviously, Joe Gomez, seeing him young and playing. I knew of him growing up. And then there's Ezri and Karlan just a little bit older than me, seeing them play and go on to Prem clubs is really encouraging."
-----
James sat nervously in a small office at Charlton's Sparrows Lane training complex. On the other side of the desk sat Steve Avory, the weight of the Charlton academy, and the fate of James' football aspirations. To say that this meeting was important would not do justice to his jangling nerves.
Following James' second year as a scholar it was time for a decision to be made as to whether he would be signed to his first pro deal. The year before just four of 11 second-year scholars had been offered pro deals although all four, Alfie Doughty, Albie Morgan, Brandon Wiredu, and Ben Dempsey, have gone on to play for the first team.
This was the decisive moment of James' career and the beads of sweat on his brow and shaking knees were hardly a surprise. The window of the office overlooked the training pitches that had come to define James' life. Now he would find out if he was to ever play on them again.
James had already been waiting for months in anticipation of this moment.
"They left it quite late with our age group." he explains.
"About March or April we waited till." Stephanie continues, "That's quite frightening times because you're waiting and waiting and waiting for them to make a decision. And you're in limbo-you don't know whether to look for another club."
Finally, after what felt like an eternity of waiting, the big day arrived.
"Every player had a set meeting time and we just came in and Steve told us our decisions one by one. You're thinking, 'Am I going to get it, am I not?' it's playing on your mind a bit. But once you get in there it's not too bad, he just told us straight away."
As James left the office, he reached for his phone to call his mother and relay the good news.
"He rang me, but I was busy in a meeting." Stephanie laughs, "I rang him back and he said 'Where have you been? Where have you been? I got signed today!' I just went 'Oh wow I can't believe that' and everyone in the office started clapping!"
The celebratory photo op a few weeks later, producing the framed picture that stares at us while we discuss James' footballing life, didn't have the same kind of nerves as D-Day, but it was still full of emotion.
"Everyone had a different day to come in and sign the contract and get a few pictures, so yeah it was a good moment to finally sign it," James says.
Stephanie sums up the family's feelings in one word; "Elated!"
-----
Parenting a footballer can be a tricky thing. When do you step back? When do you push your child? Stephanie and Gary have spent their entire lives balancing this tight rope while trying to remain supportive of their son's ambitions.
Fortunately, James has enough drive to carry even the heaviest of football ambitions, seemingly born into the world ready for a career as a professional athlete. A fastidious student, devoted footballer, and apple-juice enthusiast, James has always made his priorities clear.
"He didn't even go to his prom!" Stephanie exclaims.
"Yeah, I didn't go to my prom," James says, not a hint of regret in his voice. "It was during preseason and I just felt tired after a double session.
"We follow him everywhere, anywhere he's gone as long as it's not too far, but we would have never pushed him into football," Stephanie continues. "If he had ever come and told us he wanted to stop then he would have stopped. Some parents push their kids into it, but he has to love it.
"He's done it himself. He lives and breathes it. James doesn't have a girlfriend, as far as me and my husband know, we've never met any girls or seen any girls. He just comes home, goes up in his bedroom, plays his games and even then, he's playing football. Constantly, constantly football. He watches a lot of documentaries, how they play and that sort of thing. He has got an eye for the ball, he's very talented. He's got very good vision."
"The only thing me and his dad did put our foot down about was that he had to do well in school. There's no guarantee, as you know, that he was going to get a pro. He did very well at school and got very good marks, so at least if something did happen and he wasn't fortunate enough to get a pro, then he had something to fall back on."
"It is difficult at times," James says of the long hours and early nights away from the normal festivities of adolescent life. "But you just remind yourself of the long-term goal. You remind yourself of the pros of the long-term gain rather than focusing on the short-term gain. Sometimes you might want to go to a party or somewhere, but you just have to remind yourself that you've got football and that's the long-term goal and that's how you get through it."
-----
As I pack up to leave the Vennings home James grabs a yogurt and heads upstairs to his room, no doubt to study the intricacies of the midfield position. The conversation returns to the kitchen, specifically the celebrations that it housed after James' debut on November 30th.
"It was fantastic," Stephanie says, immediately recapturing the smile that had accompanied the memory an hour earlier. "We just came back, opened a bottle of champagne and had a glass. He (James) doesn't drink! Totally by his own choice, he lives, breathes, and sleeps it (football). He's football crazy. He had a glass of apple juice. When we go out for a meal, he has apple juice."
And what's next for James in his mother's eyes? Well, she's certainly not going to start interrupting his insatiable drive with her own demanding opinions now. "To go as far as he can," is all Stephanie is willing to say. 
The prospect of leaving his comfy Woolwich home? "No, not at the moment. I think he's enjoying living at home at the moment, it's cheap. He doesn't like spending money. He's got his own bedroom up there; he can do what he wants."
Whatever the future holds for James, Stephanie will be right by his side, quietly marveling at her son's intense devotion while she supplies more than enough loving support and unlimited apple juice.