Charlton Women's goalkeeper Eartha Cumings has reflected on a whirlwind time away on international duty with Scotland.
The 22-year-old received her inaugural call-up to Stuart McLaren's squad for friendlies against Northern Ireland and Wales and, despite remaining an unused substitute, realised a lifelong ambition.
"[Getting called up] was amazing," revealed Cumings. "It's obviously something that everybody wants to do. Everybody wants to be involved with their country's national team and I've been hoping and aiming to get into the Scotland team ever since my injury a couple of years ago. To finally be invited into the squad was a brilliant experience.
"All of the girls were super welcoming and nice. It was just really great to be around the squad and see how it operates, and see the kind of standards that are expected of those involved with the national team. I hope that obviously I was able to kind of get up to those levels and not be too far behind at the end really. It was fantastic, I really enjoyed it."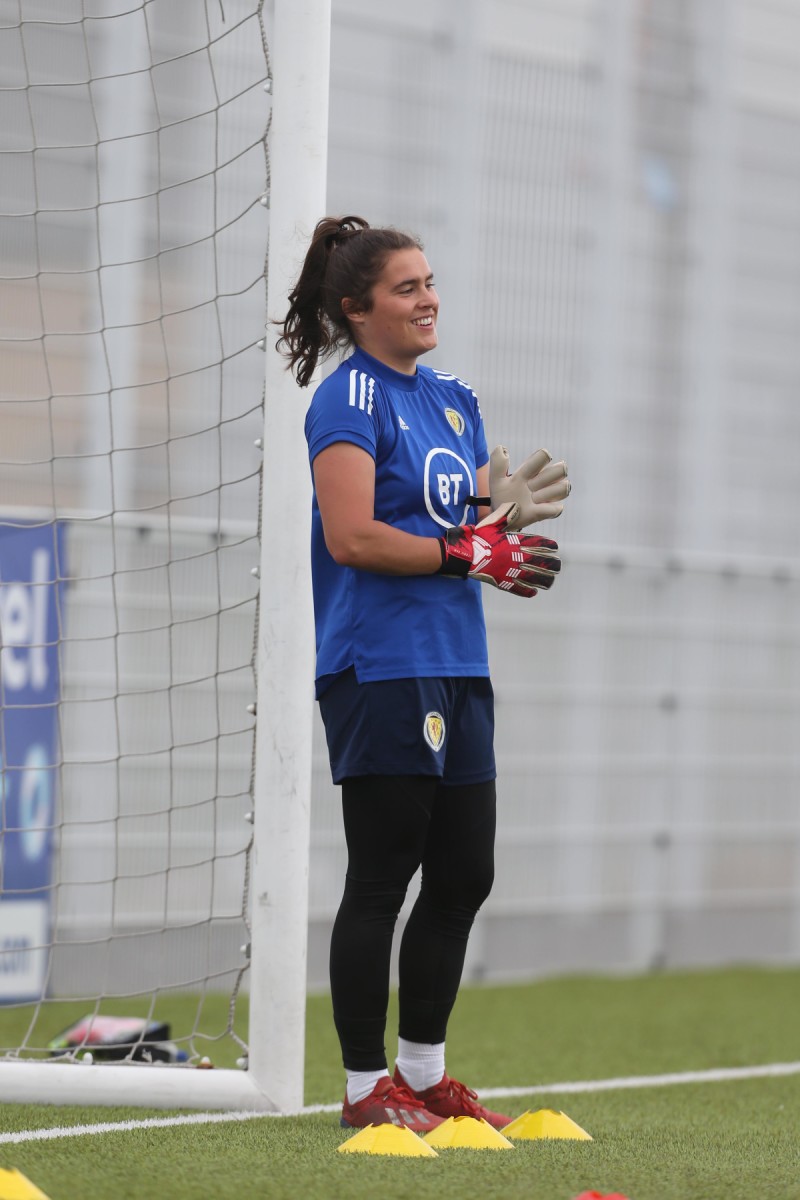 Cumings' milestone is all the more telling amid the real adversity she overcame at just 17-years-old, with her footballing career in peril before it had even really started.
"About four and a half years ago I got what's called compartment syndrome in both of my legs," she explained. "I was told, when it was kind of discovered that this was what I had, that they might have to amputate my legs. I was a teenager at the time so that was obviously quite a stressful situation. I was basically warned that I had to be taken into an emergency surgery and told that, 'We might have to amputate your legs if it looks bad'. 
"Thankfully they didn't and I'm eternally grateful for that. That put me out for about a year and I had about 10 subsequent surgeries after that to get me back to being able to play football and to be able to have full function with both my legs. I'm just so pleased it worked out the way it did because I could be living a very different life right now.
"It was pretty scary. I suppose I didn't fully process everything at the time, the full gravity of what maybe losing my legs might be. I suppose it's quite difficult to comprehend that in the moment, but looking back I think I'm really fortunate. Once I had the initial surgery to ensure my legs were okay they weren't able to say if I could play football again for quite a while, but I always felt as soon as I knew I was keeping my legs I just knew I would be able to play again. I just felt it. 
"The scars on my legs are quite obvious to see to everybody so a lot of people ask me about it and I have no problem talking about it because it's obviously a big part of my journey to get to where I am today. I hope that one day I can play for my national team, that would be a dream for me. Looking back I do know that I'll probably never be as good a player as I was maybe going to be but I wouldn't change it for the world. It's made me a different person and I'm really glad it happened. I think those things happen in life and you need to go through them."
Last season's Players' Player of the Year is now preparing to embark on the Addicks' first season as a full-time side under manager Karen Hills, having become the club's first ever professional player last week.
"Absolutely, I think it will be massive," answers Cumings, when asked if going full-time can help advance her Scotland career. "Being full-time is such a different environment to part-time and it just helps you to focus on football and make that the centre of everything you're doing. 
"I think it should be huge and obviously as a club we're looking to do as best we can this season and we've got our own ambitions. I'm really excited to just be back playing and hopefully, obviously COVID allowing, meeting some of the fans which will be brilliant."
Click here to purchase a 2021/22 Charlton Athletic Women season ticket.
Photo credit: Scottish FA