Addicks boss Karen Hills is looking forward to taking centre stage at The Valley this weekend as her side faces Birmingham City on Sunday (2 pm kick-off).
Charlton will be looking to get back to winning ways after narrowly suffering defeat in a seven-goal thriller to London City Lionesses last time out in the Women's Championship, with Hills' side fighting well to come back level from two goals down but was undone by a wondergoal from Amy Rodgers.
"We worked so hard to get ourselves back into the game and then obviously to concede in the manner that we did, credit to Amy for scoring a fantastic goal, but I think we could have probably done a little bit more before it got to her," said Hills.
"We're just disappointed to concede four goals. You concede four goals, you should be deserving to lose a game if I'm honest but then if you look at it flip side, we scored three and most of the time if you score three you can probably go on and win it so from a neutral point of view, I thought that the game was exciting. I thought it was a great spectacle of the Championship, two very good teams, thrilling end-to-end.
"Unfortunately it wasn't us that came out on the winning end, but we took a lot of positives from that. We made changes quickly at halftime and straight away those players came on and made a big impact, hence the reason how we got back into the game."
Sunday's opponents Birmingham currently sit third in the table with one win and one draw from their opening two fixtures in the Championship having been relegated from the Women's Super League last season. Darren Carter's side is one of three teams not to concede a goal so far in 2022/23, alongside Bristol City and Crystal Palace.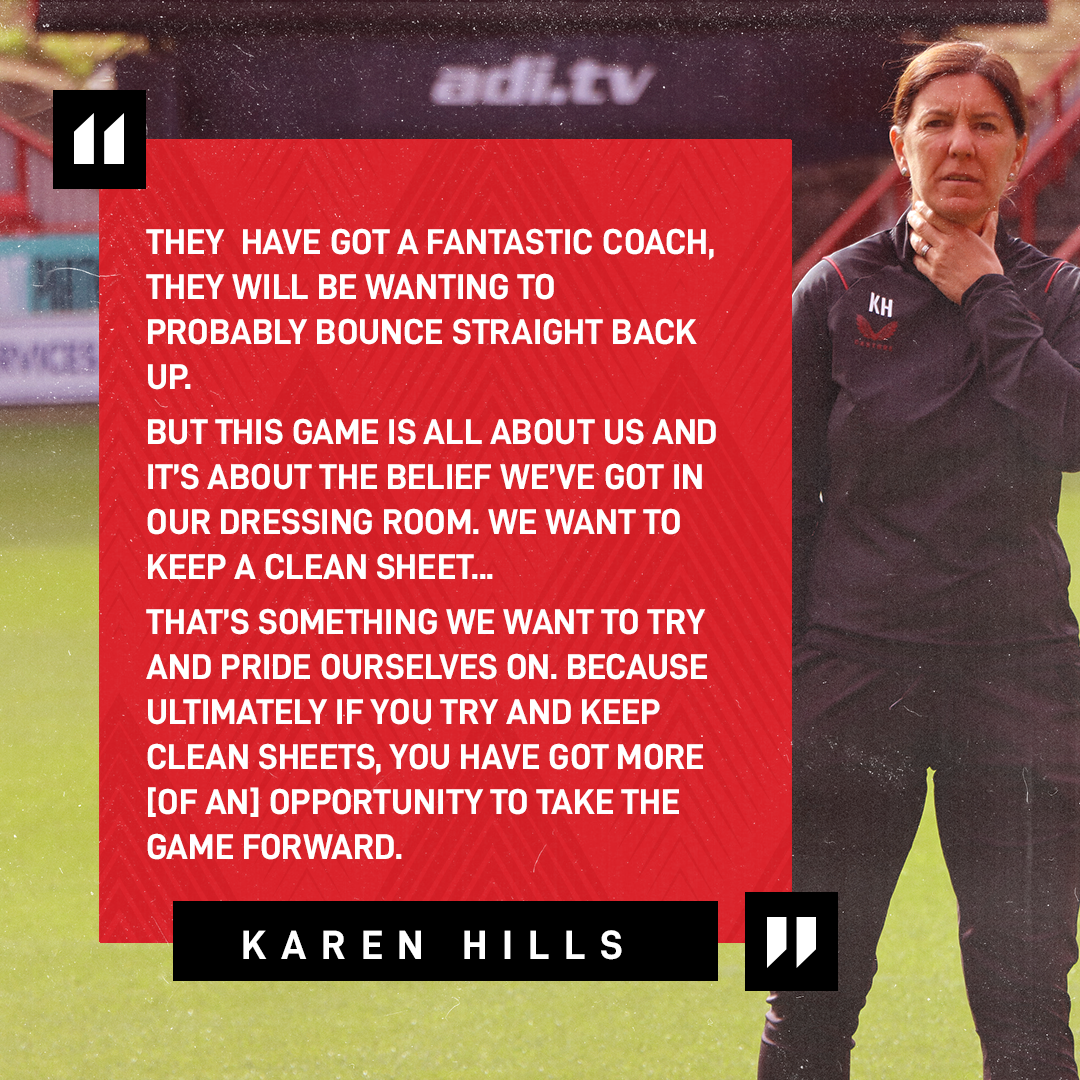 "It's going to be a tough, tough game," said the manager. "Birmingham are an opposition that has got so much experience, international players, players that have played in WSL for some time and they know how to win and lose games. We need to work on ourselves. We need to make sure that we focus on what we're good at but also know what type of a challenge it's going to be.
When asked if her team were looking forward to playing at the main stadium, Hills said: " You're playing in a big stadium, a fantastic surface and like I keep saying these players deserve to be playing in big stadiums in front of big crowds.
"Opening games in the WSL, tickets are going through the roof in all aspects so we hope that we can attract a good crowd here to support these players. I know that they're going to give everything they can for themselves, for each other and we'll do everything we can to make everyone proud.
"We know Birmingham has started strong this season," she added. "They've got a fantastic coach, they'll be wanting to probably bounce straight back up. They've got the players to do that. We know where their strengths are, but at the same time we've got some fantastic players and on any given day I think any team could beat anyone.
"But this game is all about us and it's about the belief we've got in our dressing room. We want to keep a clean sheet, we saw how tough that was last week and the week before, so that's something we want to try and pride ourselves on, because ultimately if you try and keep clean sheets, you've got more [of an] opportunity to take the game forward.
Charlton confirmed earlier this week that Lucy Watson has returned to Chelsea having suffered an ACL injury whilst with the club, and Hills expressed that she and the team's thoughts her with Lucy in her recovery and also provided a further update on the squad's fitness.
"The team are disappointed to lose a player of that calibre who would have added strength to our squad in training and matches," she said.
"We have a lot of other players that are going to be able to step up and it's huge opportunities for them to take. We're in a good place with the squad, we've got a fully fit squad ready to roll their sleeves up and have a go against Birmingham. We're in a good position, the squad's looking strong, we're focused, we're ready to put in a good performance."
The Addicks will battle it out against recently relegated Birmingham City in the Barclays Women's Championship at The Valley on Sunday, September 18th (KO 2pm). Click here for tickets