Joe Wollacott says it was a straightforward decision to join Charlton.
The 25-year-old goalkeeper, who featured in the 2021/22 League Two Team of the Season, joins the Addicks on a three-year deal following the expiry of his contract at Swindon Town.
After impressing with the Robins under Ben Garner, Wollacott earned his maiden Ghana call-up last October and has since helped his country qualify for this winter's World Cup in Qatar.
Watch CharltonTV's sit-down interview with the Ghana international above, or read on for the full transcript…
Joe, welcome to The Valley. How does it feel to be a Charlton player?
"Thank you very much, first and foremost. I'm delighted. It's a club that you always want to be at; you always have the ambition to play for such a high-profile club. Obviously walking around the stadium you can feel the magnitude of the club. I'm really happy to be here."
You're another player who Ben Garner knows very, very well having had you at Swindon last season. How much was that an impact for you making your decision to come and join us here?
"It made it an easy decision. We had a really good season last year. Obviously I know how he wants to play, I know how he wants his goalkeeper to play and I feel like, for the next step in my career, he can really develop that and hopefully we will have a successful season here."
What do you see as your main attributes as a goalkeeper that make you a good fit for a club like Charlton?
"Keeping the ball out of the net firstly. Like I said, [Ben] wants to retain possession from the back. It's something that I felt last year I did really well, but obviously something that I can still improve on. I like to think I'm quite dynamic so I think about setting off counter-attacks, my starting position and affecting crosses. There is a lot of improvement and work to be done, but I feel like here is the right place to do that."
Obviously last season was a successful one for you personally - you took the spot for goalkeeper in the Team of the Season for League Two, you had an international call-up for Ghana and you've got a World Cup coming up at the end of this year. Tell us a little bit about how proud you were to achieve what you did last year…
"It's flown by, everything happened so quick! The call-up in October is a vivid memory… I still have to pinch myself when you talk about the World Cup. Playing for Ghana is a massive honour. Every time I go there I feel so lucky and qualifying for the World Cup is massive for me and my family. Hopefully I can go and be successful at the World Cup with the national team. Getting Player of the Season last year… I think as a player it's always a privilege to have that sort of recognition because you're competing with the 23 other teams in the league. So, that was almost like the cherry on top of the cake for me."
From playing for Ghana to playing for Ben Garner! You're joining Manny Egbo as another person who Ben knows very well and Josh Davison was obviously there on loan last season. How much will that help coming into the changing room for the first time at Sparrows Lane to meet your new teammates? You've got a couple of familiar faces to fall back on if you like… 
"Yeah, of course, that always helps. Obviously playing with them last year I know they're very good players. I look forward to meeting the lads and getting on with everyone."
As we all know the number one spot is a big competition at any club and you come here with that as well. How much are you looking forward to that friendly rivalry, that battle for the number one shirt?
"Yeah, it's healthy. Obviously you have to come with a certain amount of respect because we have this goalkeeping union, but I look forward to competing and I'm pretty sure that whoever is in the goalkeeping group will support each other no matter what."
We've been around The Valley. You've played here before and you reminded us that you had good memories here, although not good for Charlton, playing for Forest Green Rovers in the cup. Will you be reminding Jake Forster-Caskey of your penalty save against him a couple of years ago?
"He's probably forgotten about it by now, but I'm pretty sure I'll have a bit of banter with him probably!"
It wouldn't have been much of a crowd that night but we're expecting some big crowds at The Valley this season. The first home game of the season is going to be against Derby County - a huge, huge game. How much are you looking forward to having some involvement and having that backing at a stadium like this?
"I look forward to it. It will be a fun day for sure and hopefully we can start the season off successfully."
You'll meet your teammates for the first time tomorrow. How much are you looking forward to just getting on the grass, pulling that shirt on and being involved? Obviously we've got that trip to Spain on Saturday as well so you've not got much of a chance to get your feet under the table before we're jetting off, but it's an exciting couple of weeks ahead, isn't it?
"Look, I'm just ready to get to work and hopefully just hit the ground running, as the old cliche is. It's good."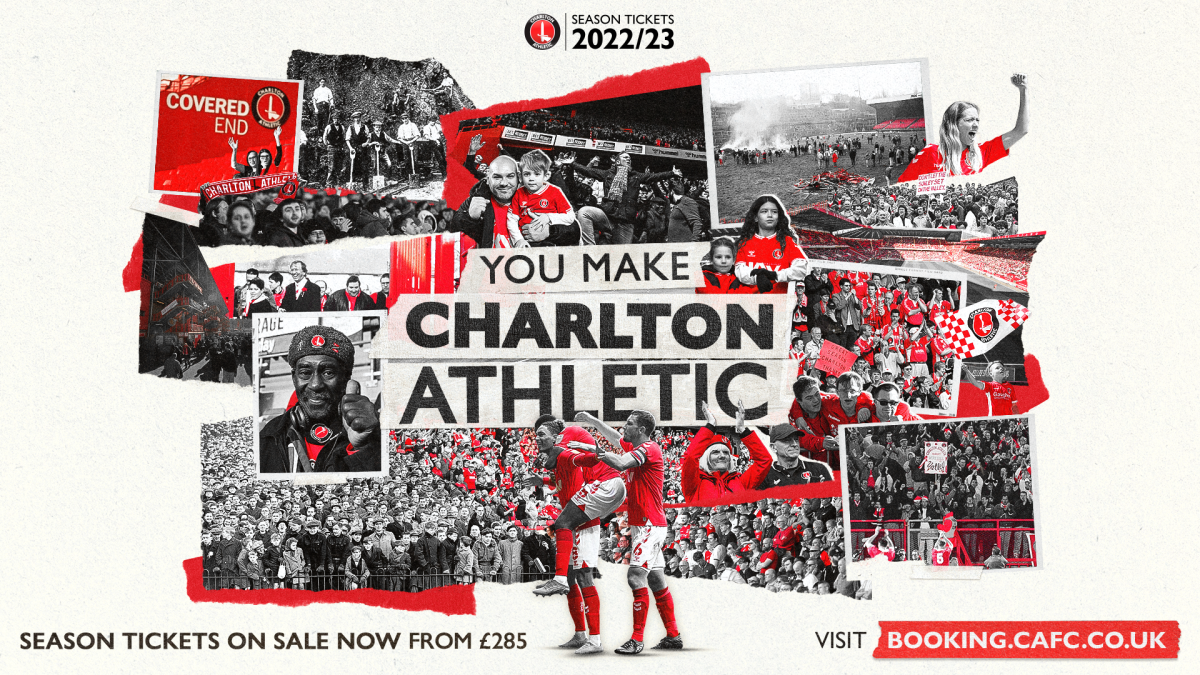 Click here to get your season ticket for the 2022/23 campaign.