Addicks full-back Beth Roe expressed the squad's eagerness to get back into league action as Charlton gears up to face Coventry United at The Oakwood as well as sharing her leadership qualities and reflecting on her first Charlton goal of the 2022/23 campaign.
Charlton were in fourth-round Vitality Women's FA Cup action last Sunday travelling to southwest London to take on AFC Wimbledon. Hills' side recorded an impressive 5-1 win over the Dons, and Roe offered her analysis on Sunday's proceedings:
"I think if we are honest it was probably not our best performance but I think games like that are quite difficult, I mean full credit to AFC Wimbledon for coming out the way they did, but at the end of the day full credit to us, we had five different goal scorers.
"So yeah, we are happy to get through to the next round, and happy that players have been able to get minutes in who were out with injury ."
Despite Roe being among the Charlton goalscorers she was eager to shine a light on the team performance rather than her own individual effort:
"it is nice to score, it is something that I have been wanting to do for a while, but at the end of the day, the main thing was getting through to the next round and doing it convincingly which we did."
Beth, who is a self-confessed 'quieter' leader has been with the Addicks since the summer of 2021 and she shared her technique on connecting with teammates:
"I think everyone is a leader in their own way, I am probably quieter than most, but for me, it is about encouraging in the quieter moments.
If I can just get behind people and try and get them to be confident within themselves then hopefully that will help them bring the best out onto the pitch."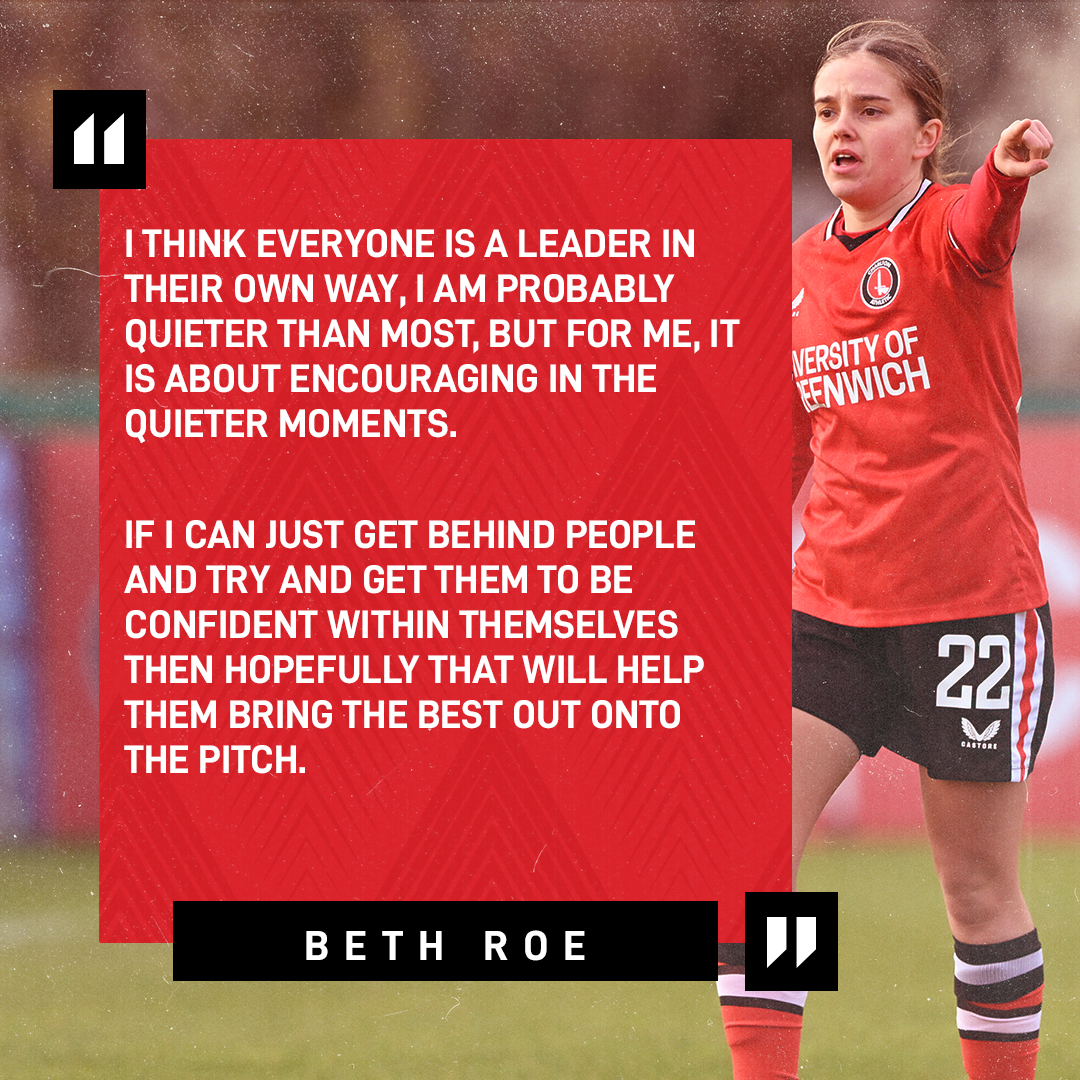 Charlton will play host to Coventry United this Sunday, the visitors have been on an impressive winning run as of late recording. Lee Burch's side recorded their first league victory against Crystal Palace just under a fortnight ago and earned their place in the fifth round of the Vitality Women's FA Cup with a 4-0 win over Hashtag United at the weekend.
With this string of results in mind, Roe knows the Addicks will have to be at their very best in order to stretch their winning streak to eight on Sunday:
"I think you only have to look at their recent run, and I think even before that full credit to them, I mean it happened last year if you look at the form they picked up in the second half of the season and they have been losing games narrowly.
"So, it is definitely something we have to be mindful of, and you have to say credit to their staff and players, they have brought in a lot of new signings over the winter period. So, we have to be at the top of our game, and I think if we can do that and implement our game plan then we will have every chance of winning the game."
Charlton will host coventry United at The Oakwood on Sunday, February 5th KO 2PM. click here to secure your tickets!