Just days after celebrating his fourth birthday in August last year, young Charlton fan Jack Jeffreys was diagnosed with neuroblastoma, a rare and aggressive form of childhood cancer. 
He has endured months of gruelling treatment ever since, including multiple rounds of chemotherapy, numerous blood transfusions, and lengthy stays in the hospital.  
"He has been amazing throughout the whole thing," said Jack's mum, Katie. 
"Those first two weeks of chemo he was literally just lying on a bed, didn't smile, didn't laugh, didn't want to talk, not even to us. But then after the second or third round he started to pick up a bit, he started coming back to how he normally is, a cheeky little monkey." 
While his bone marrow is now free of the cancer, and the tumour in his belly has shrunk by more than a half, Jack and his family still face an arduous road, with cycles of radiotherapy and immunotherapy scheduled for the coming months. 
But buoyed by the support of friends and colleagues, and by Jack's beloved Charlton and its fans, it's a battle they know they won't be fighting alone.
Jack was thrilled when manager Karl Robinson and Johnnie Jackson came to visit him in the hospital in Sutton in September, and Katie and dad Grant have been overwhelmed by the outpouring of kindness and well wishes they've received.
"We had nearly a hundred Christmas cards from all these Charlton supporters, from all over the world, from as far as Australia and America," said Katie. "Another fan bought him a Charlton jumper, a burgundy one with 'JJ' on it. We couldn't get it off him! For days we couldn't get it off him!"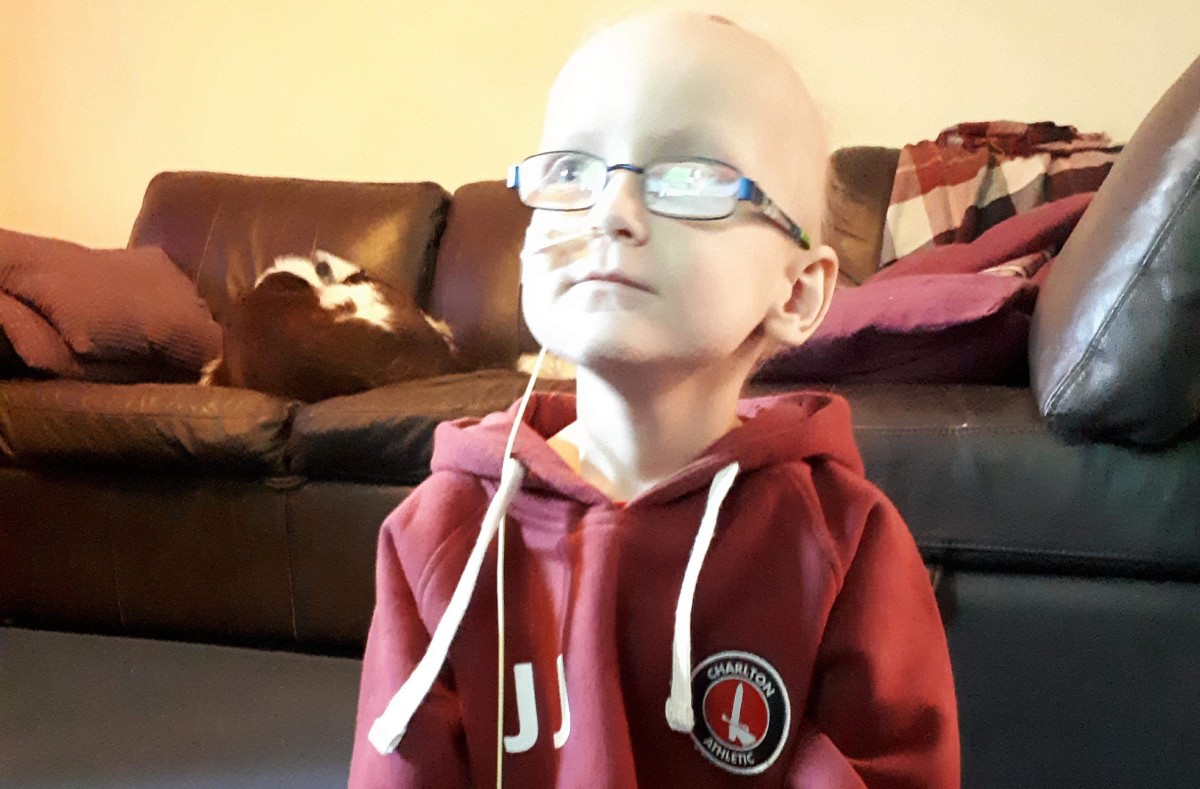 Grant, a third generation Addicks fan, whose family hail from the Chislehurst area, said: "You sit down and it hits you sometimes, but what's helped is the support from Charlton supporters, and from friends and family. Without that it would be a hell of a lot harder."
Earlier this month, Charlton supporter Clare Sadlier created a fundraising page for the Jeffreys to help keep the family afloat while Katie, who is signed off work on statutory sick pay, looks after her son full-time.
Grant, who has been unable to work for several years because of a debilitating medical condition, said the fund would cover the cost of travel to and from the hospital and their Bexhill home, and numerous other day-to-day expenses related to Jack's illness. 
"It would be a massive help," added Katie. "The travel, being away from home for any period of time, it all adds up."
It is also hoped that the money raised would help pay for an extremely expensive - upwards of £180,000 - but promising antibody therapy known as anti-GD2, should the treatment currently available to Jack prove ineffective. 
Anti-GD2 is not presently available on the NHS. Meanwhile, it is estimated that as many as 60 per cent of children with Jack's form of high-risk neuroblastoma will eventually suffer a relapse.
Katie said: "Anti-GD2's got really, really good results but we can't afford to do that. The first thing I said was we'll have to sell the house. If it came to it, that's what we would do. You don't want to go through life and think if only we'd tried that.
"It's never going to go away. Even if everything goes 100 per cent well and he's in remission that's not the end of it. It could even come back after five years remission. It's just all up in the air.
"If it turns out we don't need the money it will go to another charity or another child. We just want the very best for Jack, and to raise awareness of this terrible disease."
To visit Jack's JustGiving page, go to: https://www.justgiving.com/crowdfunding/helpjackcafcbeatcancer