Charlton supporters are being urged to purchase their tickets for the home leg of the Addicks' play-off semi-final against Shrewsbury Town before 2pm on Wednesday.
On Thursday night (7.45pm), the Addicks host the Shrews in the first game of their two-legged match-up. 
In advance, tickets are being sold through Ticketmaster by phone and online and they will temporarily come off sale at 2pm on Wednesday. All tickets sold through Ticketmaster need to be printed at home. Charlton supporters without access to a print can have their tickets printed at The Valley before Thursday. 
To purchase yours online, please click here. 
By purchasing tickets in advance, supporters will help their fellow Addicks by minimising ticket queues on matchday, with The Valley expected to be extremely busy.
Thursday's home leg has been classified as an Addicks Gold match, with prices starting at £20 for adults, £17 adult disabled, £15 over 65s, £12 concession disabled, £10 students and under 18s and £5 under 11s. All transactions will be subject to a £2.50 booking fee.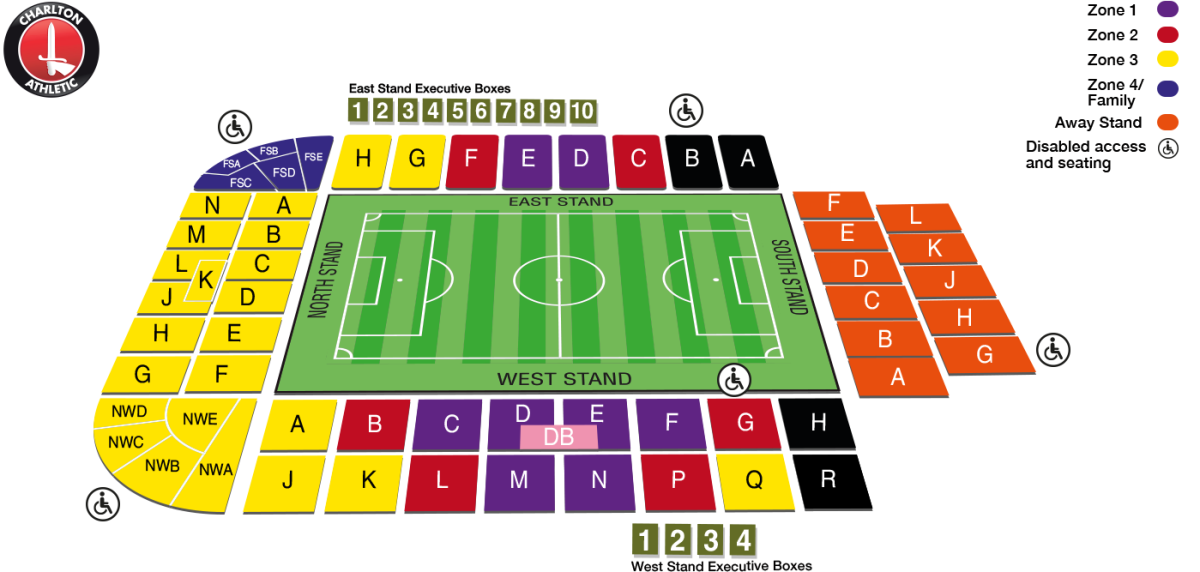 HOW TO BUY
All tickets purchased in advance are being sold via Ticketmaster. They can be purchased online or by phone and are now on sale to all Charlton supporters. 
Online: http://www.eticketing.co.uk/cafc/ 
Phone: 08444 539074
Tickets will be on sale via Ticketmaster until 2pm on WednesdayThey will then temporarily come off sale to enable Ticketmaster to transfer the data of all unsold tickets to the club. 
All unsold tickets will then be printed at The Valley and any remaining tickets will go back on sale at 9am on Thursday, May 10th. Any remaining tickets will be available to purchase in person from The Valley or by The Valley's phone lines.
Disabled tickets are also available to purchase via Ticketmaster by phone. 
Please click here to view our guide to buying tickets online via Ticketmaster
SALE RESTRICTIONS 
All Charlton supporters are now eligible to purchase tickets for the Addicks' play-off home leg fixture. Fans do not need to be on the club's ticketing database in order to purchase. 
TICKETMASTER OPENING HOURS 
Supporters can purchase their tickets online via Ticketmaster 24 hours a day, from 9am on Sunday. Seats will remain on sale via Ticketmaster until 2pm on Wednesday, May 8th.
Tickets can also be purchased via phone. Ticketmaster's sales phone line opening hours are available to view below:
Tuesday, May 8th: 8am-8pm
Wednesday, May 9th: 8am-2pm
Ticketmaster have a supporter services team, who can be contacted on 03330 035942. Fans should be aware that they will only deal with supporter queries and cannot process ticket sales. Their opening hours are available to view below. 
Tuesday, May 8th: 9am-5pm
Wednesday, May 9th: 9am-5pm
Thursday, May 10th: 9am-5pm  
VALLEY TICKET OFFICE OPENING HOURS
Although all home-leg tickets are being sold via Ticketmaster in advance, The Valley's ticket office will be extending its opening hours to help any supporters who need help purchasing their home-leg tickets. 
Please see The Valley ticket office's play-off opening hours below:
Tuesday, May 8th: 9am-7pm
Wednesday, May 9th: 9am-7pm
Thursday, May 10th (matchday): 9am-half-time and after full-time 
Friday, May 11th: 9am-5pm 
Saturday, May 12th: 10am-1pm (closed if Charlton's away leg has sold out)
VALLEY EXPRESS
Valley Express – the club's dedicated home-game coach service – will be transporting Charlton supporters to the club's home-leg fixture. 
Places on the Valley Express are priced at £11 and can be booked by visiting The Valley's ticket office in person or by calling the club's ticket office on 03330 14 44 44.
HOSPITALITY
A number of hospitality packages are available to book for Charlton's play-off home leg, with prices starting at £20 per person +VAT.
These can be booked by emailing sales@cafc.co.uk or by calling 020 8333 4050. Please click here for full information on home-leg hospitality. 
AWAY LEG TICKETS
Tickets for Charlton's away leg against Shrewsbury will go on restricted sale at 9am on Tuesday morning.
We have an allocation of 1,500 seats and full ticket information on our away leg is available to read by clicking here.