Charlton fans will be able to donate to local foodbanks at two home games this month to help locals in need over Christmas and ahead of the campaign five first-team players visited Greenwich Foodbank last week to find out more about it. 
The club has joined forces with Fans Supporting Foodbanks and, in the run-up to Christmas, supporters will be able to donate non-perishable food at Charlton's home games against AFC Wimbledon (December 15th) and Gillingham (December 22nd). 
The items collected by Fans Supporting Foodbanks will be given to Greenwich Foodbank, who operate eight foodbanks in the borough, and are in desperate need during the busy Christmas period.
First team players Joe Aribo, Anfernee Dijksteel, Tariqe Fosu, Karlan Grant and Jed Steer were shown around Greenwich Foodbank last week and helped with unpacking donations, dating items and then sorting together packs for distribution. 
Last year, Greenwich Foodbank fed 7,505 people and this year it looks like numbers could be as much as 20 per cent higher, meaning a constant supply of food is crucial. 
Goalkeeper Steer said: "They showed us around the whole foodbank and we met a few of the volunteers that work here. We helped with the unpacking (of the donations), packed up a few boxes and gave a bit of a helping hand.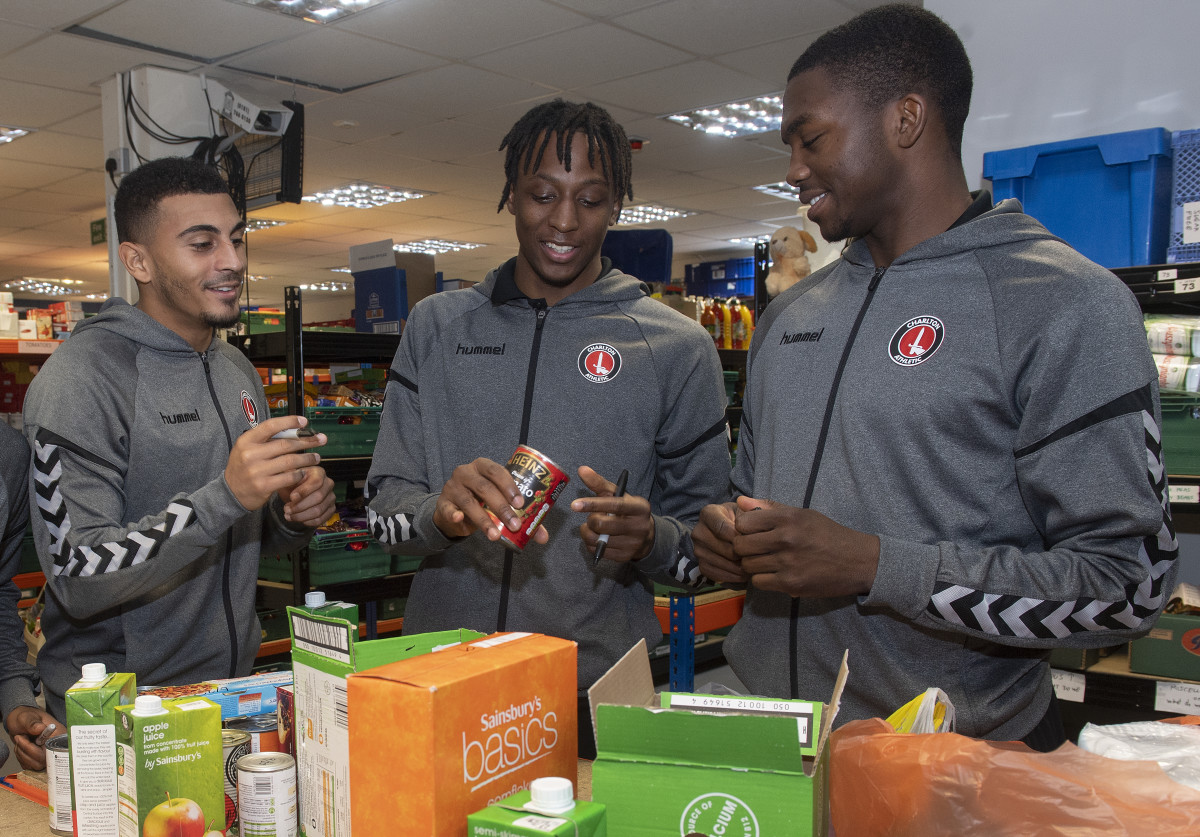 "Obviously, Christmas is just around the corner. It is a time for giving and being generous and hopefully as a club we can all get together at the next two home games and give what we can. They are saying they are going to need extra food compared to last year.
"Coming down here has been great to see what goes on behind the scenes and the hard work that does go on. The next time I'm down the supermarket I will definitely be buying a bit extra, a few more tins to donate."
Alan Robinson of Greenwich Foodbank said: "We are seeing a greater need. One of the exciting things about having the players from Charlton here is that it is going to help us communicate this need out to the community and hopefully to the fans within the community that it is a good thing to come to the match and donate something while they are there. 
"It's so exciting for me to realise that a partnership like this can really make a significant difference to what we do here. It will take away the worry I have about where the food is going to come from. Everyday I wake up thinking 'Will we have enough?'." 
Charlton fan Samuel Spong (pictured alongside the Charlton players) created Fans Supporting Foodbanks after being inspired by a similar initiative in Liverpool. He said: "We want to use the collective power of thousands of people coming into the same space from the community to really drive up food donations in the area. It's a particularly stressful time for people running foodbanks and people using foodbanks. The collective power of thousands of fans can really help that just from a small donation."