Tickets for Charlton's trip to Reading will be going on restricted sale Tuesday, August 13th from 9.30am.
The Addicks have been been given an allocation of 2,219 for the game on Saturday, August 31st (3pm).
Tickets will be posted out until 4pm on Wednesday, August 28th and will be available for picking up from The Valley until 1pm on Thursday, August 29th.
Standard ticket pricing for the fixture are as follows: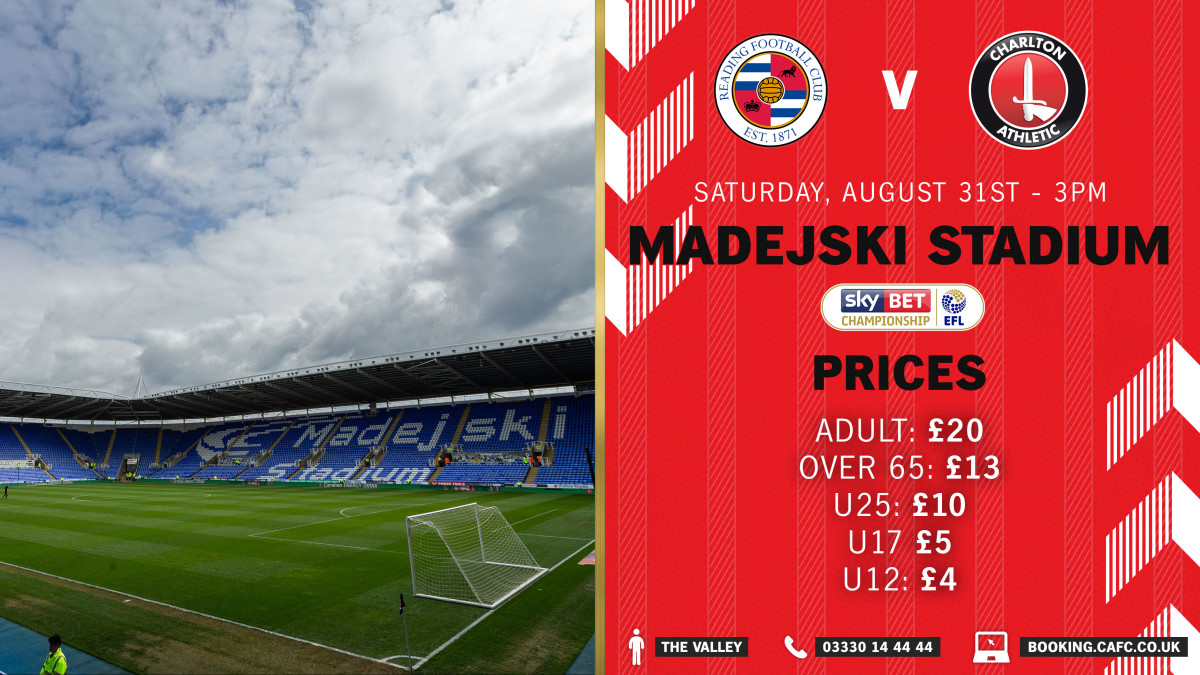 Family ticket: these tickets allow visiting families with younger children access to the designated family zone.
Ambulant disabled: Relevant price and helper goes free
Wheelchair: [14 bays] relevant price and helper goes free
Restrictions for the purchasing of tickets are as follows:
Phase 1: 580 Loyalty Points with Valley Gold 13/08/2019 at 9:30am
Phase 2: 580 Loyalty Points 13/08/2019 at 2pm
Phase 3: 540 Loyalty Points with Valley Gold 14/08/2019 at 9:30
Phase 4: 540 Loyalty Points 14/08/2019 at 2pm
Phase 5: 460 Loyalty Points with Valley Gold 16/08/2019 at 9:30am
Phase 6: 460 Loyalty Points 16/08/2019 at 2pm
Phase 7: 230 Loyalty Points or Valley Gold 19/08/2019 at 9:30am
Phase 8: 100 Loyalty Points 19/08/2019 at 2pm
Phase 9: General Sale 20/08/2019 at 9:30am
A Valley Away coach service will be running to the Madejski Stadium, priced at £17, with the following pick-up times
Larkfield: 9:05am
Gravesend: 9:30am
Dartford: 9:45 am
Baxleyheath: 10:00am
Bromley: 10:30am
Eltham: 10:50am
Charlton: 11:05am