Charlton Manager Lee Bowyer hinted Chuks Aneke could be involved in Saturday's trip to Middlesbrough and the striker can't wait to be back in action.
Summer signing Aneke, has been out with a hamstring injury since the club's game against Preston North End at the start of November.
Speaking at Charlton Athletic Community Trust event earlier this week, he said: "I'm very excited. I've been in the gym for about a month, doing my rehab to get back to fitness, so I'm definitely excited to get back out there and start playing again."
Aneke, who has yet to start for the Addicks, has made an impact in substitute appearances, including a crucial goal in a 3-1 win at home to Stoke and winning a penalty in a 2-0 away win at Reading.
"I feel like I've had an impact in those games and I'm not opposed to coming on," the former Arsenal academy graduate explained. 
"I'm happy in doing that and I feel like I can make an effect. I just want to get back and help the team as much as I can."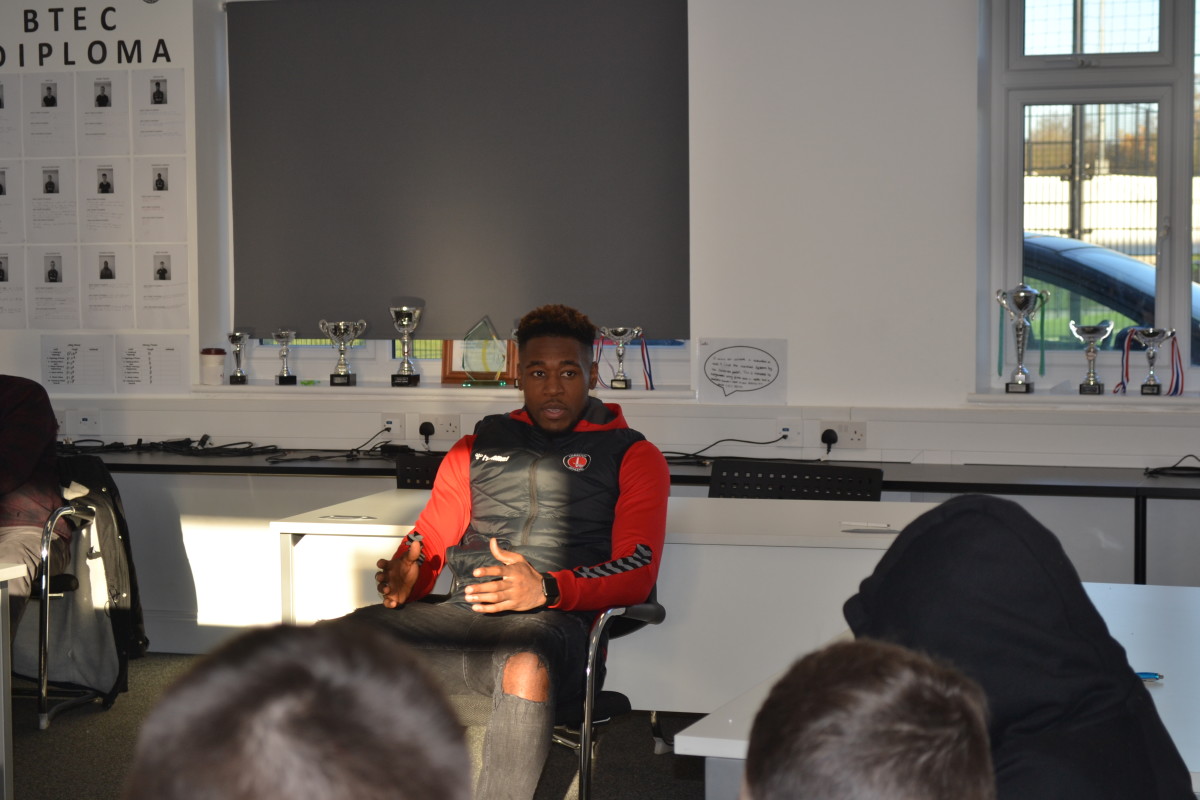 Bowyer also mentioned that Lyle Taylor could be involved on Saturday and Aneke explained what it is like to play alongside last season's top scorer: "Lyle is a very good player. He can finish, he's a big personality, he's a very strong lad, so it's good to play with him he's got a lot of quality. It's good to play with all these players, there is a lot of quality in the team."
Aneke was speaking at a Charlton Athletic Community Trust event where he was asked questions by pupils of Rowhill School. The Darftord-based school is a Behaviour & Learning Needs; Behaviour, Emotional & Social Development Needs school.
Aneke explained: "I came to speak to a few youngsters, who asked me some questions about diet and football in general and the environment. It was informative for me to see some new faces and chat to some people. It's been good.
"I think it's important for the club to do things like this, for young people to see people that they might idolize when they see them on tv or come to the games, it's good to speak to them and get insight for them, so it's important that clubs are involved in the community."
Science teacher Sean Mwale said: "We are so grateful to Charlton Athletic Community Trust for allowing our school visit to the training ground and meet their first team player Chuks Aneke.
"The visit was received with first class reception and the students appreciate the information given by Chuks about nutrition and training which they will use as part of the course work and gain a better understanding about healthy living for a professional athlete. We also enjoyed the advice provided from him and the club representative Tracey [Leaburn, Player Liaison Officer] which helped our students to think more about a positive mind set and goal setting as well over coming various challenges. The students left the club with a different perception and approach to life."