"It was gobsmacking, I didn't expect it. To see the players for real, and knowing how good they are. I was speechless really. My family will be very jealous!"
Norman Wade is currently a patient at Queen Elizabeth Hospital in Greenwich and he couldn't believe it when Charlton Assistant Manager Johnnie Jackson turned up at his bedside on Tuesday with Darren Pratley and Charlton Women's players Grace Coombs, Jenna Legg and Charlie Devlin.
Norman, who is receiving treatment leukemia, was with his wife Veronica but his family of Charlton supporters missed out having visited him less than 24 hours before. 
"Our son in law Graham, both our grandchildren Alfie and Connor follow avidly," he explained.
"They go to every game. I've already phoned them and they wish they were here! They were here yesterday so missed it."
The players left a signed Santa's bag for the family. Norman joked: "We've got a nice souvenir for them. They'll be fighting over that now.
"Today really cheered me up. I'm very impressed with what the club do."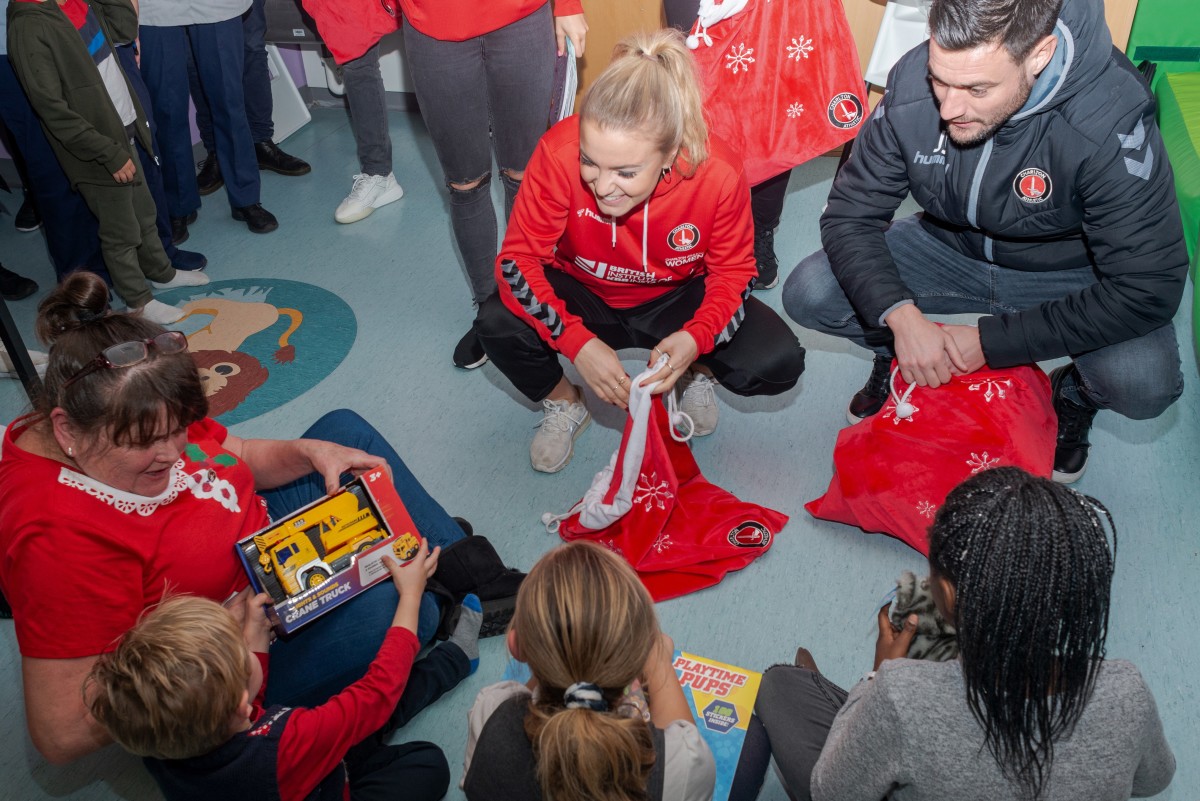 The players visited patients in the children's ward and the cancer ward to hand out Christmas presents and chocolates for the hard-working staff. 
Jackson explained: "It's important that the club is represented in the local area and to show that we're inclusive. We're a family club, and we're trying to spread some goodwill in the area which is what Charlton is all about."
Coombs, Charlton Women's captain, added: "Some people in here are struggling a little bit, so anything we can do to make them smile and help out a little bit is really good for us to do."
The hospital is currently short on toys for the children's ward and is running an appeal for people to donate toys. You can donate here. 
Tuesday's Christmas visits also included first-team players Adam Matthews and Ben Purrington giving out presents at Demelza Hospice in Eltham.
Demelza's Care Services Lead in South East London, Mirelle Cassidy, said: "It's really good for the kids, it makes it more Christmassy, the kids have really enjoyed it."
Adam Matthews said: "It's nice to put a smile on a kids faces, obviously, it is not an ideal time to be in, especially with Christmas coming, but it's nice to see all the families together, putting a smile on the kids' faces and to give them some presents."
The Hospice is running a Christmas campaign to support Care At Home and need donations. You can click here for more information.