The #PrideOfTheValley campaign launched last season to reward the most dedicated Charlton fans. Each home league game, a fan is selected to win the award and the individual is presented with a signed shirt.
David Wood of the West Country Addicks was nominated for our Boxing Day game against Bristol City. David has been coming to The Valley since 1957 and represents his supporters group at Fans' Forum meetings. As you can see from the picture, he is a big Lyle Taylor fan.
We asked David for some of his Charlton memories…
Why I became a Charlton fan: Like lots of kids, I followed in the footsteps of my dad who was a regular Charlton supporter. There was no other option and I have never regretted it.
My first game at The Valley: When I was eleven, near the end of the 1956/57 season, my dad took me to The Valley on the bus from Bexley and we lost to Spurs. We were in the old First Division then and I remember him saying that we will be playing Second Division football next season.
My first away day with Charlton: In 1959 Aston Villa were relegated to the Second Division and in the November of that year I went with my Dad and his mate Bill Woodward to Villa Park to see what turned out to be a historical match. Charlton lost 11-1. I still have a black and white photo of me and Bill standing on the platform at Birmingham Snow Hill station looking very sad.
On 25th May 1998: I was at Wembley with my wife and two sons, my dad and my mother-in-law. We travelled up on one of the West Country Supporters coaches, meeting it at Chieveley services on the M4. I remember the Red, Red Robin blaring out in the car park there as we waited for the coach. A fantastic day but a bit sober until we got back home and went down the pub to celebrate.
On 26th May 2019: A different type of day to 1998. We caught the train to Waterloo where we had a pre-match meal and a few drinks with other fans in the station bar before the tube ride to Wembley, meeting up with family and friends. The atmosphere was fantastic, the match was tense and of course the result was great.
My favourite Charlton game: Two games will be for ever in my memory, not just for the match but for the match-day experience.
The first is the last match of the 2013/14 season away at Blackpool where my son Richard and I dressed up as manager José Riga and got lots of nice comments from José, the players and many travelling fans.
The other game is the play-off semi-final at Doncaster last season where I wore a blond wig and greeted Lyle Taylor off the team coach as the players arrived.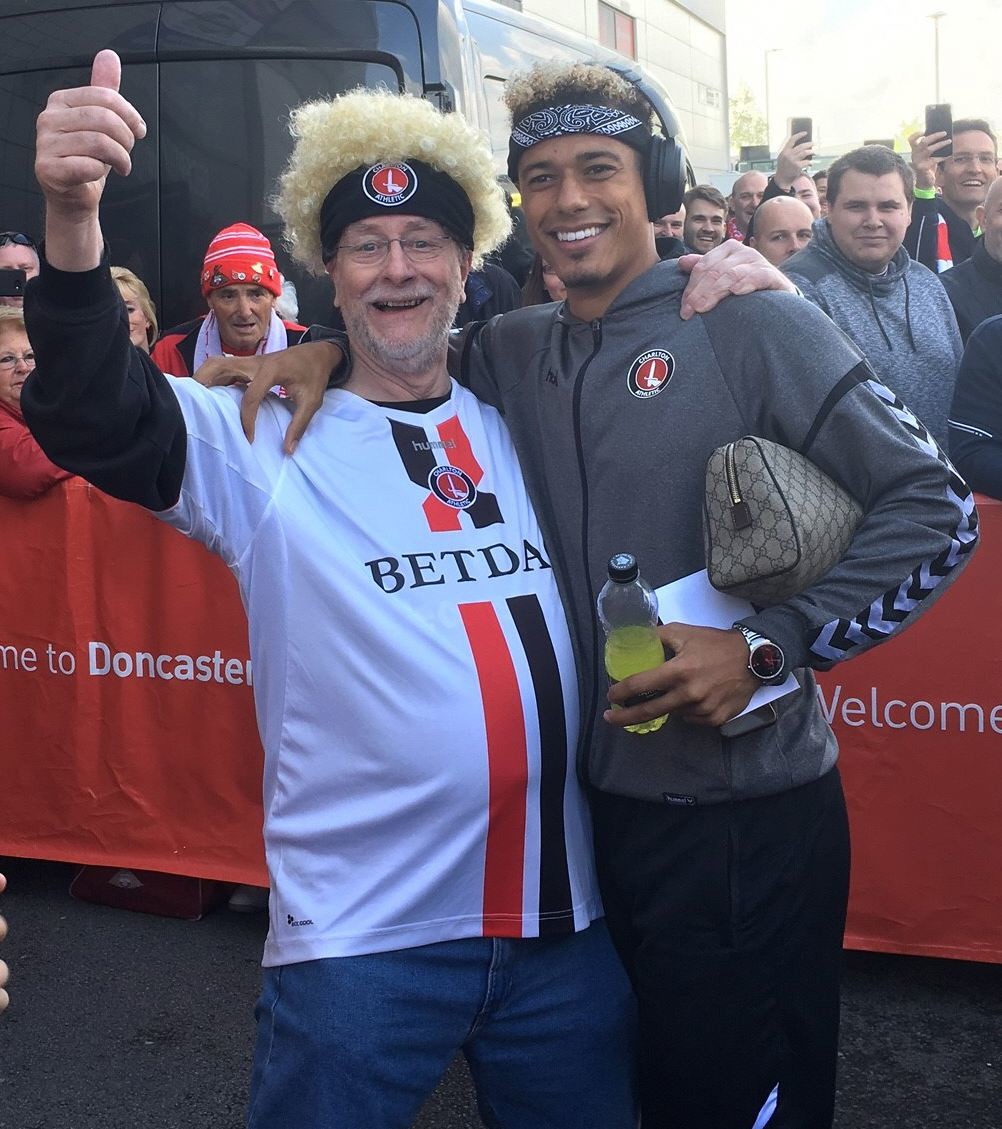 My favourite Charlton player: For me, a good player has to give his all on the pitch and be dedicated to the club. There have been lots over the years but of course my current favourite is Lyle Taylor.
My favourite Charlton kit: I have a huge collection of Charlton shirts, home and away, all printed with personalised comments. Probably my favourite is the Le Coq Sportif from around 2002 bearing the slogan 'Andy Jones 8 All: The Pies'. The latest hummel shirts are good too.
The best part of being a Charlton fan: Feeling part of a club that has tradition, that is known to do it's best on the pitch and that does a lot of good work off the pitch in the community. The club appreciates its fans and I am proud to be a Charlton supporter.
My all-time Charlton XI: Bob Bolder, Steve Brown, Chris Powell, Johnnie Jackson, Mark Kinsella, Richard Rufus, Keith Peacock, John Robinson, Claus Jensen, Derek Hales, Clive Mendonca
Charlton Player of the Season: Players will come back from injury but at present it looks like Conor Gallagher or could be Dillon Phillips.
The game I am most looking forward to: Away at Southampton. We used to win there quite often and it will be like a home game for me, just down the road. We will have to wait for next season for this one though.