With nine games remaining of the 2019/20 season, season tickets for the 2020/21 season will go on sale at 1pm on Monday.
Supporters can reserve their ticket at The Valley for the 2020/21 season with an early-bird discount by purchasing before midnight on July 31st.
With concerns about games in the 2020/21 season being played behind closed doors, supporters will be able to select a season ticket that suits them.
- The full season ticket offers the best value and should any games be played behind closed doors fans will be compensated for those games following the completion of the 2020/21 season
- Charlton are also offering fans the opportunity to purchase a two stage, rolling season ticket. The ticket would allow you to purchase your ticket for the first half of the season and if games are played behind closed doors in that time, the amount you are charged for the second half of the season in November, will reflect the games missed. Click here for more information.
Charlton continues to remain committed to offering affordable football. The cheapest adult season ticket at The Valley in the 2020/21 season is priced at £260 which equates to £11.30 per game. The ticket is one of the most affordable among clubs in the Championship and is 13 per cent cheaper than the club's cheapest ticket at Championship pricing offered for the 2019/20 season. 
Fans looking for best value should purchase before midnight on July 31st, with last season's Championship pricing set to increase by five per cent for Phase Two purchasing should Charlton remain in the division. Increases on the early-bird discount are in place should the club be relegated to League One.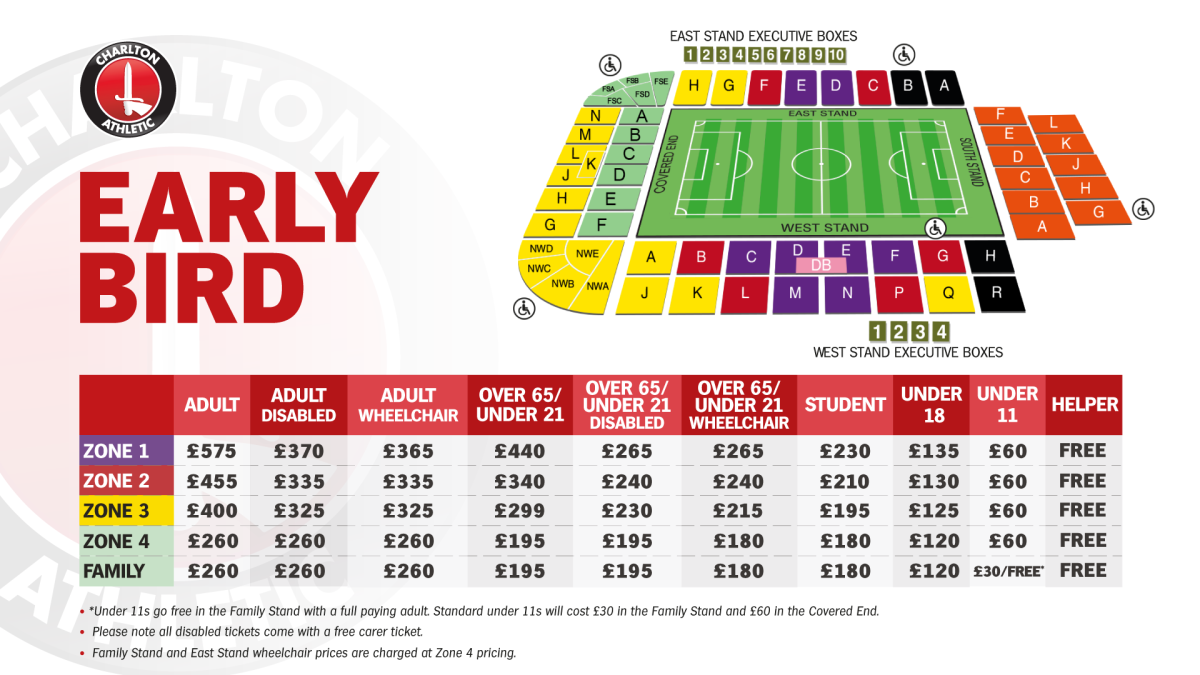 How to Buy
• By phone – The ticket office's phone lines are open 9am-5pm on Mondays, Tuesdays, Wednesdays and Fridays, 9am-1pm on Thursdays and from 10am on home matchdays.
• Online – Fans can purchase or renew their season ticket 24 hours a day, seven days a week.
• By post – You can return your completed application form to The Valley, Floyd Road, London, SE7 8BL
• Please note, the ticket office will be closed for in-person purchases until further notice 
Valley Express 
The club's popular Valley Express coach service continues to transport supporters to and from SE7 from dozens of pick-up points across Kent and Sussex.
Season passes are priced at just £210 – which also equates to only £9.13 per match – and the Valley Express can also be booked on a match-by-match basis.
A Valley Express season pass can be booked online by clicking here, by visiting The Valley in person or by phone. Alternatively, fans purchasing their season ticket by post can add a Valley Express pass by selecting it under the 'Additional Options' box.
Loyalty Points
Charlton fans who have supported Lee Bowyer's Addicks during 2019/20 will have their loyalty points carried over into next season. 
The club's loyalty points scheme provides fans who regularly support the team with greater ticket priority for in-demand away and cup matches. Loyalty points attained during the 2018/19 season will no longer be available for supporters to use from the start of the 2020/21 season. 
For more information on loyalty points for the 2020/21 season, please click here.