Claus Jensen's audacious chip against Arsenal at Highbury in 2001 has been voted by fans as the 'greatest Charlton goal ever'.
During lockdown, supporters have been voting in the #CAFC Worldy Cup on Twitter which saw 32 memorable Addicks strikes be whittled down to just one and Jensen's goal from the 4-2 victory over the Gunners beat Kevin Lisbie's hat-trick goal against Liverpool in 2003 with 78 per cent of the vote in the final.
Jensen's magnificent chip was amongst the finest and most eye-catching goals that Charlton scored during their eight-season tenure in the Premier League.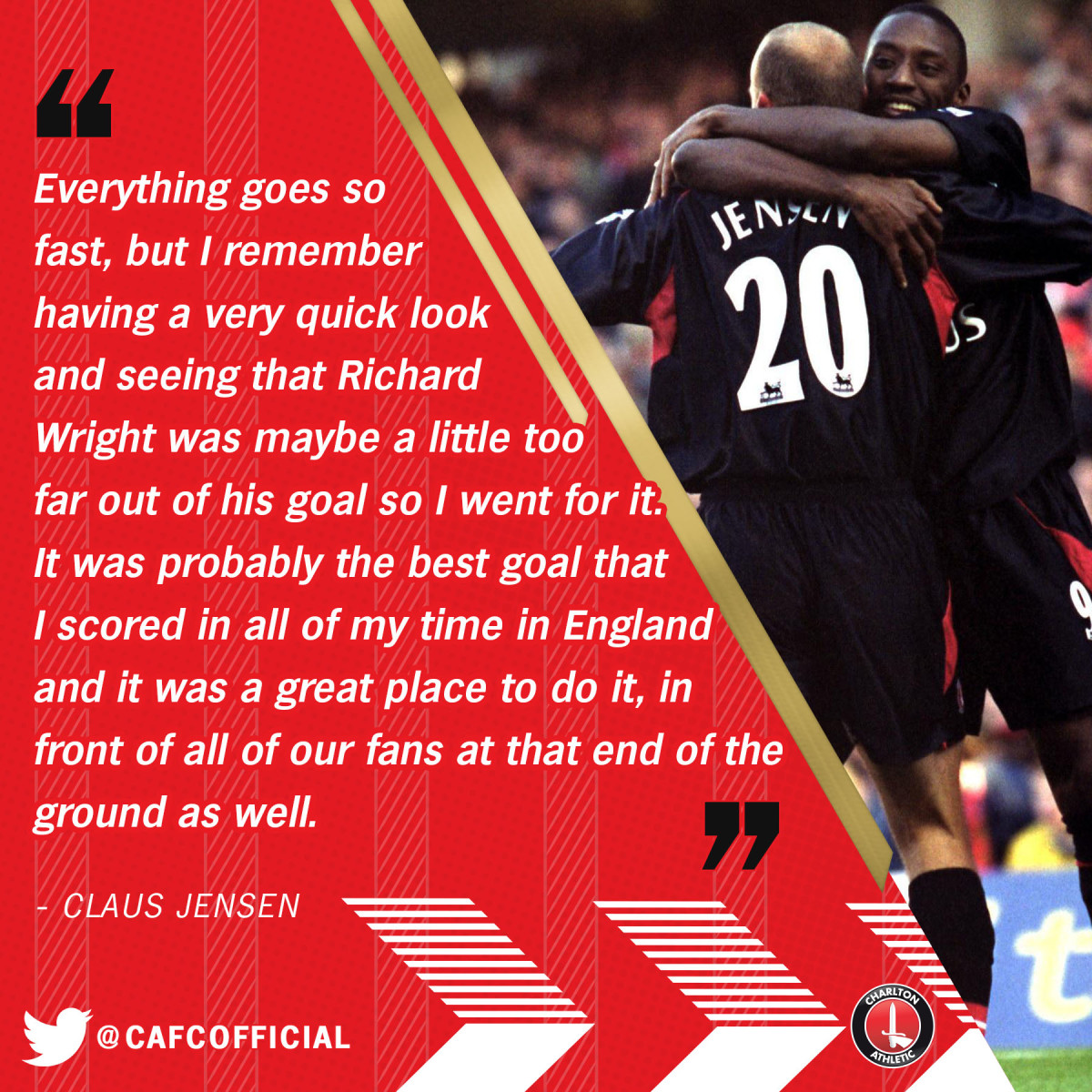 After falling behind to Thierry Henry's sixth-minute striker, Alan Curbishley's side were under an early onslaught from the hosts and it looked like the visitors could be in for a thrashing.
But Steve Brown's equaliser on 35 minutes changed the game, leading to a Richard Wright own goal just before half-time putting the Addicks into a 2-1 lead at the break. After the restart, Charlton came out with all guns blazing as they looked to further punish the shell-shocked Gunners and an Arsenal throw-in in the final third led to Patrick Viera losing possession with Claus Jensen lurking.
Jensen himself talks us through what happened next...
"Jonatan Johansson and myself were pressurising Patrick Viera after he received the ball from a throw-in. I came away with it and went for the chip into the corner of the goal – it wasn't a bad finish!
"Everything goes so fast, but I remember having a very quick look and seeing that Richard Wright was maybe a little too far out of his goal so I went for it. It was probably the best goal that I scored in all of my time in England and it was a great place to do it, in front of all of our fans at that end of the ground as well.
"It was a really great day. We hadn't won at Highbury for many, many years and that Arsenal team was one of the best around at that time. I was fortunate enough to play and score against some of the biggest teams at the top level, but that Arsene Wenger team was a free-flowing attacking side. They battered us early in the first half, but before you knew it, we were 4-1 up! That game really stands out as one of the best that I played during my time at Charlton. It was a fantastic day that I'll never forget.
"It was always good to measure ourselves against the best, and there were plenty of times when Charlton matched and beat those teams. It was a special time for everyone with a lot of positives around the club. Alan Curbishley, Keith Peacock and Mervyn Day had built a very good side and we always did ourselves proud.
"It was a fantastic group of players, not just on the footballing side, but on the social side, too. It was a close-knit, family club and I have nothing but fond memories.
"I had the best years of my footballing career at Charlton and days like that one at Highbury are ones that I will never forget."
Valley Pass subscribers can watch 75 minutes of highlights from the 4-2 victory over Arsenal at Highbury in 2001 in the video below