Lee Bowyer insists that his side have put the late disappointment of midweek behind them and are raring to go for Saturday's meeting with Wigan Athletic with their fate still very much in their own hands.
After suffering the blow of conceding an injury-time equaliser at Birmingham City on Wednesday, a goal that denied the three points that would have seen the Addicks all-but safe, the Charlton boss said that his players have put it behind them and are ready to step up at The Valley.
Supporters can purchase a pass to stream Saturday's game against Wigan Athletic, click here for more information.
"It's in our hands," said Bowyer.
"We've got two games. We play Wigan and then we go to Leeds. Football is crazy, you never know what's going to happen. I bet everyone's sitting at home looking at their phones, working out what needs to happen and goal difference and things like that, but you're never going to be able to predict.
"Football is unpredictable. We've only lost to the top six once this season. Would anyone have predicted that at the start of the season? I wouldn't have, and I'm the manager! Football is crazy, you can't predict what's going to happen, but it's in our hands. If we win tomorrow, we're safe, it's as simple as that."
"The players are ready and will be flying tomorrow," he continued.
"Come 12.30 tomorrow, they will be ready to go. We've picked the players up, told them the positives, went through the goal we conceded [at Birmingham], spoke about it and put it behind us.
"We're working so hard to get the best out of the them. We're defending well, we're playing well and we're creating chances. We as coaches can't ask any more of the group.
"Since lockdown, excluding Brentford, we've been the better side in every game. We're not in a bad place, we're not down in the dumps, obviously we were disappointed after the other night, but there's no time to dwell on it."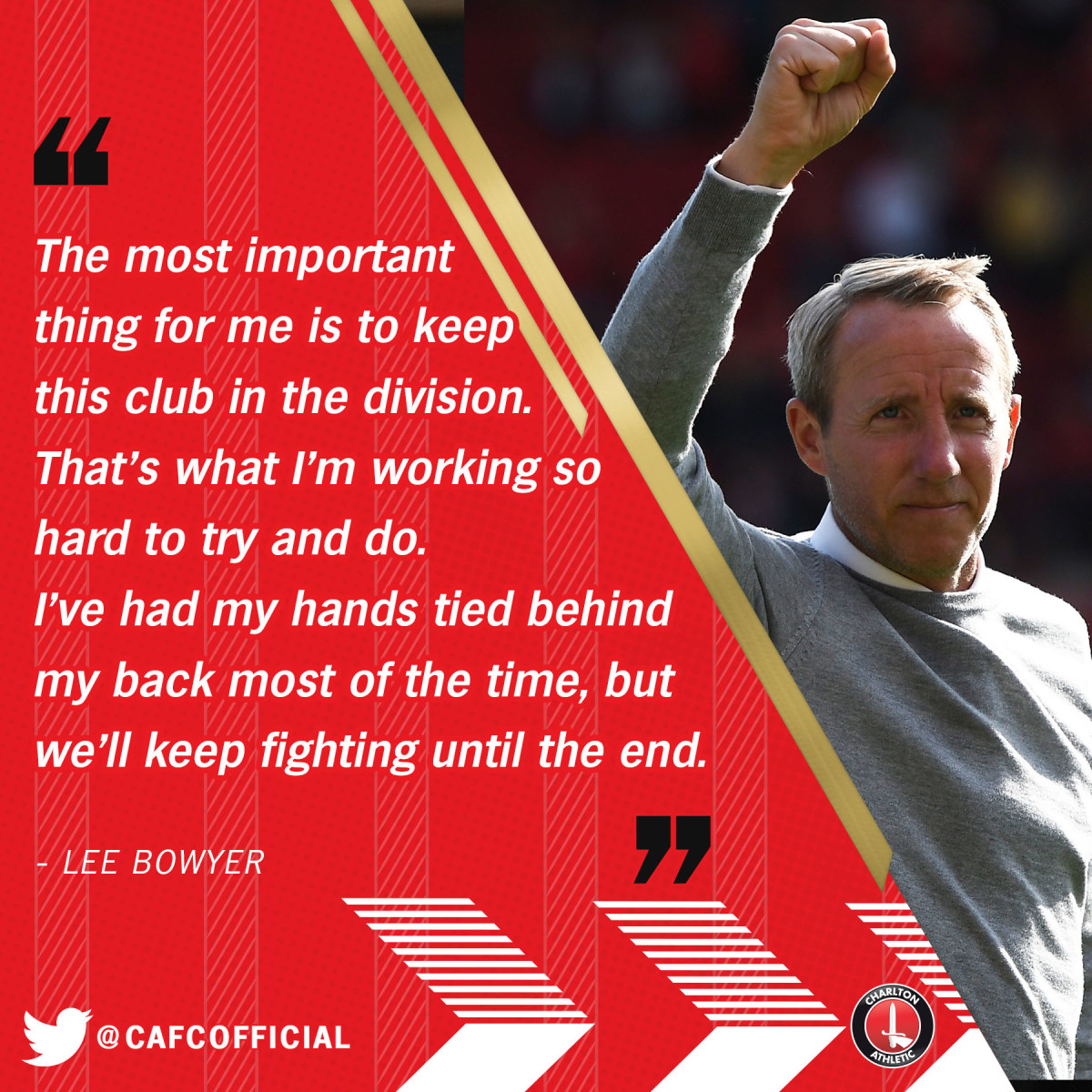 On this weekend's opponents, Bowyer explained that he was impressed by Wigan's eight-goal haul against Hull City on Tuesday evening, but won't read too much into it.
"I watched the game and came away with some positives and some negatives," he said.
"Hull still created chances against them and everything Wigan hit went in!
"We won't be as passive as Hull were. We haven't been all season, we play a certain way and our standards don't drop.
"Hull let Wigan do what they wanted and we're not going to allow that to happen. Wigan are a good side and anyone in this division can score a load of goals if everything comes off for you."
Meanwhile, when asked about the recent trouble behind the scenes at Wigan, Bowyer was quick to send a reminder about the mounting difficulties that he has had to face while battling to keep his club in the Championship.
"It's difficult because 99% of the other managers are going into work and everything else that isn't to do with football is dealt with behind the scenes," he explained.
"That isn't the case for us or Wigan. There's been a lot that has happened at our club that is disappointing, but I try and concentrate on what's happening on the pitch and separate ourselves and we've done a good job of that.
"I think it's very important for every club around the drop zone that you stay up in this division," added Bowyer.
"You want to play in the highest level you possibly can. At the end of the day, the most important thing for me is to keep this club in the division. We deserve to be in this division, we're a good club and there is a lot of people that care. That's what I'm working so hard to try and do. My hands are tied behind my back most of the time, but we'll keep fighting until the end."