Charlie Barker revealed his delight and surprise after the Addicks youngster capped off an extraordinary week with a goal in Saturday's Carabao Cup victory at Swindon Town.
The 17-year-old, who has been with the club since the age of 14, made his senior debut in the EFL Trophy clash with AFC Wimbledon last Tuesday and put in an assured performance against the Dons, prompting Lee Bowyer to give him another starting berth at the County Ground four days later.
And, once again, Barker played excellently, popping up with the all-important second goal of the afternoon with 16 minutes left to send Charlton on their way to victory.
"I didn't see it coming!" explained the academy graduate.
"The ball just arrived and I just put it in the net. I saw Chuks [Aneke] go to the back post so I just thought 'I'll go there just in case it goes there' and it just arrived!
"The keeper dived and I put it back across him. I didn't even believe it at first, but it happened. It's a good thing it arrived at my head, because if it was my feet it could have gone anywhere!"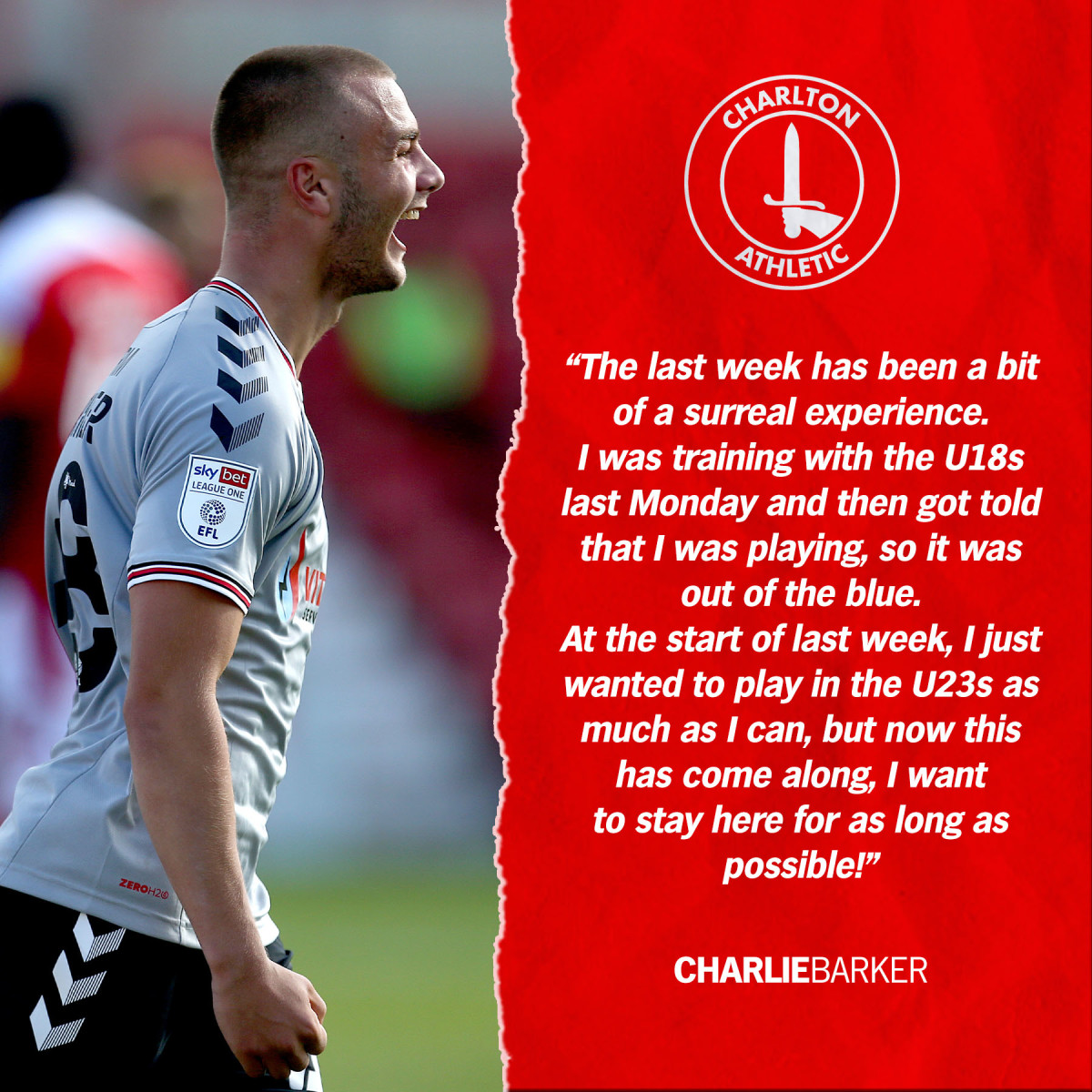 Reflecting on what he describes as a "surreal" week, Barker is grateful for the opportunity and trust given to him by Bowyer.
"The last week has been a bit of a surreal experience," he said.
"I played the first game and the gaffer trusted me enough to keep me in the team. I was happy with my performance again and the gaffer seemed happy. When I was told I was starting, I knew that he could trust me and I'm happy with that."
Watch Barker's interview in full on Valley Pass. Click here to purchase and watch the interview below.
"I was training with the U18s last Monday and then got told that I was playing so it was out of the blue," he continued.
"At the start of last, I just wanted to play in the U23s as much as I can, but now this has come along, I want to stay here for as long as possible!
"It's a difficult situation going on in the club, but if you get a chance, it doesn't matter how it comes, you have to take it and see what comes of it."
Meanwhile, Barker revealed that club captain Jason Pearce was eager to provide some words of encouragement to his fellow centre-back.
"He spoke to me [the day before the game] and told me he hopes I'm still around the team when he comes back because there is a lot he wants to teach me. I was really happy to hear that he wants to help me and that he's happy to do that."