A banner that has been on display at The Valley since 2005 has been loaned to phoenix club Bury AFC. 
Fans of the new club that was formed by Bury fans when their club was expelled from the league approached the Charlton Athletic Museum asking for a banner to display at Stainton Park, Radcliffe, their temporary home since being locked out of Gigg Lane.
The Bury AFC fans were hugely impressed by the support given to their fight by Addicks fans and wanted to show that by displaying a Charlton banner, along with flags from other clubs that have backed the Shakers, as Bury are nicknamed.
Finding a flag of the right size was a challenge so finally it was decided to use one of the banners that have been on display at the back of the Covered End since 2005
Charlton had suffered with bad ownership themselves until the takeover by Thomas Sandgaard was confirmed so the empathy from Addicks when Bury were expelled from the football league was strong. Another common factor was that Chris Farnell was a lawyer working at Bury during their crisis period and was also part of East Street investments.
The banner was first displayed at Bury AFC's home game on Boxing Day and oversaw a 3-2 win, the Shakers coming from two down with only 10 men.
Museum trustee and secretary of the newly-formed Armed Forces Addicks, Clive Harris, explained the thinking behind donating the banner.
"As a club and fan base who have a history of ownership issues and internal troubles, Charlton supporters immediately felt a lot of empathy for Bury fans," he said.
"We appreciate the importance a football club plays in the local community, it's a place of gathering, of local pride and defines who we are and where we are from. 
"No amount of modern football razzmatazz could replace the habitual feeling of following your local team, like the generations that went before us and hopefully, those that come after us.
"We were glad to help in any way we could. The banner is just a physical way of showing our support, but more than this gesture, know that we are out there and happy to assist in for anyway we can be of use. We won our battle, you will win yours, "Up the Shakers and Addicks"
Bury AFC fan Gary McMahon who has been organising the various club flags that are on display responded: "Only someone who has fought the same fires have written your message, it resonates so much with me. When we came up with the flag and banners idea, we asked fans who we should ask and Charlton was one of the first, so I was delighted that you agreed to loan the banner. 
"You are so right about our clubs being focal points in the community, many of our fans have struggled mentally with the loss of football at Gigg Lane. We still have a huge part of our fan base who have given up on football altogether. Part of the aim with the display is to show all of our fans that we aren`t alone and together anything is possible. So thank you again Clive and the museum for your help and participation."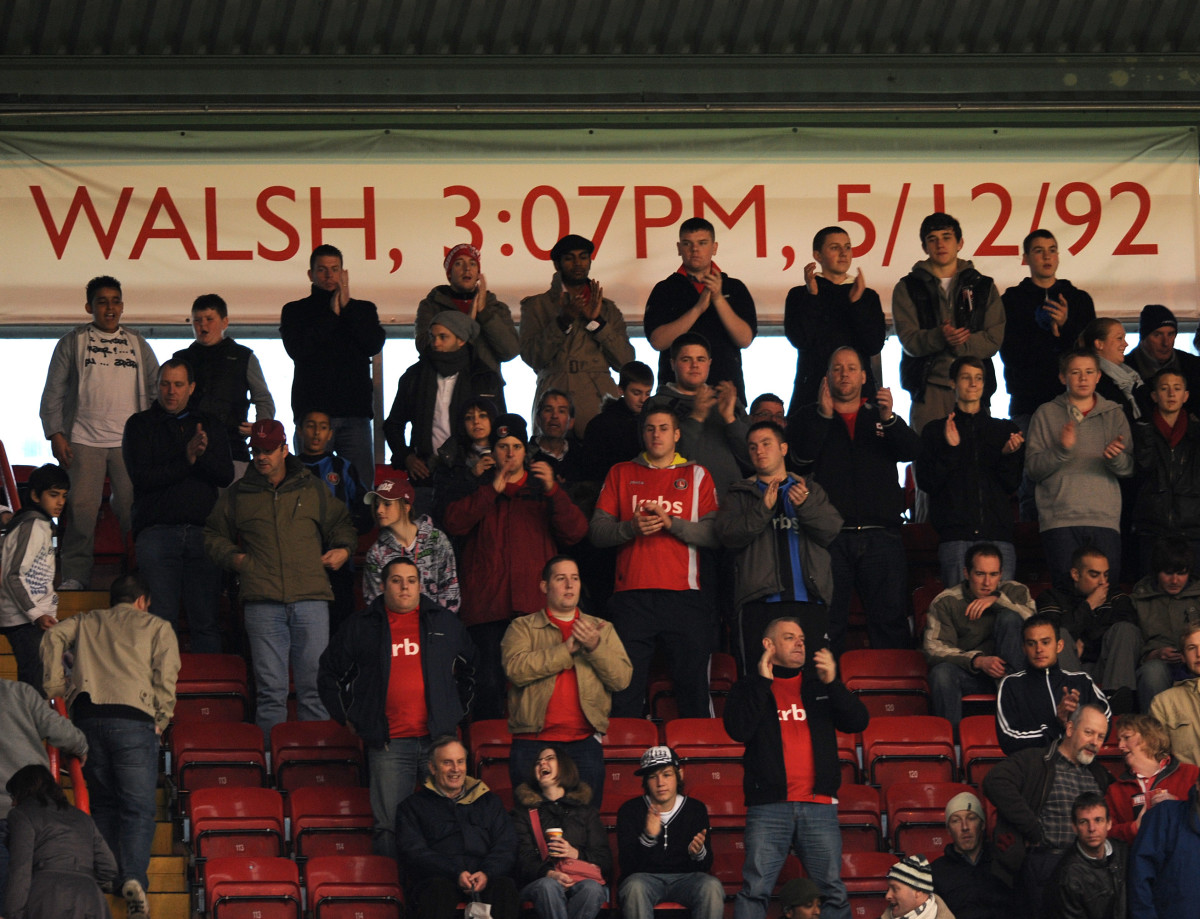 The club and the Charlton Athletic Museum is now asking Charlton fans to come up with ideas to replace the banner and fill some of the other spaces at the back of the Covered End.  If you can think of an images or slogan to grace the back of the Covered End, perhaps similar to the "Walsh, 3:07pm, 5/12/92" banner pictured above, please get in touch by emailing cafchistorian@gmail.com 
(Keep them short, legal and decent!)