Lee Bowyer is hoping his side will build on Tuesday's victory at The Valley with two more home games to come in the coming days.
The Addicks earned a first win in nine on home turf with a 2-1 victory over Northampton Town on Tuesday – the first of three home fixtures in a week. And with Charlton shaking off that unwanted form, Bowyer is now looking forward as he prepares to welcome Shrewsbury Town to The Valley this weekend. 
"It's always important to get over that hurdle," he said.
"Dropping so many points at home was not like us. To be under that pressure, you have to praise the players. They knew it hadn't been good enough at home, they all stood up and carried their form from the two away games previous and it was a good performance from start to finish [on Tuesday].
"When you win games, it changes the atmosphere for everybody – staff, players, fans. Everyone wants the same outcome but it's never that straightforward and this season is no different. The most important thing is the players can feel it. They recognise this is what we're about.
"We know what we have to do and we all want the same outcome – to get out of this division. The players are in a good place at the moment and, hopefully, that continues."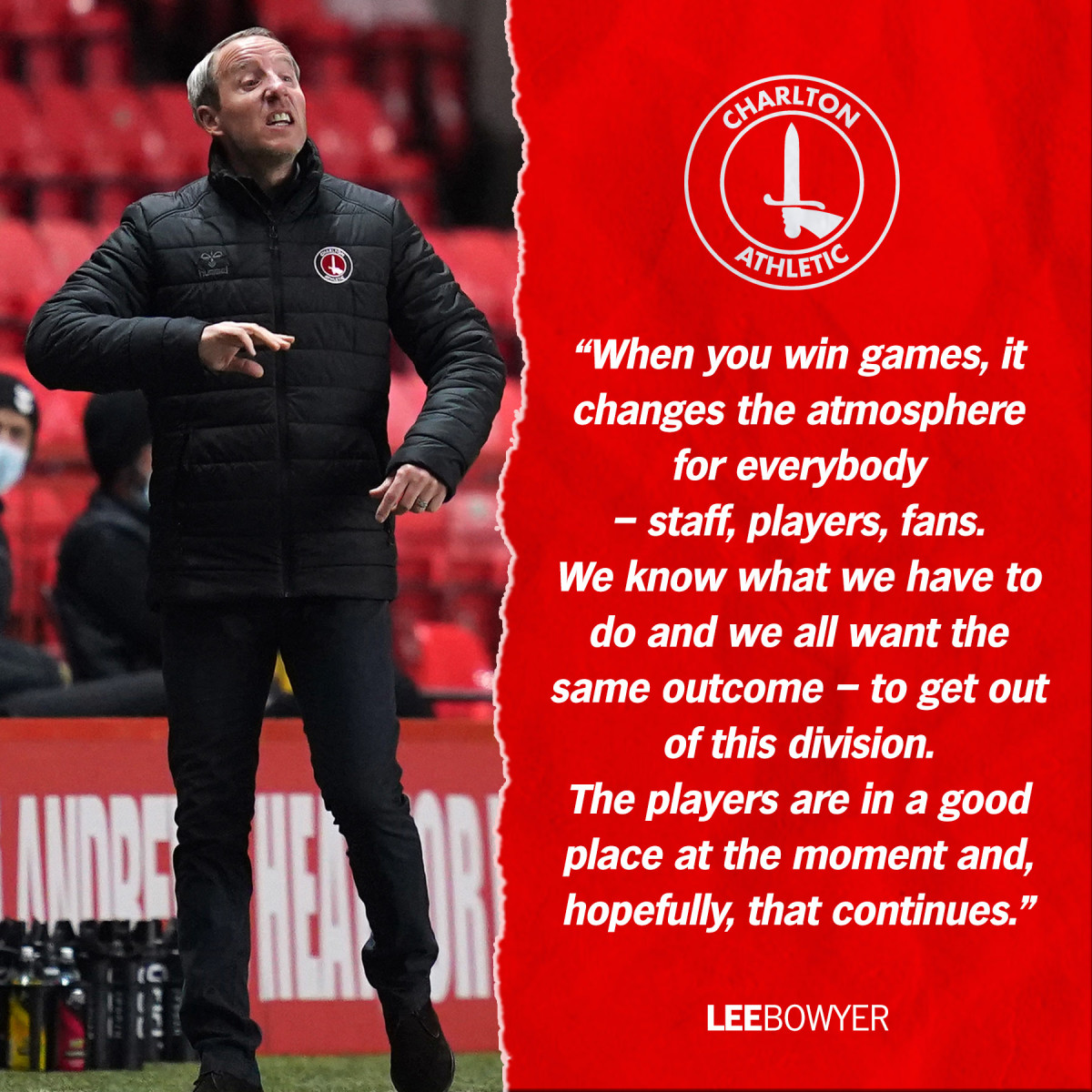 Speaking in his weekly press conference ahead of the visit of the Shrews to SE7, Bowyer also discussed the Addicks' opponents and the challenge they pose.
"Shrewsbury play three at the back, they're a big solid team," he said.
"When we played them away, it was tough. They don't give much away. If you keep crossing the ball, that's their strength, they've got three big lumps who will just head it away.
"Going forward, they look to hit you on the break. It will be a good game, they're not a bad side at all."
Meanwhile, the Charlton chief also gave an injury update with Akin Famewo expected to be available again this weekend having been rested on Tuesday.
"We have to manage all of our players," explained bowyer.
"Akin has been out for a long time and had a few games in quick succession so it was the right thing to do to keep him out. He's back training today [Thursday] so he'll hopefully be involved again on Saturday.
"Ryan Inniss is another one we'll have to manage. He'll train again today and tomorrow and then assess him to see how he's been going. Alex Gilbey is back in training, so we'll assess him to see if he needs to U23 minutes.
"Adam Matthews won't be out for too long. Maybe a week or 10 days – two weeks tops."