In his first interview as Charlton boss, Nigel Adkins spoke of his excitement about joining Thomas Sandgaard's long-term project, his philosophies as a manager, setting a clear pathway for the Addicks' youngsters and being active on social media.
"It's a really exciting opportunity for me – something that has happened very quickly," admitted Adkins.
"I had a conversation with Thomas and he highlighted where he wants this club to go. It's an exciting and long-term vision. We all know in football, it's a challenge. Getting to the Premier League is something that we all want and something that I have done before. I want to achieve that again."
Adkins took his first training session at Sparrows Lane on Thursday alongside assistant manager Johnnie Jackson, and has already turned his attention to this weekend's trip to AFC Wimbledon as he looks to build on the Addicks' five-match unbeaten run. 
"There is so much to do - we can't waste a single minute. We have got to try and get the preparation for the players and the team going into the Wimbledon game as quickly as we can to keep the momentum going. It's 10 games and it's going to be a very challenging moment in time going forward, but one that we are certainly looking forward to."
"We've all got to get behind each other and make sure we keep driving on, because we have got a chance of promotion. We are in the mix. Yes, there are teams that have got games in hand on us, but having been promoted four times - three times from this division - you know that in the last 10 games of this season, there's strange results all the way."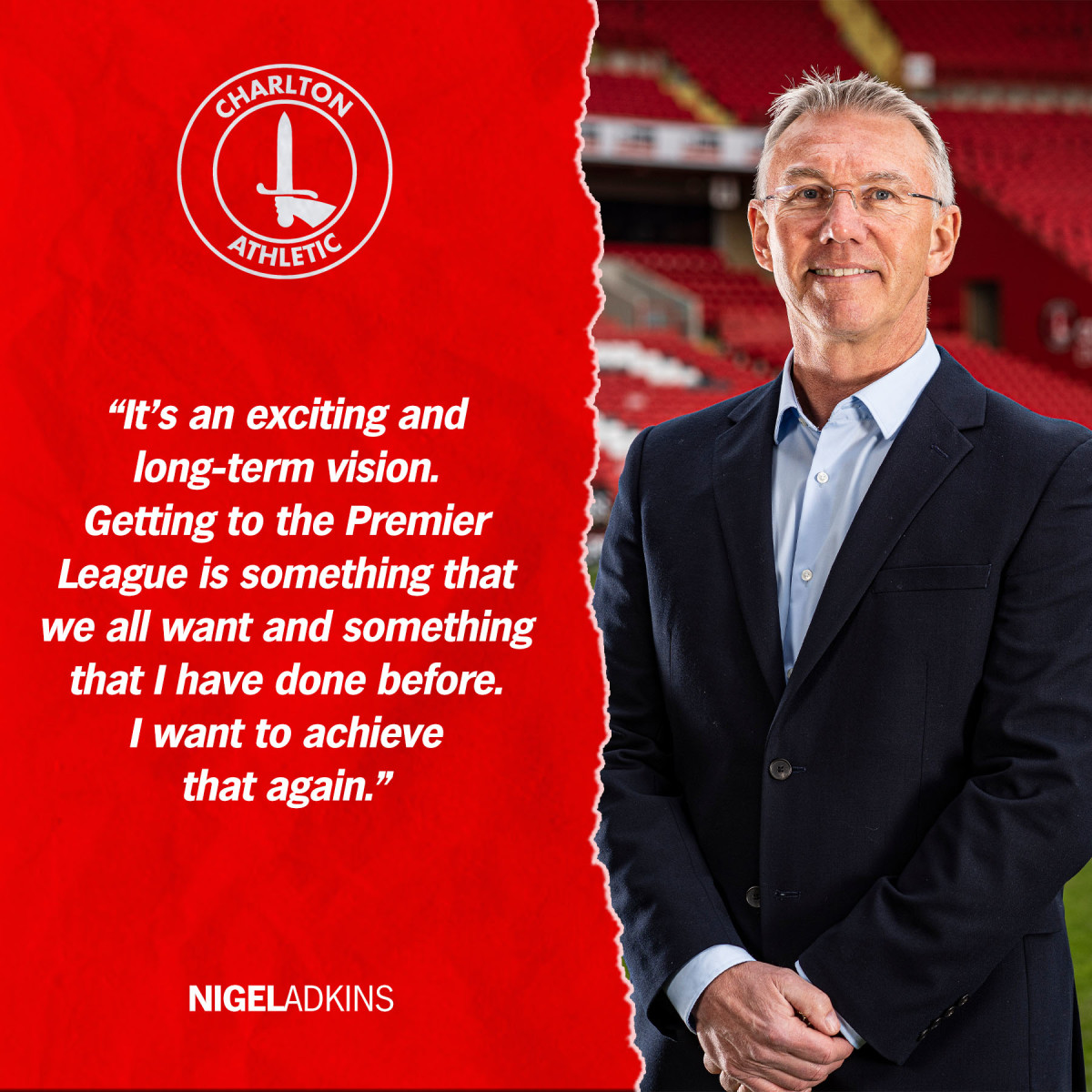 The 56-year-old revealed his philosophies as a manager and what he demands from his players, whilst appreciating the fortuitous position he and his squad are in to be representing Charlton.
"Honest, hardworking professionals. Give the best of you every single day and give everything for the team. We have got a responsibility wearing the shirt - it is for the supporters. The supporters are everything at a football club. The team can go and put a smile on many, many supporters' faces. It is the highlight of the week for many, many people. We have a valuable role to play in the community.
"It is an honoured position, so when you come into work every single day, your purpose is to, one, have a smile on your face because we are privileged, and two, give everything you have got to keep improving. I don't mind you making a mistake, as long as it's an honest mistake because that's how you learn. Together, everyone achieves more - it is so important."
A clear emphasis of Adkins' work has centred around bringing through homegrown talent, with current England internationals Luke Shaw and James Ward-Prowse epitomising that, and the former Southampton boss is eager to do more of the same with the Addicks' illustrious academy. 
"The academy here has been brilliant under Steve Avory. We want to make sure there is a pathway for our homegrown players through to the first team. 
"It's that long-term vision and, again, that is going to help the football club moving forward to get to the Premier League. It is going to take a long time - there are a lot of things to be doing but there is a vision, and that is where we are going."
Adkins becomes the first Charlton manager to be interacting on social media and went on to explain the exclusive story owing to his presence on Twitter, citing his own charitable work as one of many positives the platform can provide.
"I went up to a conference at St George's Park with other managers and there was a wonderful lady doing a presentation on social media. She highlighted players from several different clubs - Man United, Liverpool, Arsenal, - and, all of a sudden, there was a player from the club I was representing. I couldn't believe what I was seeing! We finished the conference, I went outside the door and I said: 'Tell him to get that off now! Meeting nine o'clock, everybody in the morning - I ran the riot act!' I got in touch with the lady, and I said: 'Listen, I don't know anything about this! Please put me on Twitter for three months, I know I'll get battered because that's what it is, but I need to understand the generation and why everyone is on it' I did it for three months, and I'm still on it now several years later.
"It's a very supportive platform. This month, I have been walking in support of prostate cancer. There are many people who are suffering at this moment in time and I know by doing a little video in the morning, it has helped a lot of people because people have told me that. I know we're in the football world and people have got an opinion - I understand that, I appreciate that. I just try and be the best I can to help everybody else so it's there, but there's an opportunity to engage with the supporters. Especially now, when we can't actually meet them because we can't get to The Valley, but I'm sure very soon that will happen and we will be looking forward to that moment."
The Adkins era begins this weekend and you can watch all of the action on Charlton TV's Valley Pass Live - click here to purchase your live streaming pass for Saturday's match.