The vast collection of photographs taken by Tom Morris on all topics Charlton Athletic over the last 58 years have been donated to the Charlton Athletic Museum.
Tom was THE Charlton photographer for decades and now his entire archive has been passed to the museum, an independent charity run by volunteers and based at the Valley, by the executors of his will.
Tom officially started taking photos at The Valley in the late 1960s but photos taken by Tom from the terraces as early as 1963 have now come to light. Tom died, aged 76, suddenly at the end of December 2020.
Just about every iconic Charlton photo since the late 1960s was taken by Tom from the seasonal squad photos to special goals such as Colin Walsh's first goal back at the Valley.
"We don't know how many photos we have," said museum trustee Paul Baker who sits in the Alan Curbishley stand.
 "We've been able to access some of Tom's computers and hard drives and already found 18,000 digitised photographs but there are also thousands of prints, slides and negatives, many of which haven't yet been scanned".
Stuart Binns-Frame, another museum trustee and a lower Covered End season-ticket holder added: "It's great to see Tom's incredible collection come home. It's so important that it can now be preserved for generations to come."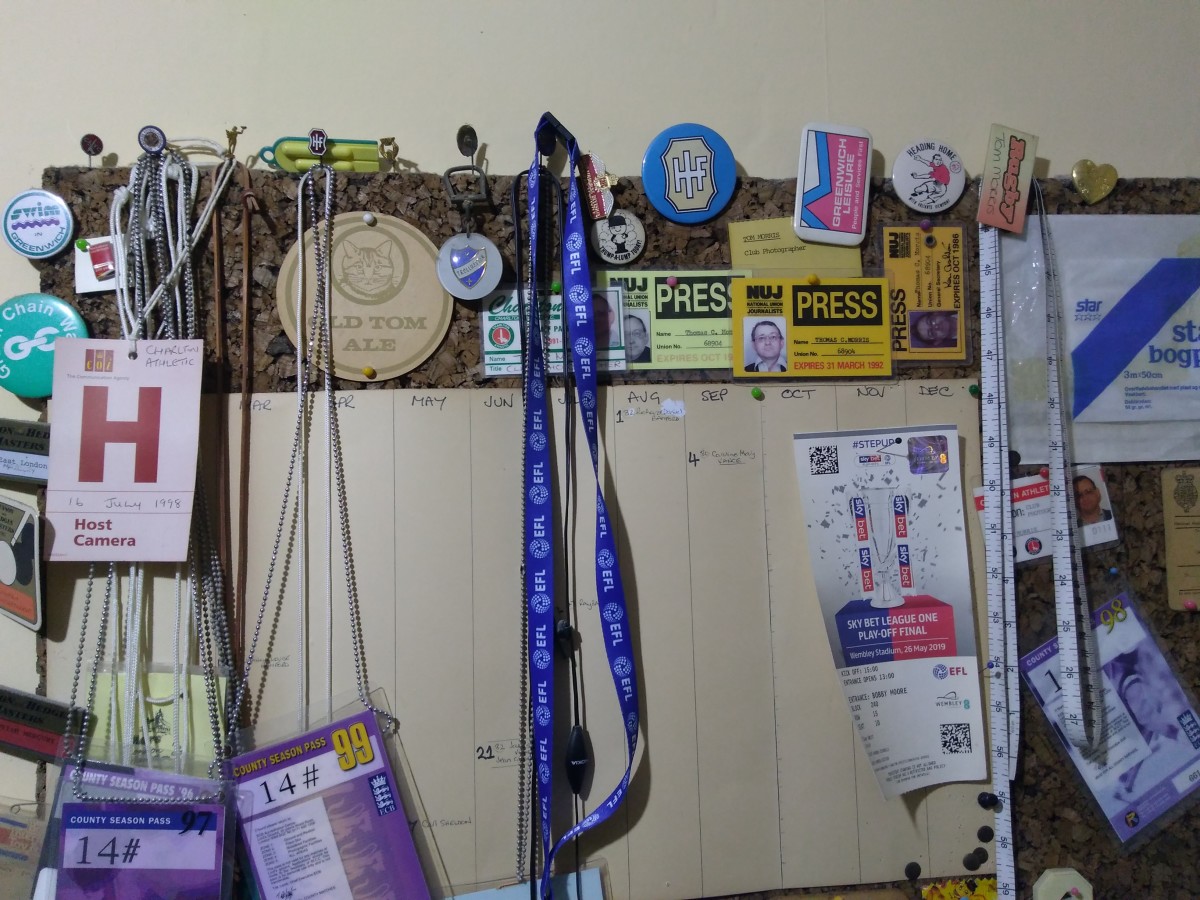 Trustees and volunteers from the Museum visited Tom's home and collected four car-loads of items. "I couldn't believe how much there was," said museum volunteer Joe Hayes.
"It is a goldmine of Charlton photos but there are also great photos of the two 1970s Who concerts at The Valley with some great shots of the crowds and of Little Feat and Lou Reed".
As well as music, Tom was also a cricket fan and the museum have already spoken to the archivist at Kent CCC to pass on the many images of the summer game. The museum intends to make the collection freely available to Charlton publications, authors and researchers.
Museum founder and club Safety Officer Mick Everett thanked club Chaplin Matt Baker for putting Tom's family in touch with the museum but added: "the real work starts now. Cross-checking the images, archiving and cataloguing them and then digitalising them will take a long time and any help that people can offer, in time or money, will be much appreciated."
Among Tom's collection were many Charlton books including Keith Peacock's autobiography, for which of course Tom provided many of the photographs. Charlton Legend Keith had inscribed Tom's copy of the book, No Substitute, with what has turned out to be the most fitting tribute:
"To Tom, thank you for all these marvellous photographs that have kept alive our great memories"
-----
The Charlton Athletic Museum is housed in the Covered End and is open every Friday from 11.00 am to 2.30 pm and from 11.00 am to 1.00 pm before Saturday home games. Fans can follow the museum on twitter @chathmuseum or contact them via email on CAFChistorian@gmail.com