Fans worldwide can listen to live audio commentary of Tuesday's Carabao Cup quarter-final at Manchester United. (8pm KO GMT).
The club cannot live stream the last-eight tie anywhere in the world owing to competition broadcast rules, meaning that live audio commentary is the best way to follow all of the action on CharltonTV if you are not heading to Old Trafford.
 
Live audio match passes are priced at just £4 each and you can purchase yours by clicking here. A £4 audio pass will grant fans access to live commentary of the game as well as the post-match interviews and highlights on CharltonTV on demand.
 
All existing monthly and annual CharltonTV and CharltonTV LIVE (overseas) subscribers will have live audio commentary of Wednesday's fixture covered as part of their subscriptions.
 
To purchase a £4 audio match pass or a CharltonTV subscription, please click here.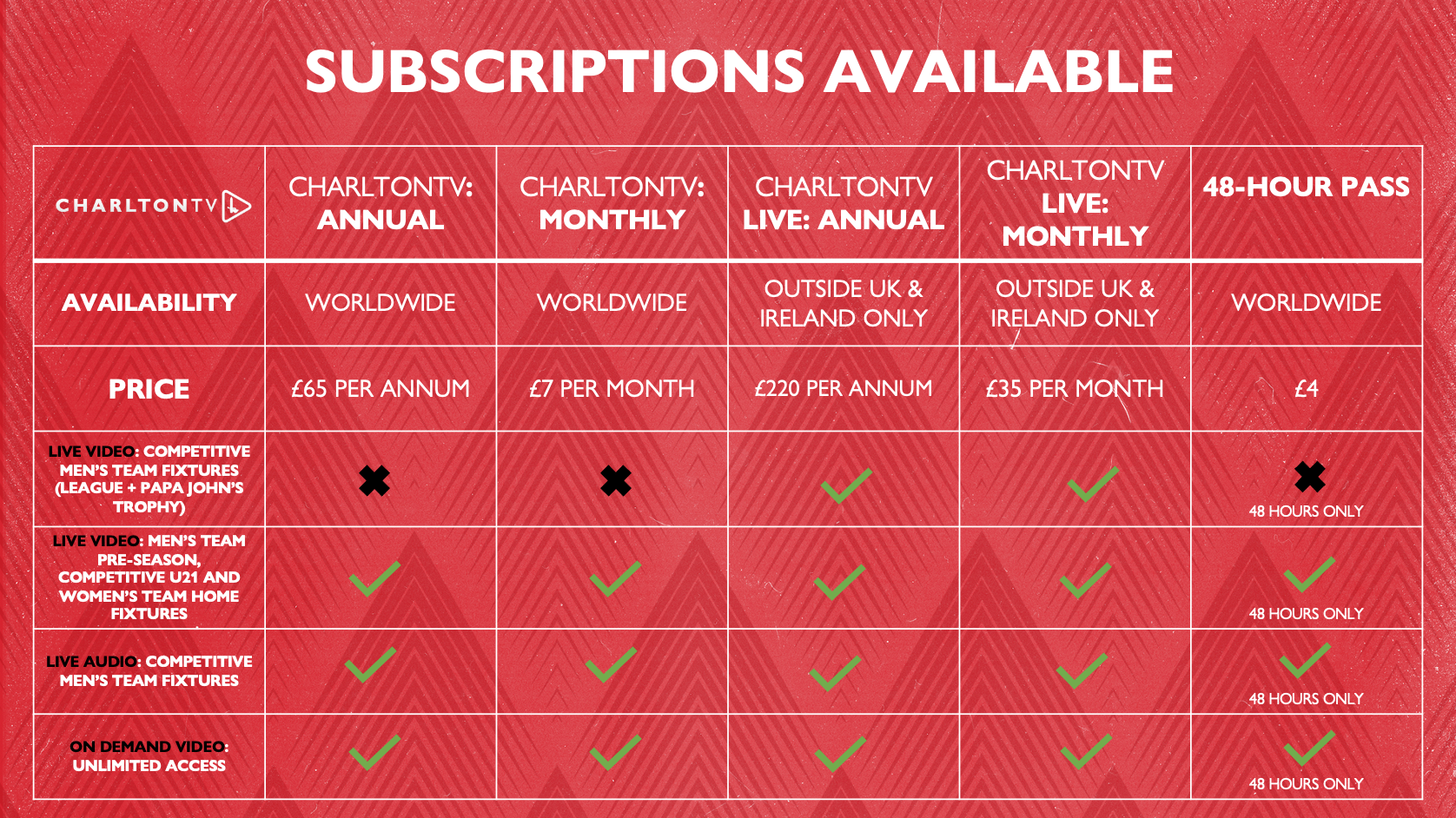 Annual and monthly CharltonTV subscriptions are priced at £65 per annum and £7 per month and include unlimited access to ALL of CharltonTV's on-demand videos, as well as live audio commentary of ALL competitive first-team matches and the live streaming of selected pre-season, academy and women's team matches.
 
Please note, the above subscriptions do NOT include the live streaming of first team league matches. This is due to EFL broadcast regulations.
 
International supporters have the option to purchase monthly or annual CharltonTV LIVE subscriptions, which are priced at £220 per annum or £35 per month. These subscriptions DO include the live streaming of first-team matches as well as everything else that CharltonTV has to offer.
 
These CharltonTV LIVE subscriptions are only available to purchase outside of England, Scotland, Wales, Northern Ireland, Jersey, Guernsey, Isle of Man and the Republic of Ireland due to EFL broadcast regulations.
 
Click here to purchase your CharltonTV LIVE subscription.
 
All CharltonTV and CharltonTV LIVE subscriptions (apart from half-season passes) are set to auto renew.