Defender Beth Roe previews this Sunday's matchup against London City Lionesses
Addicks defender Beth Roe reflected on Charlton's opening weekend victory and looked ahead to this Sunday's derby day against London City Lionesses.
Last Saturday, Karen Hills' side opened their 2022/23 account with a 2-0 victory over newly-promoted Southampton. Goals from skipper Emily Simpkins and Mel Johnson meant that Charlton walked out of St. Mary's Stadium with the three points.
Beth shared her thoughts around the opening game: "It was a good start, two goals and a clean sheet. It is the first game of the season so to get off to that start is something we can build on."
The defender also spoke on what became a magical summer, with the Lionesses making history after being crowned European Champions for the first time. Over 2,400 fans were in attendance on Saturday as the Addicks defeated the Hampshire side on an opening day:
"I think what the Lionesses and what they have done are incredible. You have seen how the stadiums have sold out which is unheard of, with that comes the television of the women's game and the promotion of it. Little kids now growing up are able to see 'Oh I can do that, I can be that person and I think that is huge, it gives people role models to look for."
"Seeing the fans at the stadium at the weekend was incredible, for a team that has just come up as well kudos to them and what they have done. Hopefully, we can keep going and push that forward."
Beth reflected on how the squad have prepared for this weekend, what they have worked on and what they are expecting as we head into the first derby day of the season.
The Addicks return to The Oakwood for the first time this campaign, as they host London City Lionesses on Sunday.
"We have taken some of the things that we needed to work on from the weekend and will be putting them into practice this week. At the end of the day, it is a derby, we all love a derby and of course, we want to get the three points. The Lionesses are going to turn up with a game plan and so will we, we have got to own it and believe in what we put on the pitch.
The 22-year-old encouraged as many fans to get down to The Oakwood this weekend and support Charlton in their first home outing this year.
"Come and be our twelfth player. The atmosphere we had against West Ham in pre-season was incredible, to see all those fans there and some of them for their first time. Get down, meet us after the game and enjoy it."
Charlton will host their first fixture of the 2022/23 campaign on Sunday, August, 28th (KO 4:30 PM) Welcoming fellow capital rivals London City Lionesses to The Oakwood in Crayford click here for tickets. 
Supporters who have a men's first team season ticket can redeem a free ticket for Charlton Athletic Women's game against London City Lionesses by following the below instructions:
Log into the account of the 2022/23 season ticket holder.
Click on Women's home games
Add a ticket to your basket
The ticket will discount to zero value as it will recognise that you have logged in under as a 2022/23 season ticket holder.
Proceed to checkout.
Select delivery method
Agree to terms and conditions and click pay.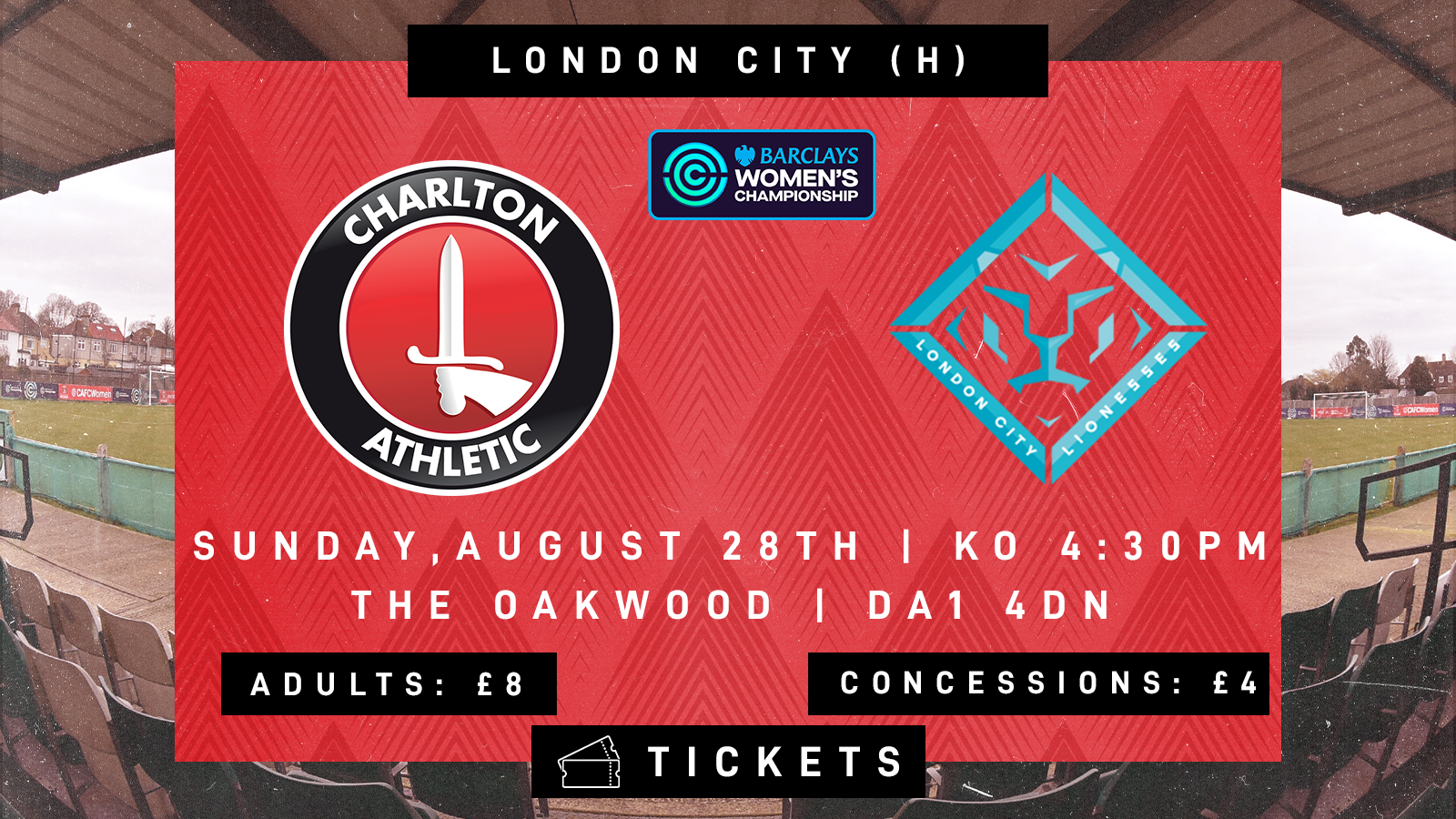 Fans looking for the best value can still purchase a season ticket to get behind Karen Hills' side ahead during the forthcoming Barclays Women's Championship campaign.
Click here to get your season ticket.