Season tickets for Charlton's 2018/19 campaign are back on sale at phase-one prices. 
Next term, the Addicks will once again be one of the most affordable clubs to follow in the entire EFL and, based on last season, we will also be cheaper than 15 National League clubs. 
Adult season tickets begin at just £200 – equating to £8.70 per league match – and all U11s are completely free in the Family Stand when bought alongside a full-paying adult, as has been the case for the last two seasons. 
Following an extremely busy phase-one deadline day on Monday, May 7th, season tickets remain at the phase-one prices. This provides all supporters who were unable to contact the ticket office that day with an opportunity to purchase at the phase-one price point. 
2017/18 season ticket holders will have their existing season ticket seats reserved for them until 1pm on Thursday, May 31st and after this time they will temporarily come off sale before being made available for all Charlton supporters to purchase.  
As always, there are a number of ways supporters can secure their seat for 2018/19: In person from The Valley, by post, by phone, by V12 finance or online. Please click here to purchase or renew your season ticket online.  
To download our 2018/19 season ticket brochure, please click here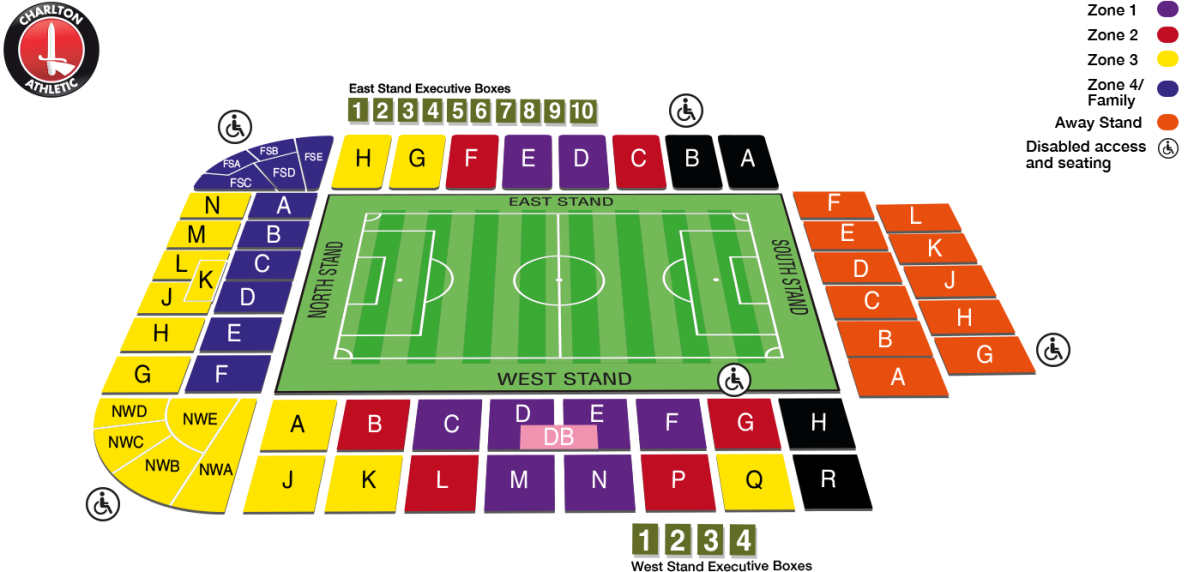 For 2018/19, we have reduced the number of zones within The Valley from five to four, following supporter feedback. This should also make the stadium easier to steward and means that a few blocks in the East and West Stands have switched from zone three to zone four.
Season ticket holders within these areas have been written to, to explain the club's approach and to minimise their price increase due to zone changes.

There are five ways that supporters can purchase their season tickets and details on each of the methods are available to read below.  
In person – Supporters can visit The Valley Superstore between 9.30am and 5pm Monday-Friday
By phone – The ticket office's phone lines are open 9am-5pm on Mondays, Tuesdays, Wednesdays and Fridays and 9am-1pm on Thursdays.
Online – Fans can purchase or renew their season ticket 24 hours a day, seven days a week.
By post – You can return your completed application form to The Valley, Floyd Road, London, SE7 8BL
By finance - Our four-month and 10-month finance options are again on offer. Please see below for full details. V12 finance is only available to purchase online. 
Please click here to purchase via V12 finance

Brand-new ticketing software will be launched ahead of the 2018/19 season, with the new design incorporating changes requested by supporters and responses from a recent Fans' Forum meeting, which will help to improve the booking process for all fans. 
A loyalty scheme – which will play a big role in supporter priority for in-demand home and away matches - will be implemented as part of the new software. For more information on the new software, please click here.

As an added bonus for our junior supporters, all U11 and U18 season ticket holders will automatically be enrolled into our freshly-revamped Young Reds membership club. 
From 2018/19 onwards, the Young Reds will adopt a three-tier scheme, catering for youngsters aged 0-3, 4-12 and 13-17. 
Members of all-three tiers will all receive a welcome pack and gift – as well as a host of other benefits – and you can find out more about our all-new Young Reds scheme by clicking here.