Lee Bowyer was visibly excited as he welcomed Addicks new boy Josh Cullen to The Valley on Thursday.
The 22-year-old midfielder is someone Bowyer didn't think he'd get but the Charlton caretaker boss worked hard with Head of Recruitment Steve Gallen to secure the signature of the West Ham academy graduate on a season-long loan.
For Bowyer, the move was about adding a talented player that would improve his team and for Cullen this move was about more than just one factor.
Yes, it was about joining a big club to get some experience not too far from home but it was also about learning under one of the best English midfielders of his generation, it was about joining up with old friends and it was about getting a team out of a division he nearly got out of two years ago.
Cullen played 46 games for Bradford City in 2016/17 in a team that finished 5th and lost in the play-off final to Millwall. A defeat that hurt him but the benefit for Charlton is he wants to put that right and he's using the hurt from that defeat to help motivate him this season.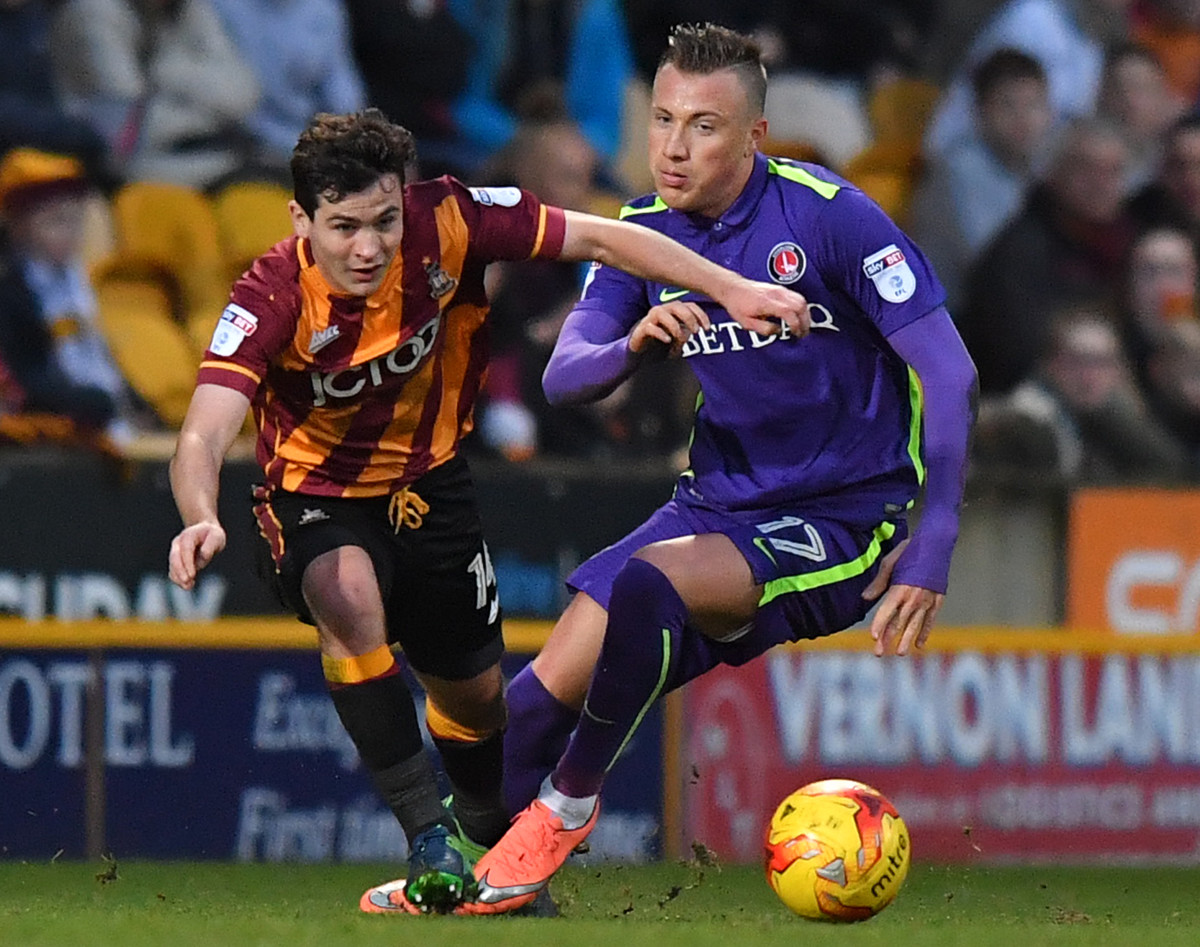 Speaking to Valley Pass, he said: "Every player wants to be successful, to miss out in the play-off final with Bradford was obviously a bitter moment but it gives you that fire in the belly to hopefully push on and achieve promotion with Charlton.
"The size of the club was a massive standout for me. It's a club that deserves to be higher in the leagues."
Now-Addicks Billy Clarke and Mark Marshall were alongside him that day at Wembley for Bradford City, and they aren't the only familiar faces Cullen will have seen in his first visit to Charlton's Sparrows Lane training ground. Darren Pratley was in the same midfield in the Championship at Bolton Wanderers last season and he's great friends with Lewis Page after spending years playing together in West Ham's academy.
"Buzzing to have my little mate here," tweeted Billy Clarke after seeing the news of Cullen's arrival.
"Welcome @JoshCullen, great addition. Only our 12th season mate," was Page's response on Twitter.
Cullen explained: "I spoke to a couple of them [before joining Charlton]. I'm good mates with Lew [Page], we've been playing with each other since we were nine or ten years old so it's funny how football works and you end up at another club together. It's good to see a few familiar faces and I'm sure the rest of the lads are good lads as well."
Since Bowyer joined the club, midfielders Joe Aribo and Jake Forster-Caskey have visibly improved and both have added more goals to their games. That's why playing under Bowyer, who played 51 league games in two spells at West Ham, was also an important selling point for Cullen. He said: "Lee Bowyer was a central midfielder like myself, so I felt that coming here would help me learn and develop myself as a player under a manager with the experience that he had with the qualities he had as a player as well. I'm really happy to be here and can't wait to get started."
Bowyer is pleased, as is Steve Gallen but what can Charlton fans expect from Cullen? The Republic of Ireland U21 midfielder explained: "I give 100% every week. I'm a midfielder who likes to get box-to-box, dictate the play in games and try and boss games, so that's what I'll be looking to do. 
"I'm trying to add goals to my game, so hopefully I'll get a few here in front of the fans. Hopefully I'll have a good time here and the fans will be able to see what I am all about."
Before he plays at The Valley, though, he needed to train with his new teammates and there is also a chance he'll be involved in Saturday's game away at Southend. 
He said: "When you join a new club you obviously have the butterflies before the first session and I'm just looking to getting over there, meeting all the lads and having a good first session and preparing for the weekend.
"I've had a full pre-season under my belt, I've played a few games recently so the match minutes are there, so I'm fit and raring to go if called upon."
Bowyer will be hoping the Charlton faithful will be as excited as he is after they see Cullen in action
Watch the full interview on Valley Pass here.