Tickets for Saturday's Sky Bet League One clash against promotion rivals Sunderland are likely to go on restricted sale before the weekend, with the away end close to selling out. 
Sunderland have sold near to 3,000 seats in the Jimmy Seed Stand for the match and, should they sell out, tickets will immediately be placed on restricted sale to prevent Black Cats fans from buying in the home areas.
Placing a match on restricted sale in the event of the away end selling out is standard practice for the club and SE7's East, West and North Stands are also expected to be busy on Saturday.
Lee Bowyer's Addicks have the second-best home record in the division - having won nine of their 13 league matches at The Valley so far this season – and a big, vocal support could prove vital against one of our main promotion rivals.
How much are tickets?
The match has been classified as an Addicks Gold game and full pricing information is available to read below.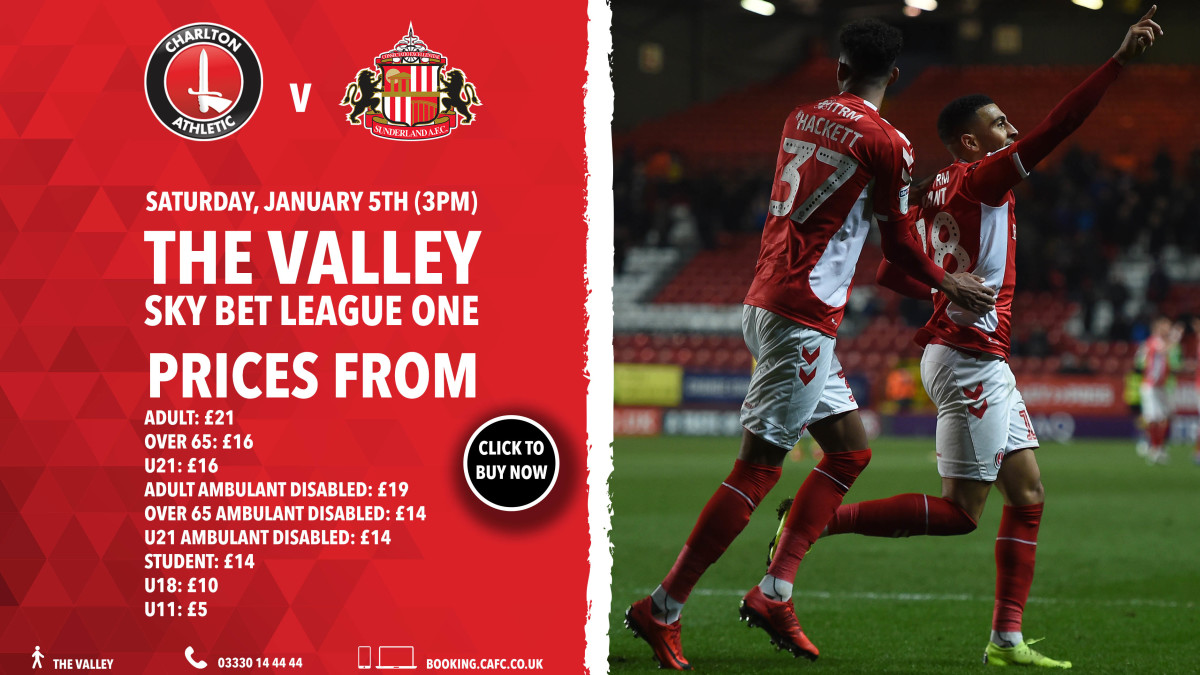 How can I buy tickets?
Tickets can be purchased online by clicking here, by phone or by visiting The Valley in person.
Tickets can be booked online 24 hours a day up until 1pm on Saturday and can be purchased in person or by phone during the ticket office's opening hours. To view the ticket office's opening hours, please click here.
What does restricted sale mean?
'Restricted sale' means that only Charlton supporters who are on the club's ticketing database – and were before January 1st 2019 – will be able purchase tickets for the game. Any Addicks fans who have bought a match ticket or season ticket in the last five years, and have had it registered to their account, will be on the club's ticketing database.
How can I check if I'm on the database?
Any Charlton fans with a log-in to the club's ticketing website will be on the ticketing database. Fans can also contact the ticket office by visiting The Valley in person or by calling 03330 14 44 44 to check if they are on it.
What if I'm a Charlton fan but not on the database?
Charlton supporters not on the database are advised to buy tickets soon, while they remain on general sale, to avoid missing out.
Once tickets go on restricted sale, only fans on the database will be able to purchase.
When will I know that tickets have been placed on restricted sale?
Tickets will go on restricted sale as soon as the Jimmy Seed Stand has sold out. If/when this happens, the news will be advertised on www.cafc.co.uk and posted on social media.
I regularly buy Charlton tickets so am on the database but have never bought them online before. How do I set up an online account?
All Charlton supporters on the club's ticketing database will have an online account. The account will need to be activated if it has never been used before.
Fans can do this by visiting https://booking.cafc.co.uk/default.aspx, clicking on 'Sign In' and then entering either their Fan ID or their registered email address before clicking 'Reset password'.
They will then be sent an email that will enable them to set-up a password. This will complete the online account registration. Fans using a gmail account should be aware that the reset password email can sometimes take some time to arrive.
What is a Fan ID?
Supporters have a few ways to find out their Fan ID. The six-digit code is printed on season tickets as well as Valley match tickets that have been registered to a fan's account.
Supporters can also contact the ticket office to find out their Fan ID.