• London's Deputy Mayor and representatives from Royal Greenwich, Bexley, Peabody Trust and the Metropolitan Police all attended
• Players and officials wore Street Violence Ruins Lives t-shirts to support the campaign
London's Deputy Mayor for Policing and Crime Sophie Linden spoke as Charlton Athletic Community Trust re-launched its Street Violence Ruins Lives (SVRL) campaign at Charlton Athletic's fixture against Accrington Stanley on Saturday, a 1-0 win for the Addicks.
Representatives from the Royal Borough of Greenwich, the London Borough of Bexley, Peabody Trust, the Metropolitan Police and Sophie Linden, London's Deputy Mayor for Policing and Crime, attended a reception chaired by Sally and Jamie Knox.
SVRL was launched in 2008 following the tragic death of Rob Knox, whose father Colin was also in attendance at Saturday's event.
Charlton and Accrington Stanley's entire first-team squads joined the day's officials in wearing SVRL t-shirts out of the tunnel.
The t-shirts featured the SVRL logo on the front and the London Needs You Alive logo on the back, an initiative from the Mayor of London's Office which Sophie was interviewed about pitchside.
CACT mentors and Young Greenwich youth workers spoke to fans about the campaign by mobile units outside the West Stand, handing out copies of CACT's new SVRL strategy and discussing the programmes CACT delivers to reduce street violence.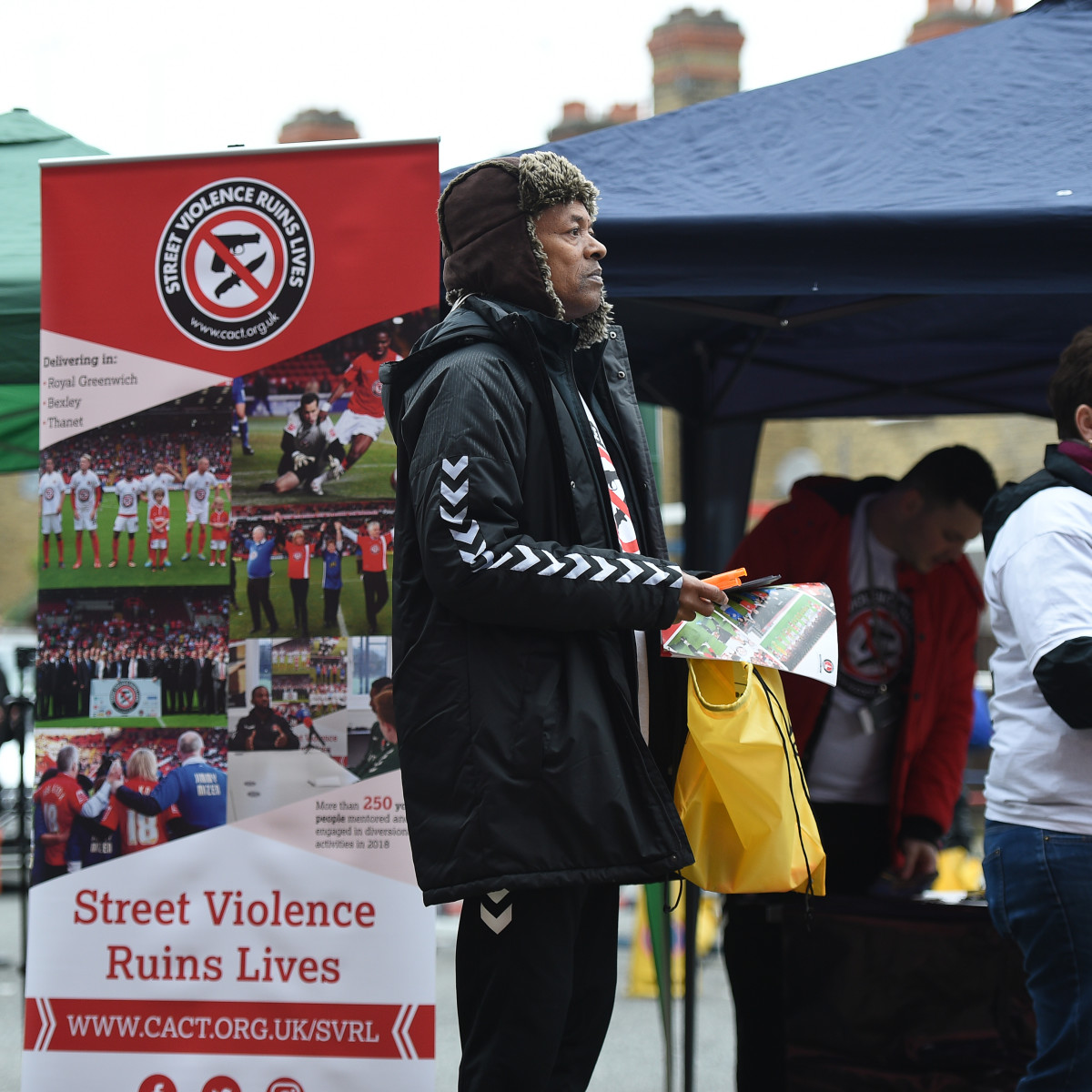 Young Greenwich partner Champions 4 Change set up a boxing ring in the car park for young people, while fellow partner B Young Stars promoted its youth education programmes.
Young people were able to take advantage of the club's Kids for a Quid ticket offer to watch the game.
Sally Knox said: "Soon after Rob's death, CACT got in contact with us and said they wanted to do something about the violence that was erupting in 2008. So we got together and started working together. I set up the Rob Knox Foundation, and we've worked together now for nearly 11 years.
"With the amount of funding they've now got, I'm so excited for the future."
Cllr Danny Thorpe, the Royal Borough of Greenwich's Leader, was among the reception's other speakers, and also signed the pledge card, as did the London Borough of Bexley's Cabinet Member for Children's Services, Councillor Philip Read.
Jason Morgan MBE and Roger Godsiff MP, Chair of Trustees, signed the pledge card on behalf of CACT.
Charlie Macdonald, CACT's Director of Youth & Inclusion, said: "The programmes that we run already reach out to young people every day, every week.
"We've decided that we must make every opportunity count when we're interacting. We want to spread this message and make sure that people understand the options that are available to them."
Charlton midfielder Joe Aribo and Club Secretary Chris Parkes signed the pledge card.
Other Charlton players have also got behind the campaign, with midfielder Mark Marshall leading a seminar for young people and sharing his views about the importance of positive role models.
U23s player Junior Quitirna reflected on his own experiences of street violence.
He said:"It was important to me to be involved in this campaign. I related to some of the boys I was speaking to at the seminar and I can see some of me in them. We fought the same war, trying to get away from the street violence."
Cllr Danny Thorpe, Leader of the Royal Borough of Greenwich, said: "The council is deeply concerned about knife crime. The campaign is one of the many partnerships we are supporting to tackle the spread of violence. 
"The Royal Borough of Greenwich, Peabody and CACT have secured £150,000 funding over three years from the Mayor of London's Young Londoners Fund.
"We are also each contributing £30,000 to mentor young people in Woolwich Common and Thamesmead Moorings who are at risk of exclusion from school or involvement in criminal activity."