13,305 Charlton fans cheered their side to victory at The Valley earlier in April as the Addicks ended table-topping Luton Town's 28-game unbeaten run, but few will have had a journey to the match quite like Manmeet Singh and his 10-year-old son Jodh.
The Friday evening before the game, the pair decided they were going to watch the game on The Valley the following day, the only problem was they had to get across the Atlantic Ocean.
The duo were scheduled on flights to the UK to see family and Manmeet wanted to show his son one of his first loves, Charlton Athletic. The pair just made it for kick-off and watched the Addicks beat Luton before posting a picture at The Valley that went viral and got responses from around the world.
Manmeet was a regular visitor to The Valley before love got in the way of his passion for football and Charlton Athletic. He left London and moved over 3,500 miles away to Brampton, near Toronto in Canada more than a decade ago.
"I was born and raised in Greenwich and have been a Charlton fan since I was knee high to a grasshopper," he explained.
"But I met a beautiful Canadian girl and one thing led to another and I ended up in Canada!"
He hadn't visited The Valley since August 2006 where a Darren Bent penalty helped secure a 2-0 home win over Bolton Wanderers in the Premier League. Absence only made the heart grow fonder, though.
He said: "I follow them all the time on the website and elsewhere online. I have my feed that brings me constant Charlton news!"
Manmeet had waited and waited for the opportunity to finally revisit SE7 and, late that Friday night, he found the perfect chance.
"My older sister had a baby in London and my wife suggested that we go," he said. 
"It was very last-minute. I googled when the next Charlton game was out of interest and saw the next one was on Saturday at 3pm. My flight landed at 10am, we'd probably get home (in Greenwich) at 11am, so we could make it for the game. I asked my boy if he wanted to go to a Charlton game and he was like 'yes, let's do it!'.
"As soon as I asked my son, I then saw that my flight was delayed by an hour. We landed in London, our car was then delayed by two hours so we didn't get to the house till 2pm."
After a mad dash to The Valley, the father and son made it just in time for kick-off to complete a 15-hour journey. He crowned the moment with a picture of him and his Jodh at the game and posted it on Twitter, after seeing other pictures on the big screen at the game.
"We didn't think much of it but by the evening time my phone started buzzing like crazy and I wondered what was going on," he chuckled.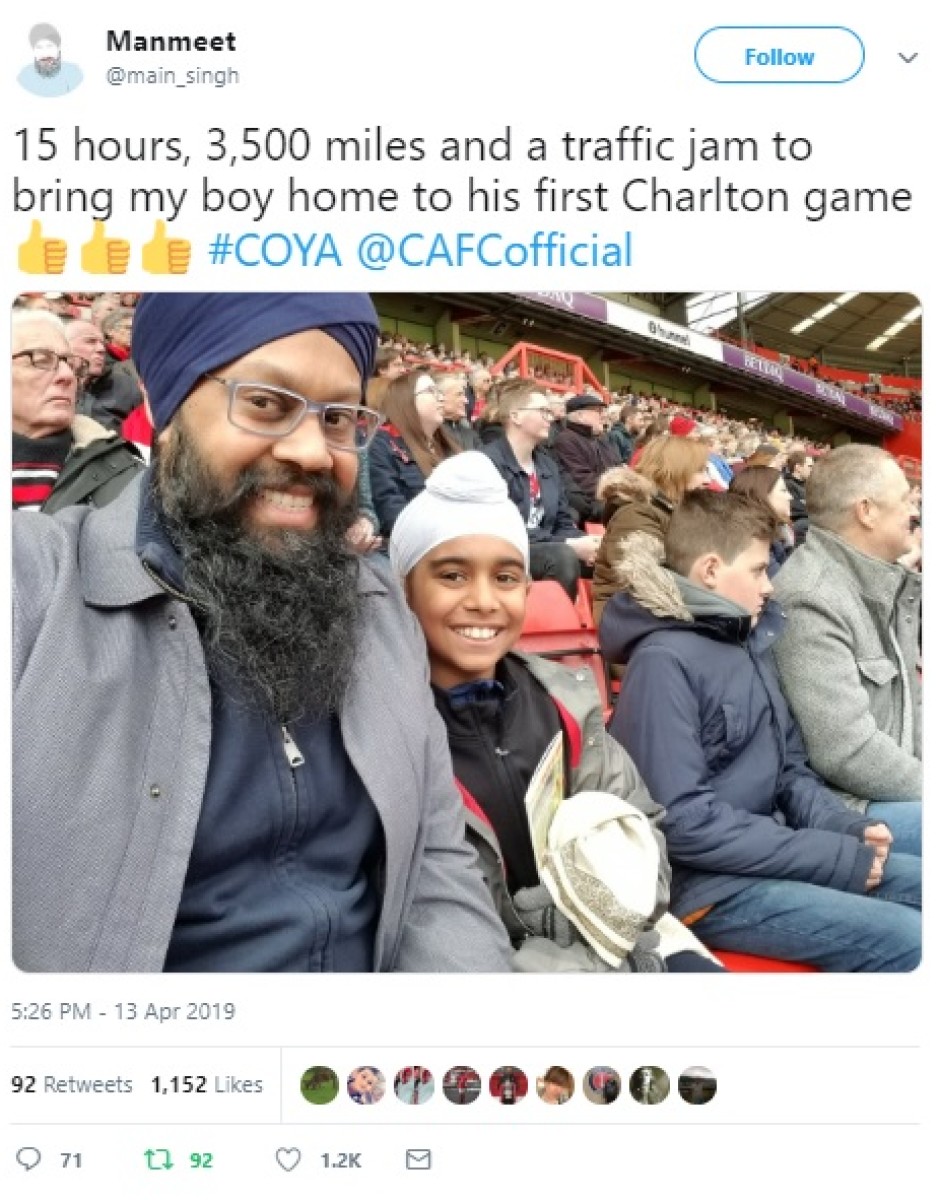 "I was like 'what is going on?'. I haven't had that many likes on my tweets in the past. I looked at Twitter and saw that Charlton had retweeted it. I was getting really, really nice messages from Charlton fans all over the place. It was a lovely experience."
Jodh also loved the experience and is already starting to be converted to an Addicks fan.
Manmeet said: "Put it this way, he's been singing Charlton songs since the game on Saturday! It was just a fantastic experience for a 10-year old.
"He said he was an Arsenal fan, but I'm slowly trying to wean him off that!"
Whilst still on that trip the pair visited The Valley to meet Lee Bowyer and three first team players for an autograph signing last week and Jodh's allegiances may just be shifting. Manmeet explained via Twitter message this week from his home back in Canada: "I also had to let you know that my son asked me to buy him a Charlton shirt. One of my proudest moments yet!"
Are you a Charlton fan abroad? Please email website@cafc.co.uk. We'd love to hear your story about how you support your team.
Article by Joe Citrone