Charlton left back Lewis Page is chomping at the bit to return to action.
The 23-year-old, who scored the first goal of Lee Bowyer's reign, looked in fine form during an impressive pre-season before limping off at Gillingham in July.
Speaking at the launch of a new phase of Mind's 'Get Set to Go' programme, hosted by Charlton Athletic Community Trust (CACT), Page revealed he is not far off a return.
"I've seen them [against Nottingham Forest] and in the previous weeks and it's made me more hungry to get out there. I've just been chomping at the bit! So I've obviously got to try to get myself back in the team.
"I feel like I'm getting there, I'm feeling fitter and stronger. I had a little setback, probably just from trying to push myself a bit too much to get back for the start of the season, so it was disappointing. But hopefully after the international break I'll be back out there in the squad and hopefully helping the boys."
Page also revealed he's pleased to see his old buddy Josh Cullen back at the club. The pair came through the West Ham academy together and remain close friends. He said: "I was speaking to Josh all summer. I was getting at him to come back, but he obviously had to wait until late for West Ham to sort of give him the go ahead to go on loan.
"I always sort of knew that if he was going to go on loan, he was going to come back to us, so I had quite a lot of hope there that he'd come back."
Funded by Sport England and the National Lottery, 'Get Set to Go' is a nationwide physical activity programme which aims to support people with mental health problems to get more active as a way of improving their mental wellbeing and is being expanded thanks to fundraising from Year One of the EFL and Mind's 'On Your Side' partnership.  
Page watched on as teams representing Charlton, Millwall and AFC Wimbledon made up from participants of the 'Get Set to Go' programme played in a friendly tournament.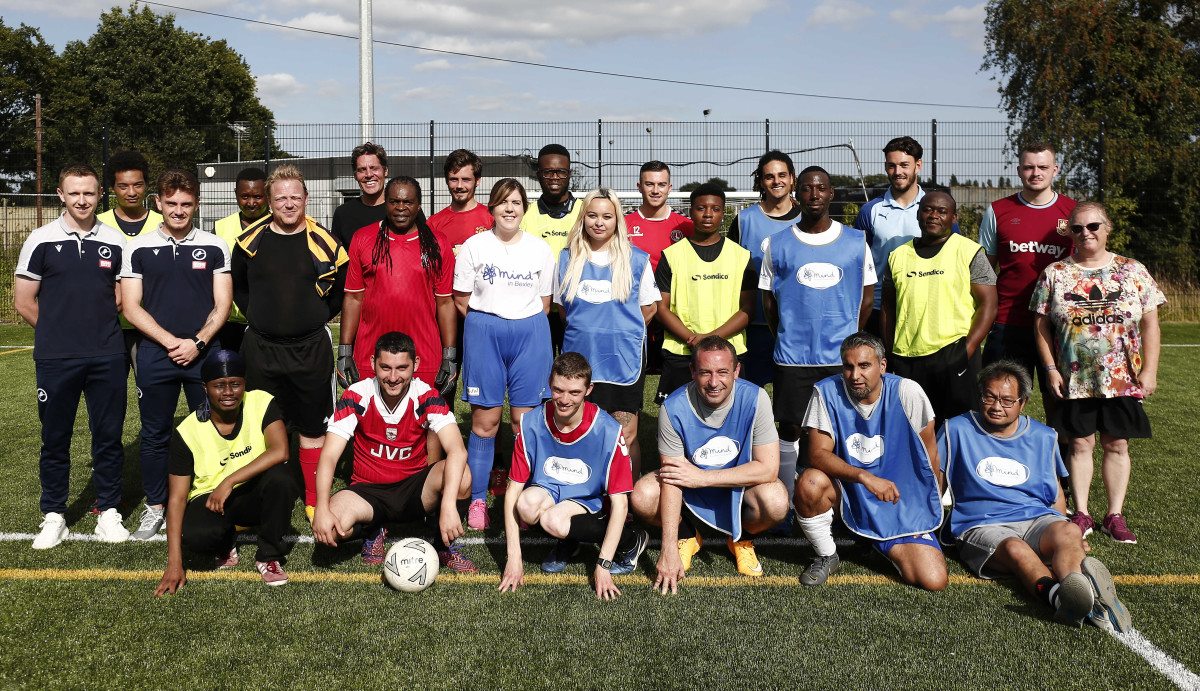 He said: "Everyone here is using this scheme to help and that's important. I've seen mental health issues first-hand, in my own life with other people close to me. And personally, being injured for a long time, it gets tough.
"I haven't suffered personally but I've seen kids here today that are quite young and they're dealing with stuff that we don't know about, so for them to come to these sorts of things, it's quite brave and they're going to be talking to people about it and helping themselves out so it's important.
"Sharing can take the weight off your shoulders as everyone says. It isn't a weakness to talk to people so at the end of the day you're going to better yourself and make yourself better so take that initiative to go and talk to someone."
Page was joined at the tournament, which took place on the CACT pitches at the club's Sparrows Lane training ground, by Ben Thompson and Shane Ferguson of Millwall as well as AFC Wimbledon's Will Nightingale.
Carl Krauhaus, CACT's Head of Early Help & Prevention, said: "The project is working with Mind locally to bring activity to those that may be suffering from poor mental health within the community.
"We'll be delivering our programme within our local leisure centre. Open referral via the Mind team, it is going to provide a variety of activities for those clients to come and engage with every week." 
For more information about CACT's mental health projects, email CACT's Mental Health & Disability Coordinator, Terry Peart, at Terry.Peart@cact.org.uk