Charlton's new owner Thomas Sandgaard has put one of the now-infamous club Range Rovers up for grabs as part of a campaign to highlight the importance for change in regulations around owning a football club.
The competition, open to anyone in England, Wales and Scotland, will see one individual drive off with a top-of-the-range vehicle, which cost more than £90,000.
To purchase your live streaming pass and enter the competition, sponsored by Knapman & Sons Builders Ltd, click here.
The Range Rovers became symbolic with the club's ownership struggles in 2020, during which various individuals claimed ownership of the club.
Sandgaard purchased the Addicks in September, with Charlton days away from potential administration, and has given the club much-needed stability. Since his arrival, Charlton have signed 10 new players and have won their last six league games.
To be in with a chance of winning the Range Rover, supporters who purchase a live streaming video pass on Valley Pass for one of the club's games between today and 11.59pm on December 20th will have an entry into a prize draw. The winner will then be announced live on the club's video streaming platform Valley Pass at half-time of Charlton's Boxing Day game against Plymouth Argyle. 
The Our Club, Your Car campaign was launched with club supporters on Wednesday lunchtime, at The Valley.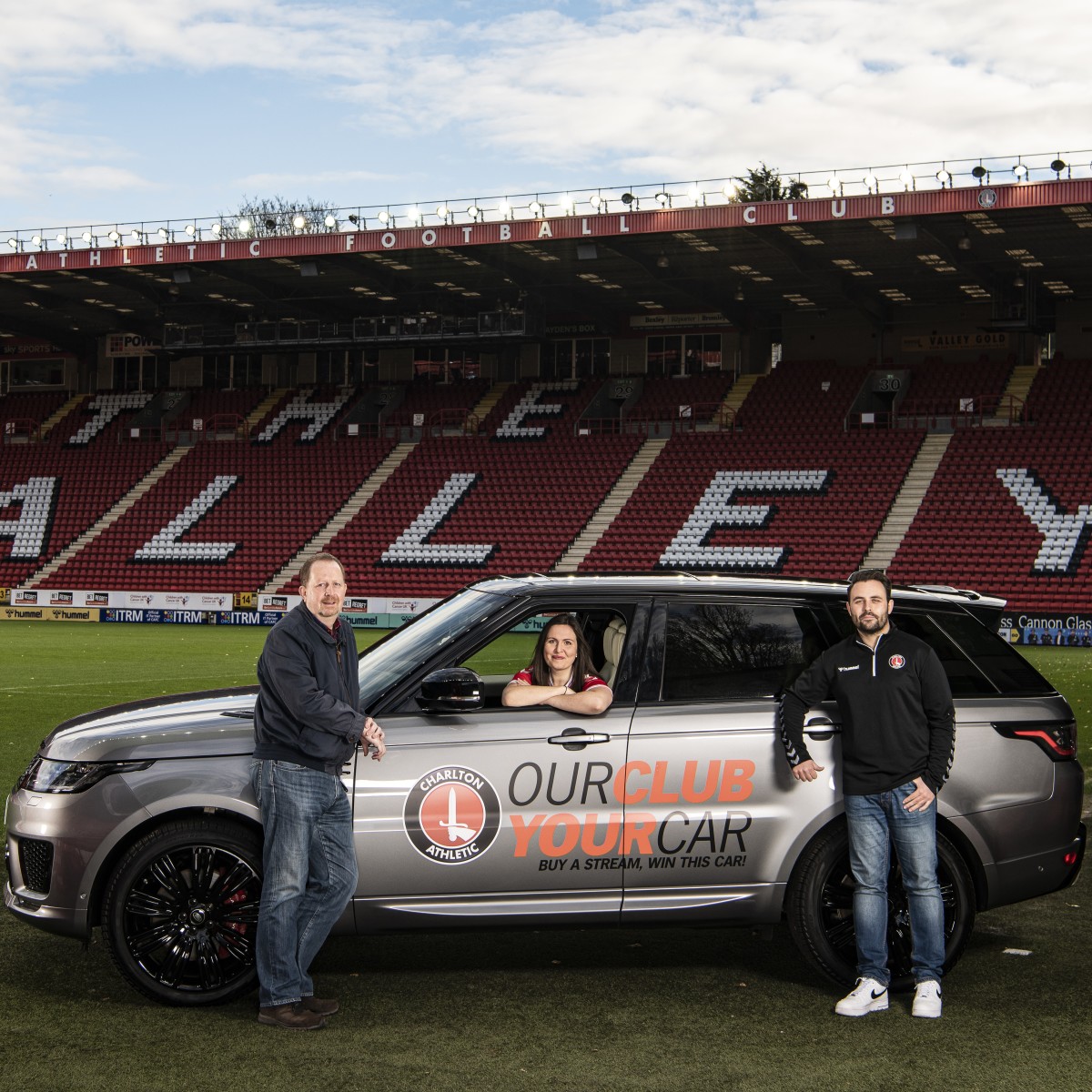 Sandgaard explained: "These cars have been like a dark cloud hanging over Charlton. When I bought the club, I couldn't believe how much had been committed to spend on Range Rovers. It was more than £700,000! For a club at our current level, that is a lot of money and using that money elsewhere, on the squad for example, can make a real difference.
"One of the first things we have had to do is get the cars repossessed from individuals who have previously been involved at the club and sold most of them to minimise the losses this unnecessary expense has cost the club. It has been a difficult year for the fans, so we wanted to give one person an extra-special gift this holiday and that is why we are giving this one away as part of this competition.
"Hopefully, in doing so, we can highlight the challenges clubs have with ownership and be a part of change. Too many clubs have had ownership issues in recent years, I am pleased the EFL have made important changes on this and it is something I will continue to speak with them about. I want to help to continue to improve the change of ownership process."
To purchase your live streaming pass and enter the competition, sponsored by Knapman & Sons Builders Ltd, click here. Each purchase counts as one entry, so supporters can enter multiple times. To read the full terms and conditions, click here.
To enter, you must purchase a streaming pass for one of the following fixtures in November and December 2020 by 11.59pm on December 20th: 
• Gillingham
• Burton Albion
• Ipswich Town
• MK Dons
• Shrewsbury Town
• AFC Wimbledon
• Bristol Rovers
• Swindon Town
• Plymouth Argyle
Any streams that have been purchased for the Club's matches against Gillingham (21st November, 2020), Burton Albion (24th November, 2020) or Ipswich Town (28th November, 2020) prior to the start of the competition will be counted as an entry into the competition. Any purchases for other fixtures that occurred before these matches will not be counted as an entry.
Please note, any supporter, fitting the terms and conditions, who purchases a December bundle with CAFC Cash, which will give them access to watch four games will get four entries into the draw as part of their purchase. Supporters with money owed to them from season ticket purchase, can use CAFC Cash to purchase streams for home games here.
To purchase your live streaming pass and enter the competition, sponsored by Knapman & Sons Builders Ltd, click here.