Nigel Adkins' side will kick off the 2021/22 season when they host Sheffield Wednesday at The Valley on Saturday, August 7th.
The full 2021/22 fixture list was revealed on Thursday morning with Charlton's first away league game against Oxford United on Saturday, August 14th.
Charlton will be away on Boxing Day, when the Addicks make the trip to the new Plough Lane to take on AFC Wimbledon, giving supporters the first opportunity to visit the stadium. Charlton are set to host Wycombe Wanderers on New Year's Day.
The Addicks first trip to Morecambe's Mazuma Stadium is set to take place on Tuesday, November 23rd. Charlton will travel to Cambridge United's Abbey Stadium for the first time since 1992 on Monday, April 18th.
Nine months of League One action will draw to a close with a final-day trip to Ipswich Town's Portman Road on Saturday, April 30th.
Please note, on Wednesday evening, the EFL confirmed that it has developed an interchangeable fixture list for Derby County and Wycombe Wanderers, while a disciplinary process is finalised after an independent Disciplinary Commission delivered its verdict on sanctions for Derby County relating to ongoing disciplinary proceedings.
Charlton's full set of Sky Bet League One fixtures for the 2021/22 season can be found below with all fixtures subject to change.
Click here to get your season ticket and join 8,500 Charlton fans at The Valley.
International fans can purchase an international season ticket, to watch games on CharltonTV, by clicking here.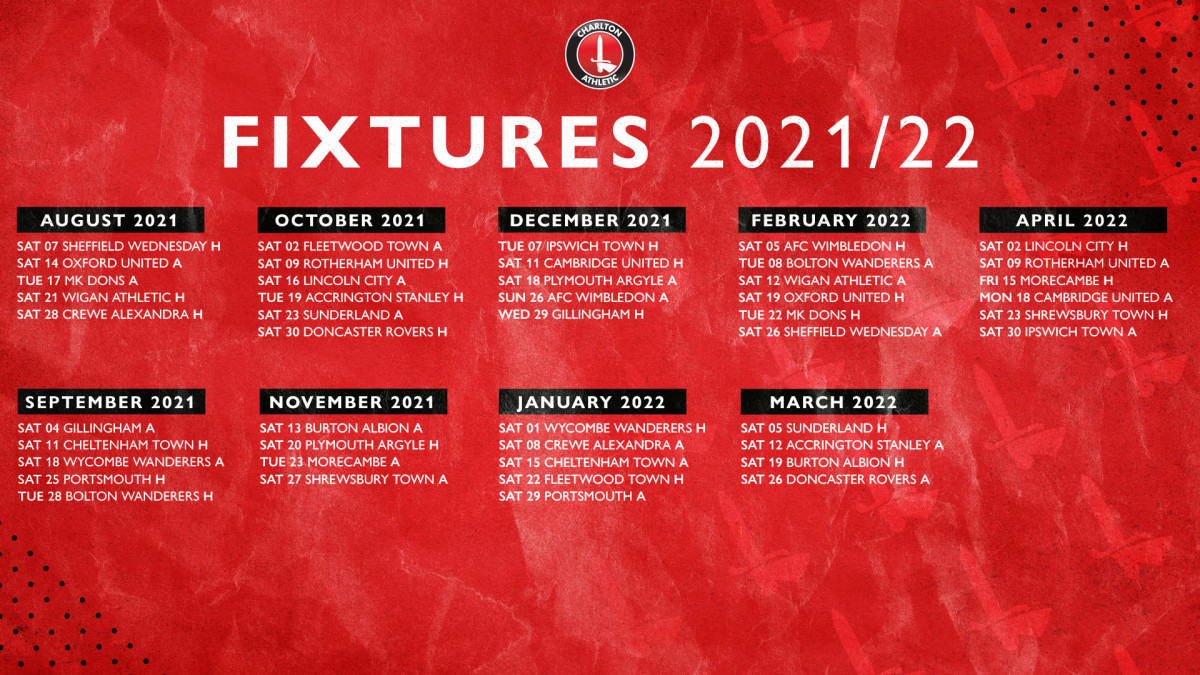 Sat Aug 7 Sheffield Wednesday H
Wed Aug 11 Carabao Cup First Round - Charlton's home tie against AFC Wimbledon will take place on Tue Aug 10
Sat Aug 14 Oxford United A
Tue Aug 17 Milton Keynes Dons A
Sat Aug 21 Wigan Athletic H
Wed Aug 25 Carabao Cup Second Round
Sat Aug 28 Crewe Alexandra H
Sat Sep 4 Gillingham A International Date
Sat Sep 11 Cheltenham Town H
Sat Sep 18 Wycombe Wanderers A
Wed Sep 22 Carabao Cup Third Round
Sat Sep 25 Portsmouth H
Tue Sep 28 Bolton Wanderers H
Sat Oct 2 Fleetwood Town A
Sat Oct 9 Rotherham United H International Date
Sat Oct 16 Lincoln City A
Tue Oct 19 Accrington Stanley H
Sat Oct 23 Sunderland A
Wed Oct 27 Carabao Cup Fourth Round
Sat Oct 30 Doncaster Rovers H
Sat Nov 6 Emirates FA Cup First Round
Sat Nov 13 Burton Albion A International Date
Sat Nov 20 Plymouth Argyle H
Tue Nov 23 Morecambe A
Sat Nov 27 Shrewsbury Town A
Sat Dec 4 Emirates FA Cup Second Round
Tue Dec 7 Ipswich Town H
Sat Dec 11 Cambridge United H
Sat Dec 18 Plymouth Argyle A
Wed Dec 22 Carabao Cup Fifth Round
Sun Dec 26 A.F.C. Wimbledon A
Wed Dec 29 Gillingham H
Sat Jan 1 Wycombe Wanderers H
Wed Jan 5 Carabao Cup Semi-Final (1)
Sat Jan 8 Crewe Alexandra A Emirates FA Cup Third Round
Wed Jan 12 Carabao Cup Semi-Final (2)
Sat Jan 15 Cheltenham Town A
Sat Jan 22 Fleetwood Town H
Sat Jan 29 Portsmouth A International Date
Sat Feb 5 A.F.C. Wimbledon H Emirates FA Cup Fourth Round
Tue Feb 8 Bolton Wanderers A
Sat Feb 12 Wigan Athletic A
Sat Feb 19 Oxford United H
Tue Feb 22 Milton Keynes Dons H
Sat Feb 26 Sheffield Wednesday A
Sun Feb 27 Carabao Cup Final
Wed Mar 2 Emirates FA Cup Fifth Round
Sat Mar 5 Sunderland H
Sat Mar 12 Accrington Stanley A
Sat Mar 19 Burton Albion H Emirates FA Cup Quarter-Final
Sat Mar 26 Doncaster Rovers A International Date
Sat Apr 2 Lincoln City H
Sat Apr 9 Rotherham United A
Fri Apr 15 Morecambe H
Sat Apr 16 Emirates FA Cup Semi-Final
Mon Apr 18 Cambridge United A
Sat Apr 23 Shrewsbury Town H
Sat Apr 30 Ipswich Town A
Sat May 14 Emirates FA Cup Final
Click here to get your season ticket and join 8,500 Charlton fans at The Valley.