The EFL has released the following information in relation to live streaming on club platforms during the 2021/22 season.
The EFL will return to the position as was prior to the pandemic when the live broadcast or streaming of any match in the domestic territory (England, Wales, Scotland, Northern Ireland, Guernsey, Isle of Man, Jersey, Ireland) is prohibited between the hours of 2:45pm-5:15pm on Saturday afternoons.
EFL Clubs will have the right to live stream midweek matches on iFollow or club equivalent services, CharltonTV in our case, in the domestic territory.
The below provides a breakdown of which Sky Bet League One matches can be live streamed domestically and internationally during 2021/22.
Which games can be streamed domestically?
All scheduled midweek matches (unless selected by Sky Sports)
Displaced weekend matches – matches which are moved from Saturday 3pm kick-offs for non- TV purposes (at the discretion of the home club)
Bank Holiday matches (at the discretion of the home club)
Papa John's Trophy matches (apart from the semi-finals and final which are live on Sky Sports)
Which games can be streamed internationally?
Overseas supporters can watch live all EFL League One games provided that they have not been selected by Sky Sports or for an international television broadcast in a territory that has an overseas broadcast partner
Supporters who live in a country that sits outside of the EFL's global television deal can watch all league games live on CharltonTV
Live audio commentary will remain available to all supporters worldwide.
Subscriptions
CharltonTV subscriptions are on sale to supporters ahead of the start of the 2021/22 season.
Addicks fans outside of the UK and Ireland will be able to watch almost all* league matches live – home and away – on CharltonTV during 2021/22, while fans in certain countries will be able to watch every league fixture live.
In line with pricing set by the EFL, international match passes will be priced at £10 each next season – and our subscription packages present huge cost savings.
Annual international CharltonTV subscriptions are priced at just £195 which, based on you being able to access 40 live streams, equates to less than £5 per match.
To purchase your subscription as an overseas Addick, please click here.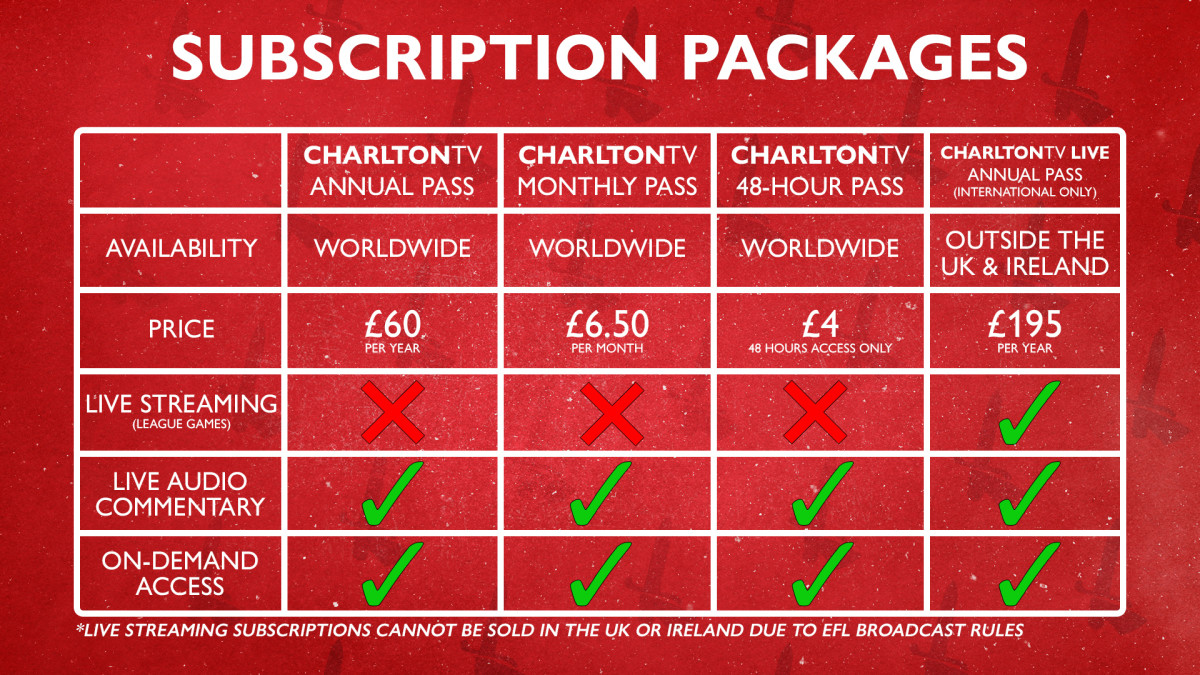 Due to licensing restrictions imposed by the EFL, the club is only permitted to offer CharltonTV live streaming subscriptions to supporters outside of the UK and Ireland.
However, fans within the UK and Ireland can take advantage of our standard CharltonTV subscription which includes live audio commentary of every competitive first-team match plus unlimited access to the unrivalled CharltonTV archive.
A standard CharltonTV subscription is priced at just £6.50 per month or £60 per year. You can purchase your audio subscription by clicking here.
All monthly and annual CharltonTV subscriptions are set to auto-renew. This time-saving feature means that once you have signed up, you don't need to remember to renew your subscription every month or year to keep enjoying CharltonTV.