Supporters all over the world will be able to tune into live audio commentary of Tuesday's Carabao Cup first-round tie against AFC Wimbledon at The Valley (7.45pm BST KO).
EFL regulations do not permit clubs to live stream Carabao Cup matches anywhere in the world. Therefore, tuning in to live audio commentary is the best way for fans to follow the game if they are not in attendance.
A 48-hour pass for CharltonTV is priced at just £4 and gives fans unlimited access to on-demand CharltonTV videos for 48 hours, as well as access to live audio commentary.
All monthly and annual CharltonTV subscribers can tune into live audio commentary of the game by using their normal login credentials.
Click here to purchase your subscription to CharltonTV.
Subscriptions
CharltonTV subscriptions are on sale to supporters.
Addicks fans outside of the UK and Ireland will be able to watch almost all* league matches live – home and away – on CharltonTV during 2021/22, while fans in certain countries will be able to watch every league fixture live.
In line with pricing set by the EFL, international match passes will be priced at £10 each next season – and our subscription packages present huge cost savings.
Annual international CharltonTV subscriptions are priced at just £195 which, based on you being able to access 40 live streams, equates to less than £5 per match.
To purchase your subscription as an overseas Addick, please click here.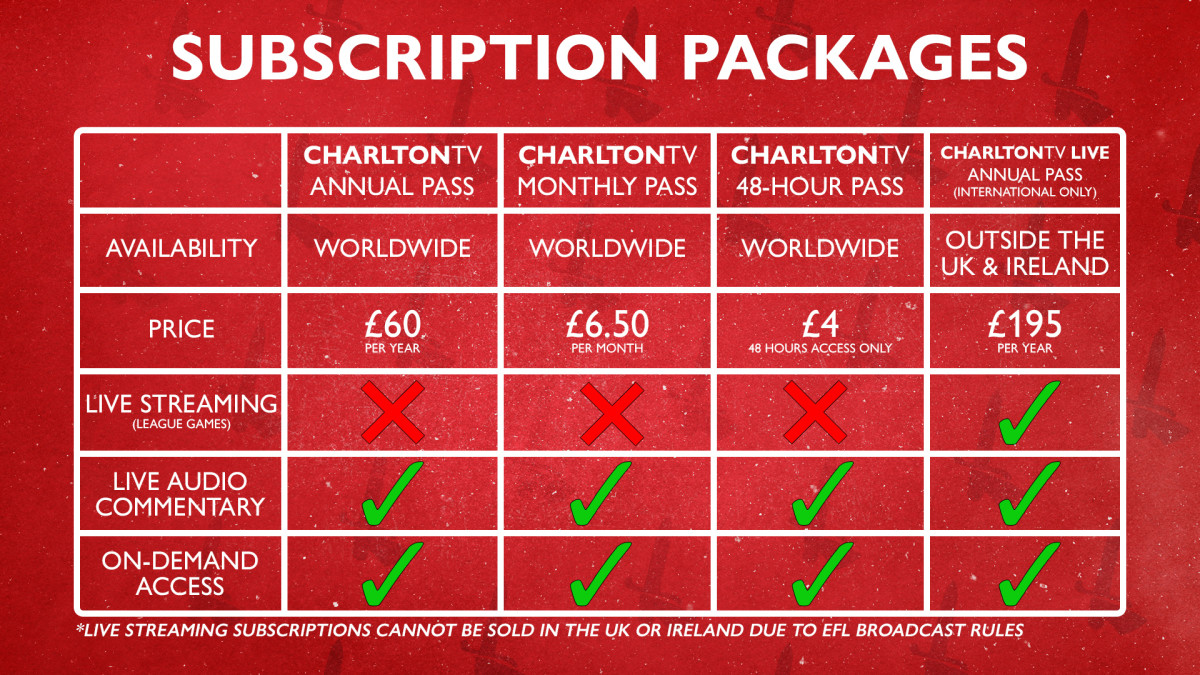 Due to licensing restrictions imposed by the EFL, the club is only permitted to offer CharltonTV live streaming subscriptions to supporters outside of the UK and Ireland.
However, fans within the UK and Ireland can take advantage of our standard CharltonTV subscription which includes live audio commentary of every competitive first-team match plus unlimited access to the unrivalled CharltonTV archive.
A standard CharltonTV subscription is priced at just £6.50 per month or £60 per year. You can purchase your audio subscription by clicking here.
All monthly and annual CharltonTV subscriptions are set to auto-renew. This time-saving feature means that once you have signed up, you don't need to remember to renew your subscription every month or year to keep enjoying CharltonTV.