The club's annual Red, White and Black Day activities, celebrating diversity and inclusion, begin today ahead of this weekend's themed matchdays at The Valley.
Red, White and Black Day is an initiative that has been part of the Charlton fabric for more than 30 years. This year the men's first-team host Reading on Saturday, October 21st while the women's first-team take on Crystal Palace on Sunday, October 22nd - with a record crowd for the latter anticipated for the themed matchday. 
The club, Charlton Athletic Community Trust and University of Greenwich are teaming up for a week-long series of activities, which begin on Monday with a Black History Month Coach Education programme event. With a theme of Pioneering black women who have blazed a trail, the event, organised in partnership with the FA, will see aspiring football coaches taking part in practical learning and coach development sessions, as part of the club's U12-U14 girls coaching, at Charlton's training ground. The participants will then join a Q&A session with former Addick Paul Mortimer and Charlton Athletic Women's General Manager Louise McGing.
On Tuesday, 60 students from Haimo Primary School will attend a Show Racism the Red Card event at The Valley.
Then, on Tuesday evening, men's first-team players Michael Hector and Terell Thomas and women's first-team player Karin Muya will join CharltonTV's James Sherwood for a free webinar on Zoom to discuss their journeys in football, as well as equality within the sport. Click here for more information.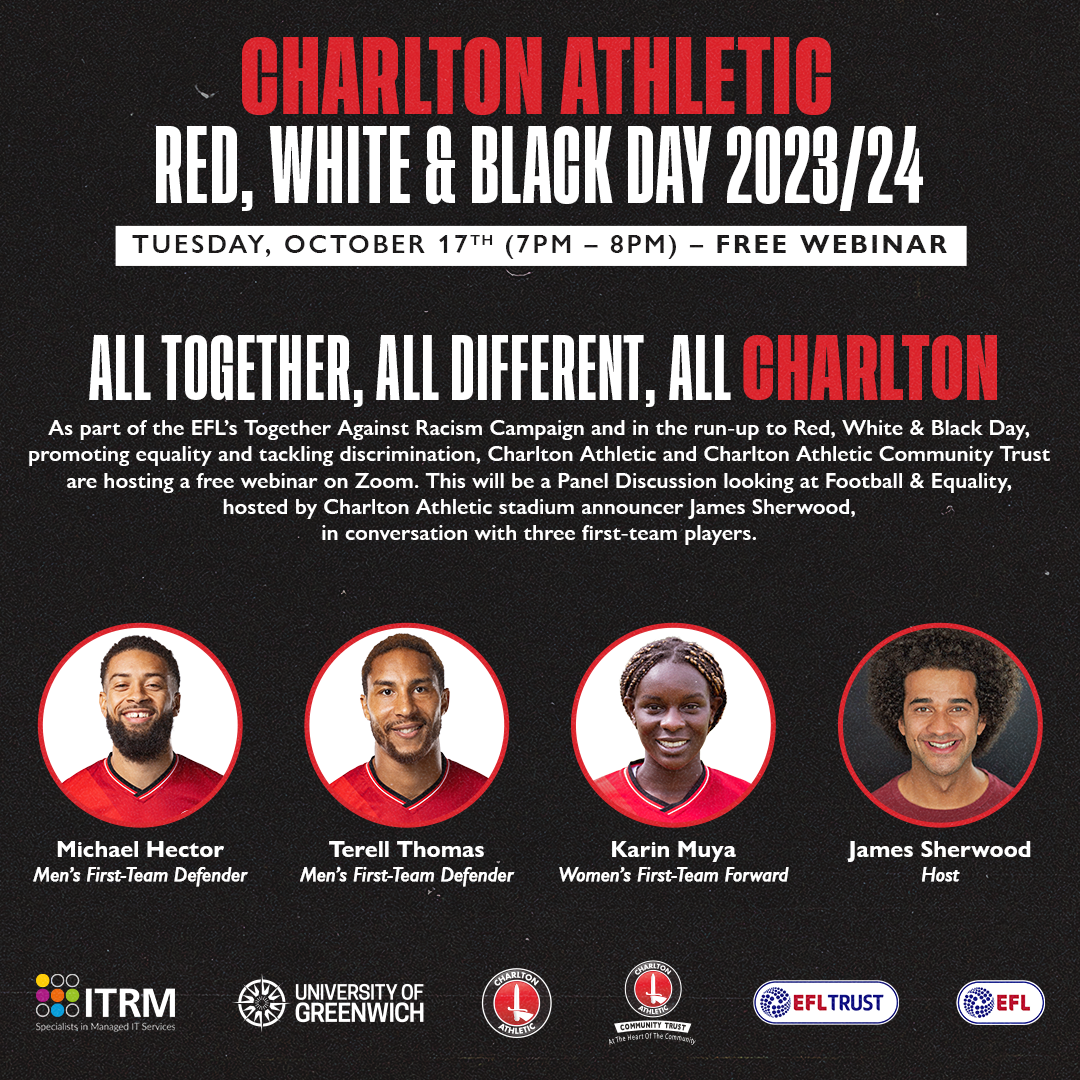 Ahead of Saturday's game, the popular Red, White and Black Day community parade will take place, sponsored this year by University of Greenwich. The parade from Charlton station to The Valley will include over 300 people from the Charlton family joining to celebrate diversity and inclusion. This year's event tagline is 'All Together, All Different, All Charlton', with additional activities also taking place around the matchday.
The club's EDI (equality, diversity and inclusion) Board Lead Paul Elliott said: "Charlton's annual Red, White and Black Day is evidence how EDI has been embedded in the DNA of the club and Charlton Athletic Community Trust for more than 30 years.
"The new owners, Senior Management Team and Charlton Board have made it unequivocally clear how EDI is front and centre of their strategic vision given the diversity of the team and its local demographic in south-east London." 
Jane Harrington, University of Greenwich's Professor, added: "The University of Greenwich is proud to be working with our partners at Charlton Athletic Football Club and its Community Trust once again for the Red, White and Black Day fixtures. We are committed to equality, diversity and inclusion at the university and working in partnership is essential to deliver the objectives set out in our Race Action Plan. We are looking forward to what will be a fantastic week, and in particular to the welcome return of the annual Red, White and Black Day parade, which we are very pleased to be sponsoring this year."
Join us at The Valley for the Red, White and Black Day themed games. Click here to purchase your tickets for Saturday's matchday and here to purchase your tickets for Sunday's matchday.