Charlton's World Cup predictors have submitted their guesses for the last-16 stage of this summer's showpiece in Russia. 
The group stages, which concluded on Thursday evening, provided ample entertainment with one of the highlights, of course, being England safely securing their passage into the knockout stages.
Gareth Southgate's Three Lions will now face Colombia on Tuesday night but, before that, the next round kicks off with a heavyweight tie, pitting France against Argentina. 
Below you can view our World Cup Addicks' latest predictions and also an up-to-date league table, which now sees Valley Pass commentator Terry Smith sit at the summit.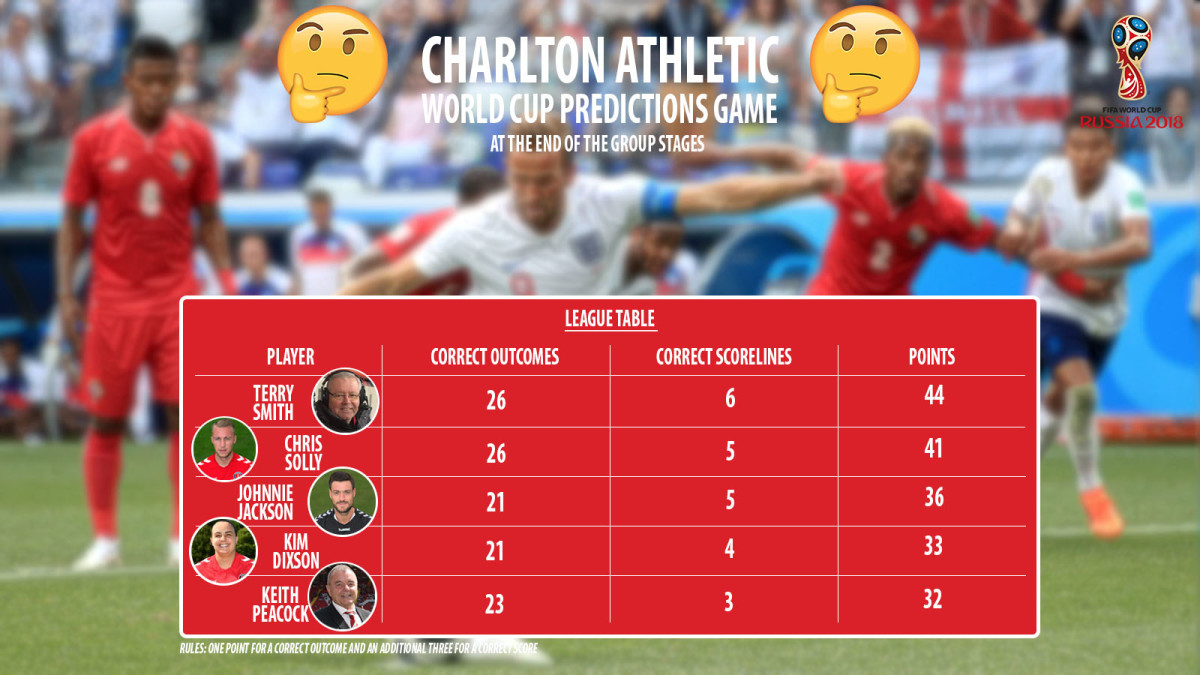 Terry Smith
France 1 Argentina 2
Uruguay 2 Portugal 1 
Spain 3 Russia 2
Croatia 2 Denmark 0
Brazil 2 Mexico 1
Belgium 3 Japan 1
Sweden 2 Switerland 2
Colombia 1 England 2
Chris Solly
France 2 Argentina 1
Uruguay 1 Portugal 1 
Spain 2 Russia 0
Croatia 2 Denmark 0
Brazil 2 Mexico 1
Belgium 2 Japan 0
Sweden 1 Switerland 1
Colombia 1 England 2
Johnnie Jackson
France 1 Argentina 0
Uruguay 2 Portugal 1 
Spain 3 Russia 0
Croatia 2 Denmark 0
Brazil 2 Mexico 1
Belgium 3 Japan 1
Sweden 1 Switerland 1
Colombia 1 England 2
Kim Dixson
France 2 Argentina 1
Uruguay 1 Portugal 1 
Spain 3 Russia 1
Croatia 2 Denmark 1
Brazil 2 Mexico 2
Belgium 3 Japan 0
Sweden 1 Switerland 1
Colombia 0 England 2
Keith Peacock
France 1 Argentina 1
Uruguay 1 Portugal 0 
Spain 2 Russia 0
Croatia 1 Denmark 0
Brazil 3 Mexico 1
Belgium 2 Japan 0
Sweden 0 Switerland 0
Colombia 1 England 2