The last-16 stage of this summer's FIFA World Cup will live long in the memory of England fans, after the Three Lions claimed their first ever World Cup victory on penalties in dramatic fashion over Colombia.
The quarter-finals kick-off on Friday in Nizhny with Uruguay facing France (3pm UK time), before Brazil battle it out with Belgium at Rubin Kazan's home ground in the tea-time fixture (7pm).
Saturday sees England face Sweden (3pm) before hosts Russia conclude the quarter-finals by taking on Croatia (7pm).
Charlton's World Cup predictors have submitted their guesses for this weekend's matches and they are available to view below, as is the latest league table.
Terry Smith
Uruguay 2-2 France
Brazil 2-1 Belgium
Sweden 0-1 England
Russia 1-2 Croatia
Chris Solly
Uruguay 1-1 France
Brazil 1-2 Belgium
Sweden 0-1 England 
Russia 1-2 Croatia
Johnnie Jackson
Uruguay 1-1 France
Brazil 2-1 Belgium
Sweden 0-2 England
Russia 1-3 Croatia
Kim Dixson
Uruguay 0-1 France
Brazil 1-1 Belgium
Sweden 0-1 England
Russia 1-2 Croatia
Keith Peacock
Uruguay 1-0 France
Brazil 2-2 Belgium
Sweden 0-1 England 
Russia 0-1 Croatia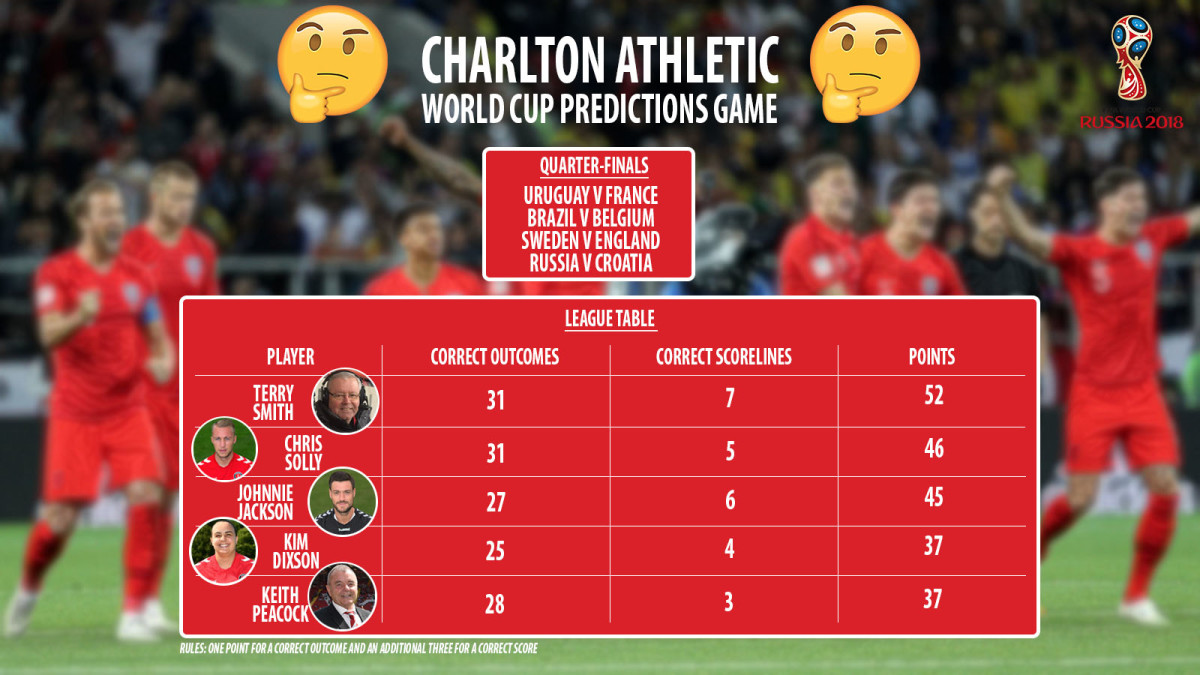 Article by Charlie Elson Farmer